Givanni Damico | May 22nd, 2019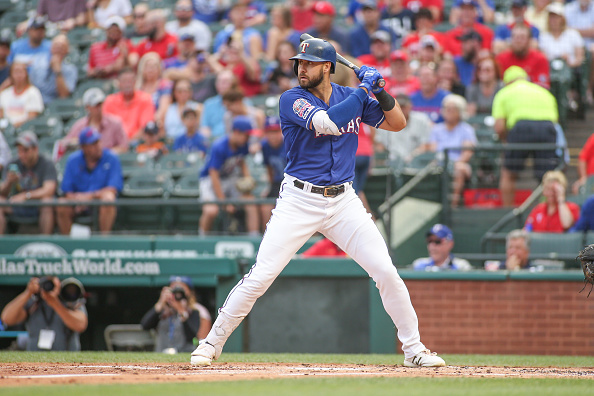 Today in our series of "Deep Dive" articles, I take a look at Joey Gallo and what has contributed to his success at the plate this season.
Joey Gallo has been known for one thing throughout his short career thus far: power. His career high in batting average was when he hit .209 in 2017. Some people can get away with this over the course of their career, but as a fan of baseball, it can be frustrating when you just need a single to bring it a run and Joey Gallo strikes out on a 57-footer. So far in 2019, it looks as though Joey Gallo put in work during the offseason in order to improve his plate vision. He is now hitting .285. The Rangers aren't in a great spot for the future right now considering the Astros are in their division. They have a lot of talent besides Gallo, but their pitching will never be able to keep up with the Astros and their farm system isn't loaded with top prospects. The outfield looks good for the future though, with Gallo, Nomar Mazara, Delino DeShields Jr., and prospects such as Leody Tavares.
There is one major change that Gallo has made in order to improve his walk rate and his overall batting average. Do you want to know what it is? He's swinging at strikes. I know, it's a revolutionary thought, but it's working for him. Last season, Gallo's O-Swing% (percent of pitches outside the zone that Gallo swung at) was 32.2% which is very high for those of you who don't know how to interpret the advanced statistics. This year, he has brought that all the way down to 22.9%. That is still a pretty high percentage but it is leaps and bounds better than last season. His Swing% was 48.3% last year as well, so he basically swung at half of the pitches he saw. This season, it's down to 40.4% which is another substantial drop that has undoubtedly led to his success. His Z-Contact% (strikes that he makes contact with) was sitting at just 72.0%. For comparison, let's compare Gallo to one of the best in the game at making contact on pitches inside the strike zone: Michael Brantley. In 2018, Michael Brantley's Z-Contact% was 97.3%. That is an absolutely insane statistic. It's not fair to compare a power-hitter like Joey Gallo to a balanced hitter like Michael Brantley, but it just shows Gallo's lack of ability to put strikes in play. This is something that he has still struggled with this season, as it still only sits at 73.5%. He is showing improvement nonetheless. He has also brought his SwStr% (swinging strike percentage) down from 18.4% to 15.5%.
The point of all these advanced statistics is to show that Gallo has become more patient at the plate. He is striking out at about the same rate this season (down .5%) but is walking six percent more this season. Gallo has also only made 10% soft contact this season. He has made an insane 60% hard contact and 30% medium contact. He barrels the ball up almost every time he puts it in play. It's crazy to think that he would be a generational talent if he didn't strike out so much. Gallo is only 25 years old and has plenty of time to get even better. Do I think that he can maintain a .285 batting average throughout the rest of 2019? No. Could he prove me wrong? Absolutely. If he can hit .260 with 40 home runs every season, then he's a Hall of Famer. I don't throw that term around lightly either. He can only get better from here and I can't wait to see if he can keep up his strong batting average. He also has 14 home runs too, so it's not like he's had to lose some of that power in his swing in order to make more contact with the ball. As long as he doesn't get over-anxious at the plate, he should be an All-Star this season and for years to come.
Check Out The Other Deep Dives: Lucas Giolito | Rafael Devers | Corey Seager | Eduardo Rodriguez | Amed Rosario | Alex Verdugo
Questions and comments?
thescorecrowsports@gmail.com
Follow Us on Twitter @thescorecrow
Follow Us on Reddit at u/TheScorecrow
Follow Us on Facebook at The Scorecrow
Follow Us on Instagram at The Scorecrow
Givanni Damico    Follow Givanni Damico on Twitter @giodamico15
Main Image Credit:  [getty src="1145318534″ width="594″ height="396″ tld="com"]