Marcos Mendoza| May 20th, 2019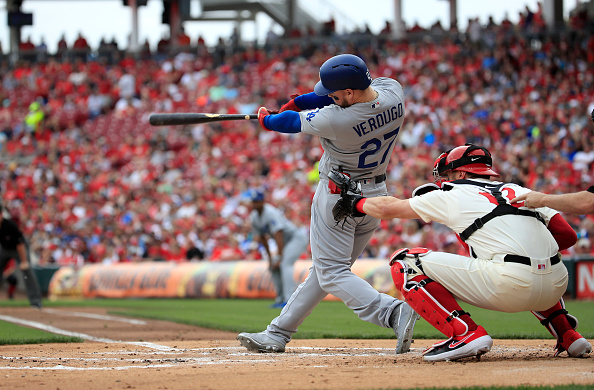 The former top prospect for the Dodgers, Alex Verdugo hasn't had many opportunities to take over a starting role for the Dodgers. This season with the departures of Matt Kemp and Yasiel Puig (via trade) he has received more playing time and has flourished in his new role.
In 2019, Verdugo has a slash line of .323/.370/.532 and a .903 OPS. He's hit 4 HRs with 23 RBIs and a .211 ISO. Verdugo isn't a high K volumes hitter he will put the ball in play a lot as he only has a 10.4 K% and a 6.7 BB%. Verdugo's best tool is his hitting which was a 55 and it's showing early on that it's great. He has a 39.1 Hard Hit%, 37.5 MED Hit% and a 23.4 Soft Hit%. His LD% is 20.7, GB% 44.1 and FB% 35.1. He's not a guy who has a ton of power but in today's game with power numbers through the roof, he could possibly be a 20-25 HR guy.
In the 544 pitches Verdugo has seen he's put the bat on the ball 111 times, he's had 6 barrels, and his exit velocity is 89.8. Verdugo only has 41 hits this season which were 95+ MPH off the bat which ranks 136th in the majors. His hardest hit ball off the bat is 108 MPH. He's not a guy who hits the ball extremely high, and he'll be around an 89-91 MPH exit velocity hitter. Verdugo isn't much of a dead pull hitter like most lefties are his spray chart this season is 18% to RF, 33% RF-CF, 25% CF, 14% LF-CF and 10%.
Not only is he a great contact hitter he is a plus defender in the OF. Verdugo has played all over the OF this season with seven games in LF, 18 in CF, and 17 in RF. With being moved around so much in the OF he still is a plus defender in which he has 9 Defensive Runs Saved, a 2.6 UZR, .922 RZR and a 2.1 DEF War.
Verdugo is only 23 years old, and he's in a great position to find more playing time and make an impact offensively and defensively for the Dodgers. He's been one of the best rookies so far this season, but in the ROY race, I think he's behind Chris Paddack and Pete Alonso. If he can find his power this season and hit around 20 HRS he'll clearly be in the running for ROY with how great he is defensively. He has the tools to have a long career and be part of the future for the Los Angeles Dodgers.
Check Out The Other Deep Dives: Lucas Giolito | Rafael Devers | Corey Seager | Eduardo Rodriguez | Amed Rosario
Questions and comments?
thescorecrowsports@gmail.com
Follow Us on Twitter @thescorecrow
Follow Us on Reddit at u/TheScorecrow
Follow Us on Facebook at The Scorecrow
Follow Us on Instagram at The Scorecrow
Follow Marcos Mendoza on Twitter @MendozaM_12
Main Image Credit:
[getty src="1150334786″ width="594″ height="390″ tld="com"]