Frank Dyevoich | June 21st, 2018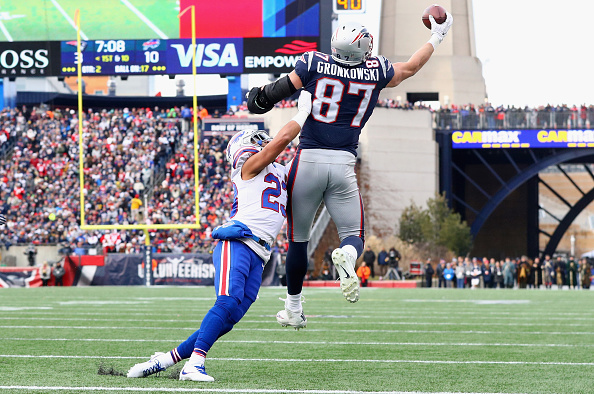 One of the most frustrating positions in fantasy is the Tight End.  You're required to play at least one, and unlike the other offensive positions, a 10 point performance is considered pretty good. When it comes to drafting a TE you either want to be one of the first or one of the last. DON'T get caught in the run on TEs. Start the run or wait, unless there's value you can't ignore.  After diving into the numbers, I've come up with some realizations to improve my rankings and help you maximize your TE value on draft day.
The GOAT
Rob Gronkowski – When it comes to the TE position one thing is clear, Gronk is king. Even recently where guys like Jimmy Graham, Travis Kelce, and Zach Ertz have joined the elites, Gronk stands alone. Here are Gronk's finishes the last 4 years: 1, 1, 22(8 games) and 1. Last year he finished 1st in standard and 2nd in PPR behind Travis Kelce, but he played 2 fewer games, had 44 more yards, the same number of TDs, only scored 10 fewer points, and still averaged almost 2 more points/game, with Gronk scoring 17.3 ppg to Kelce's 15.7 ppg. Perhaps Gronk's most impressive statistic is he finished as a top 10 TE 9 times in his 13 games (69%) in 2017, and of those 9, he finished as a top 5 TE 8 times. With Julian Edelman suspended the first 4 weeks (pending appeal) Gronk's role only figures to increase in his absence. Gronk's always an injury risk, but his dominance over the field of TEs and the advantage he gives you every week at the position make him the clear-cut TE1 and put him in a tier all on his own.
Strategy – Gronk's worth an early 2nd Round pick for his positional dominance and unmatched advantage going into your matchup, but he becomes a steal anywhere in the 3rd Round.
The ELITES
Zach Ertz – Kelce has outproduced Ertz the last three seasons, so why is he my #2 TE? Because no one was more consistent, there are changed circumstances for Kelce (see below) and I expect his usage to increase. Ertz was a top 10 TE in 11 of 14 games, an astounding 78.6% of the time. In 14 games he had 74 catches for 824yds and 8 TDs. The yards are a little low, but the 8 TDs matches Gronk and Kelce. When Philly was in the red zone, Carson Wentz looked for Ertz. In fact, Wentz targeted Ertz on 25% of his passes and Ertz was responsible for 27% of his completions. Had Wentz and Ertz played 16 games, Ertz could've been the TE1 in standard and PPR. This season Wentz should pass more and run less after the ACL injury, conservatively adding 60-70 pass attempts this season, which Ertz will be the main benefactor of. Also pushing Ertz up is the fact that he's performed better every year. If that trend continues, 2018 will be epic for the Philly TE.
Strategy – Ertz is ranked after Kelce in most expert's rankings so when Kelce gets picked you should immediately start thinking about Ertz. He can be drafted at the end of the 3rd Round if you have one of the swing picks (ahead of Kelce), but he becomes a value at the end of the 4th Round.
Travis Kelce – Kelce finished as 2017's TE1 in PPR and TE2 in standard. He finished first in targets with 122, catches with 83, and tied for 2nd with 8TDs. His finishes the last 4 years are almost as impressive as Gronk's: 8,8,1,2 (1 in PPR). Since 2014 he's only missed 1 game, his TDs doubled from 2016 to 2017 and he's also improved every year. He also has excellent hands, posting a 67% catch rate. So why is he #3? His QB is a first-year starter which figures to result in a more run-heavy approach in 2018, and the Chiefs added Sammy Watkins to their WRs, a significant upgrade over Demarcus Robinson/Albert Wilson opposite of Tyreek Hill. These are very minor changes and will have little impact on Kelce's performance, however when choosing between Kelce and Ertz, a slight change in situation, the unknown of how Patrick Mahomes will perform, and who he will lean on are the deciding factors.
Strategy – Kelce should be drafted very closely to Zach Ertz, and in most cases, he will be drafted first. He also can be drafted at the end of the 3rd Round if you have one of the swing picks, but he becomes a value at the end of the 4th Round. Anything later is stealing.
The BEST OF THE REST
Greg Olsen – Olsen's been a 1000-yd receiver each year since 2014 and he's averaged 79 catches on 125 targets in that span. Now that he's healthy, expect another 1000-yd campaign and 135+ targets since there's no elite receiver for Cam Newton to throw to. Olsen can be drafted in the 5th Round and becomes a value at the start of the 6th.
Delanie Walker – Walker continues to be Marcus Mariota's favorite target, finishing 4th in PPR by posting 807 yds on 74 recs and 111 targets (67%), which was 25% of Mariota's targets and 26% of his completions. TDs were low at 3, but TDs are unpredictable and he could easily double that. After the top 4, 100+ targets are hard to come by. Walker can be drafted in the 7th round, but he becomes a value at the start of the 8th.
Kyle Rudolph – The Red Zone Reindeer's value comes mainly in TDs, but's he excellent at scoring them, posting 8 TDs on 57 recs (14%). His great hands are evidenced by a 70% catch rate and Kirk Cousins loves to target his TE. He can be drafted in the 8th Round and becomes a value at the end of the 9th.
BUYER BEWARE
Evan Engram – Engram burst onto the scene as a rookie finishing as the 5th TE in both formats. His upside is delicious with his 4.42 speed. However, his 64 recs on 115 targets is a grisly 56% catch rate. With Odell Beckham Jr. healthy and Saquon Barkley as a dangerous receiving threat, I expect Engram's targets to drastically decline. He's being drafted in the 5th Round, ahead of Olsen and Walker, but I wouldn't touch him until the 7th.
Jimmy Graham – Graham finished with the most TDs (10) at the position and he joined Aaron Rodgers. However, he's the definition of TD or bust. He averaged 3.5 recs for 32 ypg so if he didn't score he killed your team. At his current 6th Round ADP I won't own any shares and I wouldn't touch him until the 8th. The upside for 12 TDs is there, but in the Packers spread offense, I'm not counting on it.
SLEEPERS
Every year guys are coming out of nowhere to dominate the TE stage. Guys like Julius Thomas, Gary Barnidge, and Evan Engram were all undrafted before they finished in the top 5. Here are some guys that you can take at the end of your draft this year that have top 5 upside.
Jack Doyle/Eric Ebron (whichever is the starter) should thrive in Indy's Offense with the return of Andrew Luck. In 2017, Doyle caught 74% of his passes posting 80recs, 2nd behind only Kelce. Ebron was the TE3 over the last 5 weeks and is flashing in OTAs.
Ben Watson is back with Brees! He played 16 games last year and posted a 77% catch rate. Traditionally the Saints TE1 averaged 132 targets between 2011-2015 (ignore the Coby Fleener years) and in 2015 Watson was the TE6 and didn't start clicking with Brees until week 6, where he jumped from 3 recs on 4.2 tgts/gm to 5.3 recs on 8.1 tgts/gm, almost double.
George Kittle is my favorite sleeper this year. He was the TE3 over the last 3 weeks, catching 11 of 14 targets (78.6%) with an average of 17.6 YPC. Over 16 games that projects to roughly 60 catches for 1040 yds. You just don't find 1000yd potential after Round 12 which could make Kittle the steal of the draft.
Jordan Reed is supposedly healthy and while he's 1 concussion away from retirement, when he's on the field he's proven that he's a top 4 TE. If you whiff on TE early, he's the perfect guy to take a shot on because the cost is low, though I recommend pairing him with another sleeper for insurance. If 1 hits, you're golden.
Winning your draft at the Tight End position is all about value. If you do not get Gronk, Ertz or Kelce, DON'T REACH for Olsen, Walker, Rudolph or Engram. Read the draft and pounce when the value is right or wait and take 2 upside guys. Follow these steps and you will have success at Tight End in 2018.
Questions and comments?
thescorecrowsports@gmail.com
Follow Us on Twitter @thescorecrow
Follow Us on Reddit at u/TheScorecrow
Follow Frank Dyevoich on Twitter @Fantasy_Giant
Main Credit Image: [getty src="898088840″ width="594″ height="394″ tld="com"]