Dale Money| April 9th, 2019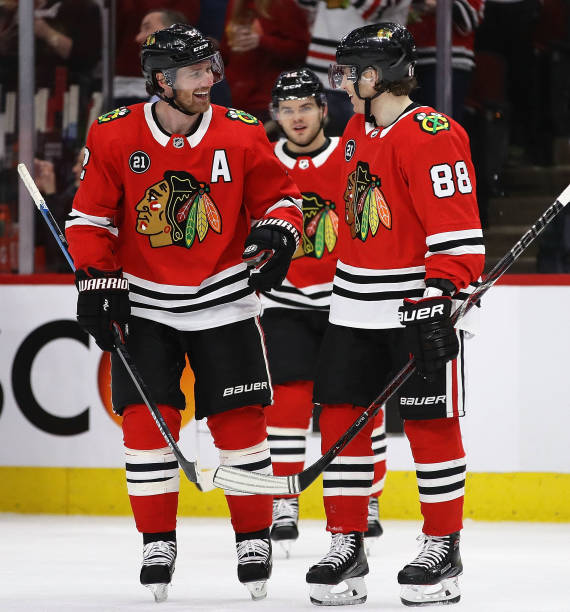 The 2018-19 Chicago Blackhawks season much like last season, featured an oft-injured Corey Crawford, uneventful off-season moves, under-performing special teams, and a soft defense.
They were coming off a season in which they missed the playoffs for the first time since 2007 and had some cash to spend, but instead of making that huge splash in the summer, the big offseason signings ended up being a 39-year-old Chris Kunitz and longtime Hurricanes goaltender Cam Ward, inking both players to one-year deals.
After starting the new season off 6-9, the Blackhawks decided to pull the trigger quite early on. Firing longtime head coach Joel Quenneville on November 6, replacing him with Jeremy Colliton, former coach of the Blackhawks affiliate Rockford. The first few weeks under Jeremy Colliton were pretty rocky in his first 17 games, the Blackhawks were a brutal 3-12-2, including an eight-game losing streak from Nov. 27-Dec. 11. Chicago couldn't recover from that stretch. They finished the season with a record of 36-34-12, good enough for sixth in the Central Division, one point above the Minnesota Wild.
The two players that helped the Hawks stay much more presentable then they should have been, both Patrick Kane and Jonathan Toews were instrumental in leading the Hawks charge. Kane finished the season with 44 goals and 66 assists for 110 points, which was good for third in the National Hockey League in scoring just behind young superstars, Nikita Kucherov, and Connor McDavid. After a few average seasons, Toews had a great bounce-back year, setting his own personal best in points, which included 35 goals. He seemed to have found an extra gear, it wasn't too long ago, many were questioning whether or not Toews still had it. The Blackhawks need to figure out a way to maximize the second half of their prime.
Starting goaltender Corey Crawford is still chugging along. He went 6-14-2 with a 3.28 goals-against average and .902 save percentage in 23 appearances before being sidelined again on Dec. 16 with his second known concussion, Crawford returned on February 27 against the Anaheim Ducks, winning that game. He played pretty well from then on, winning 9 of his last 16 games, which also included a 5 game win streak. He finished the year, with a 14-18-5 record, and 2,93 goals against average.
Defensive Struggles
Still, the defense remains a question mark. and must be the Hawks' dominant concern after a fifth consecutive season sliding down the NHL rankings in goals allowed. They gave up 3.55 a game, which ranked 30th among 31 teams. Unless Bowman is willing to stick with the players he has and cross his fingers hoping for a turn around of fortunes he'll need to be aggressive in terms of defensive transactions. Of the Hawks' seven defensemen, five are under contract for at least one more year and two are restricted free agents, in Gustav Forsling and Slater Koekkoek. 
Brent Seabrook continues to appear past his prime, posting a minus-6 rating this season, which matches his career-worst total. The 33-year-old Seabrook's contract has a no-movement clause in place until 2021-22, after which he must submit a list of five teams he would like to be sent to. 35-year-old  Duncan Keith improved quite a bit on last season and was able to finish the season with a plus 13, a mass improvement on last years minus 29, he also improved on his scoring output from a year ago, playing the full 82 games. Keith has a full no-movement clause through till the end of his deal in 2022-23.
Erik Gustafsson broke out as one of the best offensive defensemen in the league with 17 goals and 43 assists, good for seventh most points among defenseman, and his 17 goals were 3rd most overall. It was his defense that was the problem, if Gustafsson can get a handle on the defensive play while producing numbers remotely near what he's doing now, he can be a top defenseman in the NHL.
The Hawks first overall pick from last year, Adam Boqvist is still one or two years away from coming up. Boqvist seems to be developing very nicely with the London Knights, he has gotten the opportunity to learn the North American game, building his skills under Knights longtime coach Dale Hunter. He put up 60 points during the regular season to lead all London defencemen and finish third in team scoring.
Looking Towards Next Season
The Chicago Blackhawks will enter the offseason needing to do some serious work after missing the playoffs in consecutive years. Heading in this summers free agency, the Blackhawks will be in a much better position, The mid-season pickups of both Brendan Perlini and Dylan Strome and Drake Caggiula seem to have been solid moves. With the salary cap being projected to rise up to 83 million heading into next season, that would give the Blackhawks $23 million in cap space, with only five or six players needing to be signed. With such a huge chunk of change in their lap, and Artemi Panarin hitting the market, Hawks fans will no doubt be expecting Bowman to make the move to bring Panarin back home, he will probably be looking for in the region of 9 million a year.
Colin Delia looks like a solid backup and perhaps future number-one goaltender. Artem Anisimov remains a solid depth player, and Marcus Kruger has long been a key fourth-liner. Brandon Saad is young enough to return to form and should much more promise than last season, scoring a dozen more points with two fewer games. There certainly does appear to be a lot to be excited about in terms of future potential.
Check out our other NHL Reviews: Boston Bruins | St. Louis Blues
Questions and comments?
thescorecrowsports@gmail.com
Follow Us on Twitter @thescorecrow
Follow Us on Reddit at u/TheScorecrow
Follow Us on Facebook at The Scorecrow
Follow Us on Instagram at The Scorecrow
Follow Dale Money on Twitter @packerd_00
Main Image Credit:
[getty src="1140268047″ width="554″ height="594″ tld="com"]