Levon Satamian | December 13th, 2018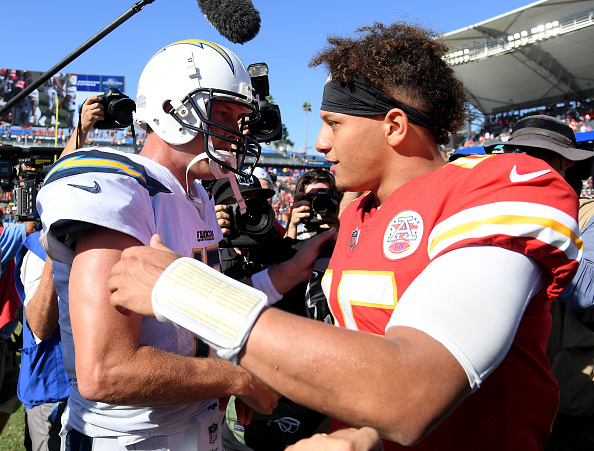 The Chargers are just one game behind the Chiefs for first place in the AFC West and they lay tonight for the best record in the AFC. The Chiefs are 11-2, the Chargers are 10-3. Chiefs escaped with wins in the last two weeks against the Oakland Raiders in week 13 and the Baltimore Ravens last week in overtime. The Chargers won in Pittsburgh and didn't play well against the Bengals but escaped that game with a win.
Tonight could be a high scoring game; however, if the Chargers defense, led by the likes of Joey Bosa, Melvin Ingram III, and Derwin James step up and stop Mahomes, it could be at least a two-possession win for the Chargers because the Chiefs defense cannot stop Philip Rivers. In week 1, the Chiefs defeated the Chargers 38-28, Tyreek Hill torched the Chargers defense and special teams that game. But, Bosa is back, Derwin James has settled in and is playing with a lot more confidence and swagger. In week 1, Philip Rivers threw for 424 yards, 3 TD, and 1 INT. In reality, Rivers should have had 6 TDs and over 600 yards that game as crazy as that sounds. But, 2 dropped passes by Travis Benjamin which would've led to touchdowns, and a dropped pass by Tyrell Williams, which would have led to a touchdown too, were the deciding factors in that game. It's a tough atmosphere to play in at Kansas City, especially in a primetime game, but who better to have on your team than Philip Rivers? If he led the team to Pittsburgh, fought back from a 23-7 Steelers lead, and won the game, anything is possible with Rivers at QB.
Eric Berry will return tonight, of course, he will be limited especially against a talented wide receiver like Keenan Allen, but when Berry gets on the field, that crowd in Kansas City will be up, cheering, and roaring, it will be tough for the Chargers, but if they can get off to a fast start, that crowd will settle down. Melvin Gordon, questionable for tonight's matchup, will be a surprise if he can play tonight. Spencer Ware is out tonight, as is Austin Ekeler. Justin Jackson will be the primary back for LA; he could have a big game against this Chiefs run defense.
A couple of things could be decided with tonight's game, first, who is the MVP? I know many of you think Mahomes deserves it and rightfully so, but, Philip Rivers is not too far off from getting the MVP award either. Both QBs have led their respective teams to an excellent record and a good position for the playoffs. It could also decide who will win the AFC West division and who will have the best record in the AFC. The Chargers can clinch the playoffs this week with a couple of scenarios; the simplest scenario would be to either win/tie against the Chiefs. I think the Chargers will figure out a way to win this game tonight; it will be a close game, Chargers win 31-28.
Questions and comments?
thescorecrowsports@gmail.com
Follow Us on Twitter @thescorecrow
Follow Us on Reddit at u/TheScorecrow
Follow Levon Satamian on Twitter @TheSportsNotes
Main Credit Image: [getty src="1030068890″ width="594″ height="451″ tld="com"]