Carson Babbini | March 7th, 2019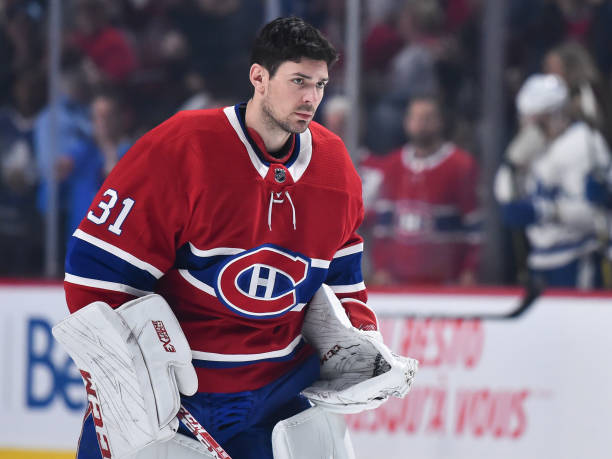 A monumental feat was accomplished Tuesday night when Carey Price tied legendary Montreal Canadiens goaltender Jacques Plante for most career wins in a Canadiens sweater, and Price may get the opportunity to pass him as soon as tonight if Price starts for the Canadiens in their game against the San Jose Sharks.
Price has been on a phenomenal role this season, which has culminated with this historical accomplishment, tieing Plante with 314 career wins. Although Price took a year longer than Plante to reach this milestone, 12 years to 11 years, Price has been nothing short of fantastic throughout his years in Montreal. Price was in the running for the Calder Trophy and the Vezina Trophy in his rookie year. His most successful year, as far as awards go, was the 2014-15 season where Price took home the Vezina Trophy, the Ted Lindsay Trophy, the Jennings Trophy, and the Hart Trophy all during that season.
Plante is also one of the greatest, if not the greatest, goaltenders in the history of the NHL. The Hall of Famer, inducted in 1978, has been part of six Stanley Cup championship teams with five of them coming consecutively from 1956-1960, and his first coming in 1953. Plante was also an eight-time All-Star, five of those All-Star game appearances came consecutively as well from 1956-1960, the same time frame as the five straight Stanley Cups. He also was named an All-Star in 1962, 1969, and 1970. He won five straight Vezina Trophies again from 1956-1960 as well as two more in 1962 and 1969.
Plante, of course, is most famous perhaps for being the first goaltender in the NHL to wear a goalie mask and brought about a new era to the game when he came out on the ice after breaking his nose during a game against the New York Rangers.
This is an amazing feat for Price and is great for Montreal. If Price continues to be the fan favorite he has been and the season he has had, this won't be the only accomplishment he sees come to fruition this year.
Questions and comments?
Follow us on Twitter @thescorecrow
Follow us on Reddit u/TheScorecrow
Follow Carson Babbini on Twitter @cbabs1120
Main Image Credit:
[getty src="1128964324″ width="594″ height="446″ tld="com"]