Brian DeWester | September 29th, 2018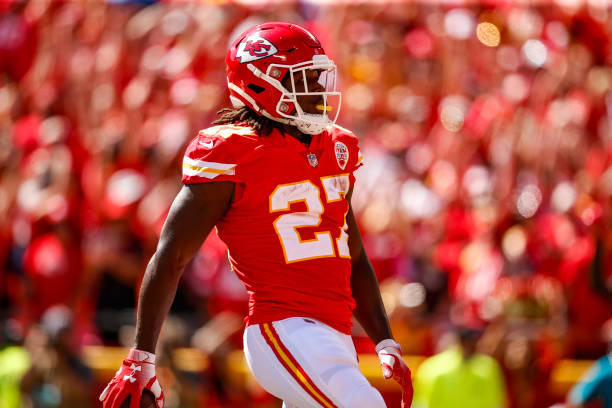 Ah, yes, trading in fantasy football. One of the things that can give hope to the hopeless or the bored something to do. Although, finding the right deal isn't always easy. You have to identify players that you can realistically acquire (based on what you're willing to give up), and then craft an offer that would appeal to your would-be trade partner. While the last step is important, the focus of this article is to help you identify players that are worth trading away and trading for. And as always, it's important to remember that not every trade can fit into the ideal "buy low/sell high" mold. With that being said, it's time to look at what I'm buying and what I'm selling after three weeks of football.
What I'm Buying
A quick review of Week 2 buys: I bought George Kittle's rise in the TE ranks, the Pat Mahomes – Tyreek Hill connection, and the hot-hand RB approach in Denver. Overall, not bad. Kittle's rise will likely take a detour at this point with C.J. Beathard at the helm. Although, if you're grasping for hope, they were college teammates, so hopefully that chemistry transfers over to the NFL field.
The buy list also featured Kenyan Drake, Corey Davis, and Chris Hogan. While Drake and Davis have the talent to turn things around, Hogan's chances took a big hit after the Josh Gordon trade. In short, Drake and Davis move to hesitant buys for me while Hogan is more of a sell candidate. Adapt, react, readapt, everyone.
Kerryon Johnson
Over the course of the preseason, Kerryon Johnson seemed to be the most talented RB in the Detroit backfield. The only thing he needed was more opportunity. Over the course of the last three games, Johnson's percentage of touches has gone from 38 to 41 to 45. After Johnson dropped a 100 yards on the Patriots, it's hard to see that trend turning around. The only problem moving forward is that LeGarrette Blount is likely still the short-yardage/goal-line back. And Theo Riddick is the pass-catching back on the team, which caps Johnson's upside. While I expect Johnson's value to continue to rise, don't go overboard in your attempts to acquire him.
Jordan Howard
Small sample size alert, but through three games Jordan Howard ranks 12th in snap share, 10th in opportunity share, and ninth in red zone touches. He also has 11 targets, which puts him on pace to surpass his last year target total by 26. And yet Howard currently ranks 17th in standard and 18th in half PPR leagues. In short, as long as he continues to see this kind of usage Howard's rank is sure to rise, making him a prime buy candidate.
Odell Beckham
You might have heard this one before, but Odell Beckham is good at this whole football thing. However, his respective fantasy points don't exactly reflect that right now. Although, there is hope that will change in the immediate future. This week, Beckham Jr faces off against the Saints who have been allergic to defense over the course of this season so far. He also ranks fifth in target share and eighth in end zone target share. To put it simply, Beckham is due for some positive regression, which means this buy window should be closing soon. The trouble is that the Beckham owner in your league may know that too. Either way, it's worth exploring what it would take to bring him in.
Keenan Allen falls into a similar boat as Odell Beckham. But Allen faces more end zone competition and he may not play this week due to a knee issue.
Sony Michel
At one point it looked like Rex Burkhead would have a valuable role in the Patriots backfield. He was supposed to be the goal-line back while being involved in the passing game. His current injury, of course, changes that. Now that the Patriots have placed Burkhead on IR, it's time for someone to step up to take over that role. Enter Sony Michel. While Michel didn't look great as a passing option, he does have a pathway to immediate value. He figures to slide into the goal-line back role on a team that has been one of the top scoring teams over the last five years. And he will see his fair share of carries to help raise his weekly floor. Just don't expect him to take the majority of the passing work away from James White.
What I'm Selling
In Week 2, I highlighted the likes of Adrian Peterson, Derrick Henry, and Alex Collins as sell candidates. While all of them remain on that list for me, Peterson isn't one that you should force. If the right deal for you and your team doesn't come along, use him in predictable positive script games.
Kareem Hunt
There are a few things that are concerning about Kareem Hunt going forward. First, he really isn't involved in the passing game. After seeing roughly four targets a game last year, Hunt is only seeing one per game this year. You read that right. Only one. While there's certainly a chance that those numbers will improve over the course of the season, the presence of Sammy Watkins really puts a lower ceiling on what those numbers could be. Second, Hunt is not evading tackles at the same rate as last year. Last season Hunt led the league in evaded tackles, which helped to create more and more fantasy points. This season Hunt is 37th in evaded tackles, which Google tells me is not as good as first.
Now, even though Hunt is a sell candidate, it's not like his value is completely shot. He is on one of the best offenses in football, which means plenty of scoring chances. And historically quarterbacks that can run the ball have a positive effect on the efficiency numbers of their running backs. In other words, there is still hope. However, if he were on my team, I would be looking at packaging him in a deal to upgrade at the position.
Carlos Hyde
There are definitely reasons to like Carlos Hyde right now. His team is second in run plays. He is second in carries, touchdowns, and first in goal-line carries. All good things. The only problem is Hyde really isn't involved in the passing game. In three games this season he has six targets. That's it. And this is a concerning trend for at least two reasons. First, without the targets, Hyde is more of a touchdown-dependent player. Yes, the touchdowns are happening right now, but likely won't continue at the same rate going forward. Second, seeing more targets would help to create a more reliable weekly floor. However, Duke Johnson and his new contract put Hyde in a position where his target share won't grow much, if at all. Hyde is a classic sell high candidate.
Questions and comments?
thescorecrowsports@gmail.com
Follow Us on Twitter @thescorecrow
Follow Us on Reddit at u/TheScorecrow
Follow Brian DeWester on Twitter @BrIreland
Main Credit Image: [getty src="1038444188″ width="594″ height="396″ tld="com"]