Brian DeWester | September 13th, 2018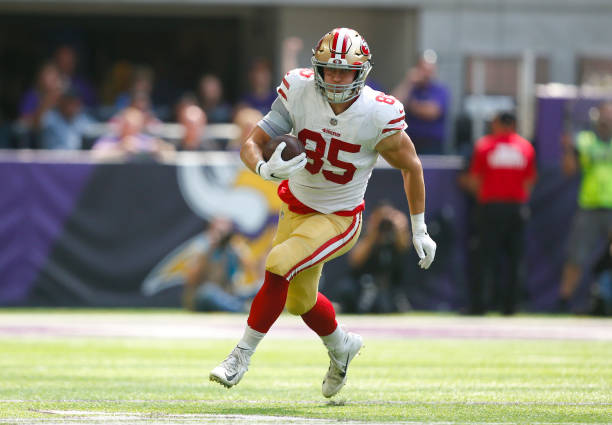 Trading in fantasy football isn't exactly for the risk-averse. Although, it would be hard to imagine a football season without it. And there is nothing quite like putting together a trade offer that ends up helping your team in the long run. The difficulty is not only finding that deal but also weighing the potential risk versus the potential gain. For instance, the aftermath of Week 1 provides ample opportunity to take advantage of some serious tilting. However, there is the risk of overreacting and falling victim to the dangers of small sample sizes.
Whatever you choose to do, keep in mind that not every trade can fit into the "buy low, sell high" archetype. Sometimes it makes sense to buy high; especially, if you think the stock of the player will continue to rise. The same can be said for selling low. So, without further adieu, here are some trends and players that I'm buying/selling after the first week.
What I'm Buying
George Kittle's Rise in the TE Ranks
Yes, Marquise Goodwin was hurt. And yet, that likely played a roll in George Kittle's usage this past Sunday. However, there are reasons to think that Kittle can be a mainstay as an every week fantasy TE. First, Kittle plays on a team that lacks a clear primary receiver and red zone presence, which makes him more of a touchdown threat. Second, the Jerick McKinnon injury likely shifted targets from the backfield, which means there are more targets up for grabs. And third, Kittle not only led the team in targets this past game, but his average depth of target threatened to enter the Rob Gronkowski stratosphere.
George Kittle might just be a league-winner.

Coming off a shoulder injury, Kittle played on 80% of #49ers snaps, led team in targets (9), and his 13.1 average depth of target in Week 1 nearly matched Gronk's (13.4). Look at the vertical element on his routes, per #NextGenStats: pic.twitter.com/dPFBDD4GVa

— Graham Barfield (@GrahamBarfield) September 10, 2018
The Mahomes-Hill connection
Unsurprisingly, crow isn't my favorite meal. There were plenty of reasons to expect a regression for Tyreek Hill, but he apparently doesn't care about any of them. Yes, there is no way that Patrick Mahomes can keep up his insane touchdown percentage (14.8%). And yes, there is no way that Hill can average over 24 yards per catch. Especially, when you consider the schedule they have to overcome. However, the duo has shown they are a threat to score anywhere on the field, and they have week winning potential.
The Hot Hand in Denver
One of the most concerning developments for Royce Freeman owners is the rise of Phillip Lindsay. Lindsay not only out-touched Freeman on Sunday, but he also out-gained him. While Freeman still profiles as the better two-down thumper, Lindsay's performance on Sunday indicated that the coaches will reward the back that is producing. Add on the fact that Lindsay is the better pass-catching back, and you have a recipe for inconsistency for Freeman in the immediate future.
What I'm Selling
The Saints Defensive Performance
Congratulations, Ryan Fitzpatrick truthers. Sunday was certainly your day. Fitzpatrick's line of 417 passing yards and four touchdowns essentially turned the Saints defense into a dead body for Wil Wheaton and River Phoenix to find. While it might be tempting to target this defense right now as a streaming target, I would hold off. There is simply too much talent on this defense to continue the complete collapse.
Players to Buy
Kenyan Drake
Frank Gore is likely persona non grata amongst Kenyan Drake owners after Week 1. Now would be the time to ask yourself what is more likely to happen going forward: a 35-year-old back has an outlier year of efficiency, or a player, who had one of the best juke rates at his position last year, starts to bank more fantasy points? Take advantage of the Week 1 tilt and upgrade your RB2/Flex position.
Chris Hogan
Let's just say that Chris Hogan had an off day. His one catch for 11 yards was not exactly what people had in mind when they drafted him this year. And now that he's set to face off against Jalen Ramsey and A.J. Bouye, owners could be panicking after Week 2. This, of course, creates a great buying opportunity for a player who was the WR10 in the first eight weeks of the season last year, and who is also a threat for 10 touchdowns.
Corey Davis
The performance of the Titans offense is hardly a selling point right now. However, Corey Davis saw 13 targets this past game. My sources tell me that's good. Delanie Walker is also out for the season, which could make Davis more of a priority target while they are inside their opponent's 10-yard line. Obviously, you shouldn't break the bank with your offer for him because while he may be targeted a lot, there are no guarantees those targets will be accurate ones. Nonetheless, there is still hope for a breakout from this former first-rounder.
George Kittle
Yes, you are buying on the higher side here. However, there is room for his value to continue to grow. As mentioned above, Kittle's situation checks a lot of boxes and it's not like he doesn't have the athleticism to jump into that starter's tier this season.
Players to Sell
Adrian Peterson
You know it was Adrian Peterson's week when he gained 70 yards through the air. Now, it's not exactly going out on a limb to say that Peterson won't be used as a pass-catching back going forward because, you know, we have the entirety of his career to point to. In short, the positive game script this past week really propped up Peterson's value to an unsustainable level. Keep in mind that he does face the Colts this week, which is another plus matchup. So you could roll the dice one more time to see if two good games would help to convince another owner to pay up for Peterson.
Derrick Henry
This isn't exactly a selling high opportunity, but Derrick Henry is quickly becoming a touchdown-dependent player. Case in point, Dion Lewis had six more carries and seven more targets than Henry this past game. A game in which the Titans were within one score for a majority of the game. That's not exactly the recipe for consistent fantasy success. While Henry will have some boom games coming down the road, it makes more sense for him to be someone else's problem at this point.
Alex Collins
Alex Collins fumbled his way to the sidelines this past Sunday. Unless he had some undisclosed injury in Week 1, his time on the sideline in the Buffalo game could spell doom for his fantasy value this year. Collins and his fumbling issues have been well known since his time in college, and if the Ravens are going to bench him every time he puts the ball on the ground, well, then you can't exactly start him with confidence. Much like with Derrick Henry, it makes more sense to move on from Collins.
Questions and comments?
thescorecrowsports@gmail.com
Follow Us on Twitter @thescorecrow
Follow Us on Reddit at u/TheScorecrow
Follow Brian DeWester on Twitter @BrIreland
Main Credit Image: [getty src="1035341998″ width="594″ height="412″ tld="com"]