Matt Bishop | April 25th, 2019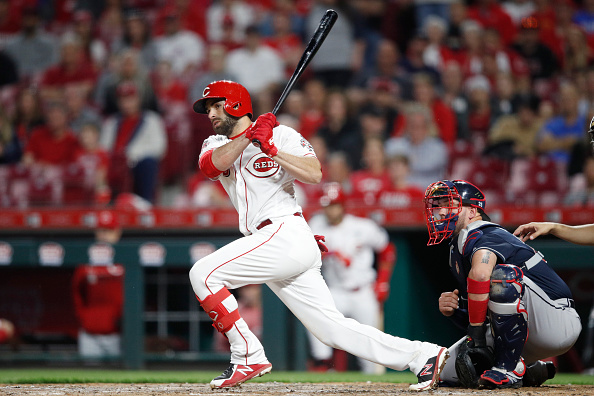 Hey, how are you? Are you confident and cruising or desperate and humbled? Investing such high draft capital in any superstar succumbed to injury can be soul crushing. But no matter if you're dominating the field or scraping to get by, checking in on players and monitoring the waiver wire can keep you competitive. I don't think a lot of owners are aware that most leagues keep stats for the last 7, 14, 21 and 30 days, which is extremely important in deciding on free agents. If a player is consistently showing up in different sample sizes, you can probably assume it's more than a hot streak. 
*Waiver wire filters for standard CBS, ESPN and Yahoo leagues can help you to determine who is hot right now, not just compiling stats. 
WEEK 3 TOP HITTERS
HC = Hard Contact %
Swst = Swinging Strike Rate (Swing and Miss/Total Pitches)
WEEK 3 TOP PITCHERS
BUY LOW
Jose Peraza is being dropped in a ton of leagues, which is a huge mistake. Peraza can offer you a high average and stolen base upside. While his o-swing and swinging strike rates are drastic career highs, his contact outside the strike zone (63.0%) and overall contact percent (81.6%) are career lows. These are still well above league average. 
 His early struggles can be attributed to a differing pitch mix. He is currently seeing 5.5% less fastballs (51.4%), 8% more sliders (26.1%) and 4% more changeups (11.0%).  Peraza is currently hitting .077 against sliders (.248 career) and .083 against changeups (.193 career). It's pretty easy to see positive regression on the way based on his career numbers against these offerings. If he was dropped, grab him for your bench or middle infield (MI) position. If he's still rostered, make an offer. His multi-positional eligibility (2B/SS) and 20/20 upside should not be undervalued.
SELL HIGH
Noah Syndergaard had 10 swinging strikes (36% CSW) on 04/15 against the Phillies and 11 swinging strikes (28% CSW) on 04/21 against the Reds. And while his league leading 97.7 mph average fastball velo is impressive, Noah Syndergaard is not going to blossom into the top shelf ace we drafted him to be. Nick Pollack from Pitcher List wrote an article last season on Syndergaard as more of a thrower than a pitcher and I have not been able to look at him the same since. Read it here.
Even ignoring the injury concerns and the fact that he has only eclipsed 180+ innings once in his young 4 year career, his 2019 numbers are pretty much on par with his career metrics. While his 10.55 K/9 is the second highest of his career, his WHIP (1.28) and BABIP (.346) are career highs.  While I will admit that his peripherals appear to indicate he is getting unlucky (5.90 ERA 2.94 FIP 3.36 xFIP) and getting inflated by the long ball, his hard contact rate (32.1%) and flyball percentage (34.2%) are career highs. If you pair this with career low o-swing (32.1%) and swinging strike rates (12.4%), he kind of falls out of favor as a top tier ace.
Syndergaard is a 4 pitch pitcher: Fastball (59.7%), Slider (18.8%), Changeup (15.4%), Curveball (6.1%). He has not had a negative pVAL on any of his pitches since 2015.  So far in 2019, he has 3 pitches with a negative pVAL. His bread and butter have always been his slider and changeup. The slider is currently inducing a 15.2% swinging strike rate, which is a drastic career low (18.9% previous). It is also only inducing a 38.2% o-swing, which is the first time it dipped below 40% in his career. His changeup is still decent, but not the elite offering it once was. The change is still producing a 51.4% o-swing, but a 21.3% swinging strike rate, which is down to a 3 year low. I am not saying Syndergaard is a bust or should be traded, but I am saying he is not the pitcher you think he is going to be, yielding 10+ strikeouts in every outing. He can still be a solid SP 1 on your squad, but if the wheels fall out from underneath him, don't be surprised.
DROP
Danny Jansen was a late season call up in 2018 and a pleasant surprise for fantasy owners and the Blue Jays organization. In his small sample size (95 plate appearances), he didn't disappoint, hitting .247/.347/.432 (.779 OPS) with 3 HR 12 R 8 RBI. This was topped off with a 9.5% BB rate, 17.9% K rate and a 115 wRC+, which was impressive for his first stint at the major league level.
2019 has been drastically different as Jansen is only hitting .169/.258/.220 (.478 OPS) with 0 HR and a 9.1% BB 30.3% K rates. While his 41% hard contact rate is drastically up from his 20% in 2018, the hits are just not falling as his contact rate is down more than 9% from last season. He is currently seeing 9% more fastballs this year and is only hitting .091 against the heater, as opposed to his .219 last season against fastballs. I expect him to break out of this funk, but if he doesn't, he may lose playing time to Luke Maile.   
DEEP LEAGUE WAIVER WIRE ADD
REYNALDO LOPEZ, SP CHI (26% owned CBS, 11% ESPN, 9% Yahoo)
Reynaldo Lopez had 13 swinging strikes (30% CSW) on 04/16 against the Royals and 14 swinging strikes (27% CSW) on 04/21 against the Tigers. He is currently carrying a 7.46 ERA 1.89 WHIP with an atrocious 2.49 HR/9, which is the 4th worst rate in baseball.  However, his 6.48 FIP and 6.42 xFIP show be may be getting unlucky and his lofty .356 BABIP has to come down. His contact rate (78.6%) is a career low, while his swinging strike rate 9.5% is a career high. While he currently only has 1 pitch with a positive pVAL (changeup), his slider is yielding an 18.6% swinging strike rate. His velo is up almost 2 mph since the start of the season and his command has drastically improved:
FIRST 3 STARTS:
(1-2) 13.1 IP 12.15 ERA 2.55 WHIP
8.1 K/9 8.1 BB/9 7% SwSt 40.8% HC
LAST 2 STARTS:
(1-1) 12.0 IP 2.25 ERA 1.17 WHIP
9.8 K/9 1.5 BB/9 12% Swst 37.5% HC
It's early on only 5 starts, but this is a different pitcher. He could be figuring it out and I am all on board for it. 
MONITOR
CORBIN BURNES, SP MIL (24% owned CBS, 4% ESPN, 4% Yahoo)
After pitching to a 10.70 ERA and allowing most of the homeruns in baseball this season (5.60 HR/9), the Brewers had seen enough and optioned Corbin Burnes to Triple-A. While Burnes has long shown flashes of an elite secondary offering, his 57.9% HR/FB rate paired with a .404 BABIP do not instill confidence in a robust offensive environment that is Miller Park.
But on the season, Burnes has a 36.5% swinging strike rate on his slider, while opposing batters are hitting just .053 against it. What's more mind-blowing is his 67.4% whiff rate on his slider, which is the best mark in baseball (min 50 thrown) by a wide margin and 12% higher than second place. His slider is elite and reminiscent of Patrick Corbin in 2018.
But his fastball is flaming garbage and literally the polar opposite of his slider.  Opposing batters are hitting .469 against his four seam fastball, which has yielded an -11.8 pVAL on the season. Of the 11 home runs he has allowed on the season, 9 have come off his fastball.
I'm not telling you to hold him, but monitor his progress in the minors.  Pitchers normally get sent down to work on their shortcomings and if he can tighten up his fastball, he could be dangerous.
Questions and comments?
thescorecrowsports@gmail.com
Follow Us on Twitter @thescorecrow
Follow Us on Reddit at u/TheScorecrow
Follow Us on Facebook at The Scorecrow
Follow Us on Instagram at The Scorecrow
Follow Matt Bishop On Twitter @Bishphat
Main Image Credit: 
[getty src="1138990341″ width="594″ height="396″ tld="com"]