Richard Benites| May 29th, 2019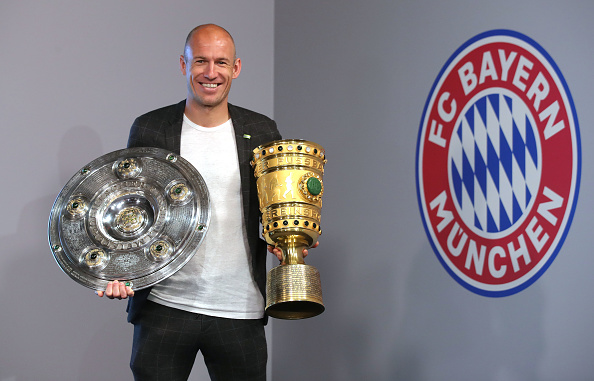 With the DFB-Pokal Cup, Germany's domestic football tournament, now wrapped up we're all left with a familiar sight: FC Bayern Munich hoisting the trophy in celebration. The conclusion of this postseason competition also signals the official commencement of the German offseason, as transfer window rumors and signings begin to make the headlines.
If you're a follower of Germany's premier footballing league, commonly known as the Bundesliga, you're probably itching for the new season to start – unless you're a fan of one of the bottom three teams, more on that later. Regardless, with the 2019-20 season still months away, we'll sum up all the highlights as we take a look back at how last season went; here's our Bundesliga 2018-19 season recap.
Back-to-Back-to-Back-to…You Get the Idea
For the (*counts on fingers*) seventh season in a row, Bayern Munich is the Bundesliga champions. From 2012 and on, the Bavarian club has held the crown, but their continued success originated much earlier than that.
Since the Bundesliga's inception, back in 1963, Bayern has won a total of 28 league titles – the most by any club in Germany. That's 23 more than the next two runner-ups: Borussia Mönchengladbach and Borussia Dortmund, who each have 5 titles to their name.
Sure Bayern may be by far the wealthiest club in Germany, also ranked fourth richest in global standings, but their prosperity is a result of much more than just money. It's a club that's rich in both funds and history. They've created a unique footballing culture in Munich, one that draws the best players in the world to want to compete there.
Only 2 Points Separating the Title Race
Although Bayern's streak as league champions was almost broken, it was second-place Borussia Dortmund who gave them a run for their money.
Even into the final weeks of the season did the Black and Yellow challenge for the Bundesliga title. A devastating 5-0 loss to Bayern, on Matchday 28, shortened Dortmund's league lead, but it was last month's loss to Schalke and tie against Werder Bremen that ultimately did them in.
Regardless, it was still a great season for Dortmund as they had two of their own finish in the top-3 of goalscorers: Paco Alcácer with 18 goals to his name, and club captain Marco Reus with 17; young star Jadon Sancho would also go on to finish with a league-leading 14 assists. And to further help in bolstering their attack, Dortmund recently signed Thorgan Hazard and Julian Brandt – it'll surely be exciting to see just how far this electric team can go next season.
Success in Europe
Overall, it was a pretty decent year for German clubs participating in European competitions.
In the Europa League, Bayer Leverkusen reached the knockout stage after finishing at the top of Group A with 13 points. However, Eintracht Frankfurt's Cinderella run was the most surprising as they managed to reach the semifinals – where they'd ultimately fall to Chelsea via penalty shootout.
As for the Champions League, Schalke would go on to feature in the knockout stage alongside Bayern and Dortmund. Unfortunately, England was their bane in this one as all three of the German sides fell to English clubs in the Round of 16.
Relegation and Promotion
One thing that sets football apart from most other sports is its unique relegation and promotion system. Even more unique is Germany's relegation and promotion system.
The bottom 2 teams in the 'Bundesliga' get relegated to Germany's second-tier league the '2. Bundesliga', whereas the top 2 teams in the '2. Bundesliga' get promoted to the 'Bundesliga'. Simple so far, right?
Well, in addition to this, the third-to-last team in the Bundesliga competes in a relegation play-offs match against the third-place team in the 2. Bundesliga – we recommend simply looking up both league tables to get a better picture of Germany's relegation/promotion system.
For the Bundesliga, Hannover 96 and FC Nürnberg are the two teams to be relegated for next season. Meanwhile, FC Köln and Paderborn 07 are headed to the Bundesliga after finishing within promotion range.
In regards to this year's relegation play-offs, Bundesliga's VfB Stuttgart faced off against 2. Bundesliga's Union Berlin. This was a two-game series that resulted in a Union Berlin victory, as the final aggregate score came in at 2-2 but favored them due to away goals. The two clubs will now swap leagues as this will be the first time that Union Berlin has ever competed in the Bundesliga.
Questions and comments?
thescorecrowsports@gmail.com
Follow Us on Twitter @thescorecrow
Follow Us on Reddit at u/TheScorecrow
Follow Us on Facebook at The Scorecrow
Follow Us on Instagram at The Scorecrow
Follow Richard Benites on Twitter @richardbenites
Main Credit Image: [getty src="1152185507″ width="594″ height="381″ tld="com"]