Givanni Damico | April 22nd, 2019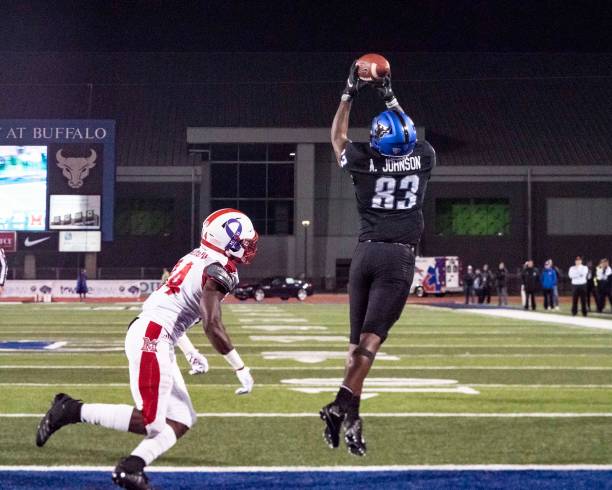 The Bills filled some major holes during free agency and are starting to look like potential playoff contenders. They still lack a few positions and need to fill these gaps in the draft. To help with this mock draft, I used the FanSpeak on the Clock simulator.
Round 1, 9th Overall: Ed Oliver, DT (Houston)
I've asked many Bills fans who their guy would be at nine if they were being reasonable. 95 percent of them responded with Ed Oliver. Oliver is an athletic freak who can play defensive tackle or even potentially defensive end. He is very fast and athletic with a solid point of attack. His bull rush is a bit underwhelming due to his lack of size. Oliver needs to put on some weight to be able to break through offensive lines that are as strong as the Cowboys'. Going into the 2018-19 season, many regarded Oliver as a top-three pick. The only reason that I could understand his stock dropping is because of his size. Oliver at nine for Buffalo would be a steal.
Round 2, 40th Overall: Irv Smith Jr, TE (Alabama)
The Bills cut Charles Clay who was just not producing for them at all. During the offseason, they signed former Cincinnati Bengal, Tyler Kroft, to play tight end for them. Although Kroft is a solid producer, he doesn't scream "starter potential". Irv Smith Jr. is a very athletic tight end who has an advanced route-tree. Like Oliver, some worry that Smith isn't big enough to dominate as a tight end in the NFL at just 6'2". He has very soft hands and played for a very sophisticated offense against the best of the best NCAA teams at Alabama. The production is there, the only question is whether his production in college will translate to the NFL.
Round 3, 74th Overall: Terry McLaurin, WR (Ohio State)
McLaurin is a burner, running a 4.35 40-yard dash. He was very productive in college and one of Dwayne Haskins' favorite targets last season. The Bills made moves picking up Cole Beasley and John Brown, but their receiving core is lacking depth. McLaurin is someone who would see significant playing time for Buffalo because his speed and Josh Allen's arm would make for a good deep ball connection. McLaurin would just strengthen this somewhat mediocre class and give Allen another target to sling it to.
Round 4, 112th Overall: Darrell Henderson, RB (Memphis)
The Bills' top two running backs are both old and trending in the wrong direction. They signed Frank Gore to replace Chris Ivory and have LeSean McCoy as their featured back. Darrell Henderson would bring some much-needed burst to this running back corps. Henderson is very shifty and could learn a lot from McCoy until Henderson is ready to take over the reins. He is a bit of a risky pick because he didn't play many top run defenses in college, but either way, he made his presence known on that field.
Round 4, 131st Overall (via KC): Maxx Crosby, EDGE (Eastern Michigan)
Maxx Crosby is one of the most underrated prospects in this draft class. He is very quick and athletic and was excellent as a pass rusher in college. Due to his lack of size, Crosby is not the most effective run-stopper, although this is something that can be improved if he adds on some weight and once he starts working with the NFL coaching staff. My only gripe about Crosby is that it is very possible that he ends up getting bullied by the big offensive tackles such as Tyron Smith and is unable to have any effect on the play.
Round 5, 147th Overall: Iosua Opeta, OT (Weber State)
I don't know too much about Iosua Opeta other than the fact that he is one of the strongest men in this draft class. I knew nothing about him until the combine and I was pleasantly surprised when I watched his tape. Opeta is a bully who can totally lock down interior defensive linemen. He is an absolute anchor in the passing game. Many argue that Opeta has not faced much real competition because he plays for Weber State and I would agree. This is another risky pick because nobody knows how his talent and strength will translate to the NFL. We can just hope that he does not become only known for his strength like Russell Bodine.
Round 5, 158th Overall (via Oak): Anthony Johnson, WR (Buffalo)
This would be a good story for Johnson if he goes to his hometown team. Anthony Johnson is a good player, but he isn't much more than a depth player at this point. He has good hands and explosiveness off of the line of scrimmage, but his skills are far too raw to be utilized right away. His cuts need to be much smoother than they are now and he needs to work on his separation. The Bills have seen a decent amount of Johnson which makes him a good candidate for this pick.
Round 6, 181st Overall: Sutton Smith, LB (Northern Illinois)
Smith is another small school kid who absolutely tore it up in college last season. As a redshirt junior last season, Smith had 15 sacks. As a redshirt sophomore in 2017, Smith had 14 sacks. Sutton Smith is a freak of nature athletically who was simply too quick for the MAAC offensive linemen. He played in college as a defensive end but this simply won't be the case in the NFL. Smith is only 6'0" 233 pounds. He played some coverage linebacker at Northern Illinois, but not enough to really judge his ability. I guess we're continuing the trend of boom-or-bust players who have real potential. At this point though, Smith would not be a bust if he doesn't succeed. Nobody outside of the second round can really be considered a bust.
Round 7, 225th Overall: Marvell Tell III
, SAF (USC)
Marvin Tell did a little bit of it all during his career at USC. He recorded five interceptions, a handful of tackles for loss, a forced fumble, and a touchdown during his time there. While this production may not jump off of the page, Tell had great tackle numbers. I could honestly see him as one of those guys who make the switch to outside linebacker, but I doubt he will. Tell does a great job at reading the quarterback and picking up coverage by following the quarterback's eyes. Tell would most definitely not start for the Bills considering they have Jordan Poyer and Micah Hyde, but he could get some playing time as a depth option.
Round 7, 228th Overall (via CAR): Dakota Allen, LB (Texas Tech)
Allen is a very big, tough inside linebacker who had great production at Texas Tech. He has good footwork and a strong point of attack when he is rushing the passer. In coverage, he does an adequate job reading the quarterback's eyes and filling the gap. He had four interceptions during his career but he struggled against the run. His tackling technique is suspect and misses opportunities to shoot the gap. I could see Allen's ceiling being Kamu Grugier-Hill. Grugier-Hill is a captain for the Eagles and is a great special teams player. Allen doesn't have great potential to be an everyday starting linebacker, but he could definitely be someone who starts on the special teams' unit.
Check out our other Team Mock Drafts: San Francisco 49ers | Washington Redskins | Indianapolis Colts | New York Giants  |Arizona Cardinals| Jacksonville Jaguars | Detroit Lions | Tampa Bay Buccaneers | New York Jets | Green Bay Packers | Cleveland Browns | Los Angles Rams | Pittsburgh Steelers | Chicago Bears | Tennessee Titans | Baltimore Ravens | Seattle Seahawks
Questions and comments?
thescorecrowsports@gmail.com
Follow Us on Twitter @thescorecrow
Follow Us on Reddit at u/TheScorecrow
Follow Us on Facebook at The Scorecrow
Follow Us on Instagram at The Scorecrow
Givanni Damico on Twitter @giodamico15
Main Image Credit:
[getty src="1055647982″ width="594″ height="475″ tld="com"]