Daniel Corrigan | December 12th, 2018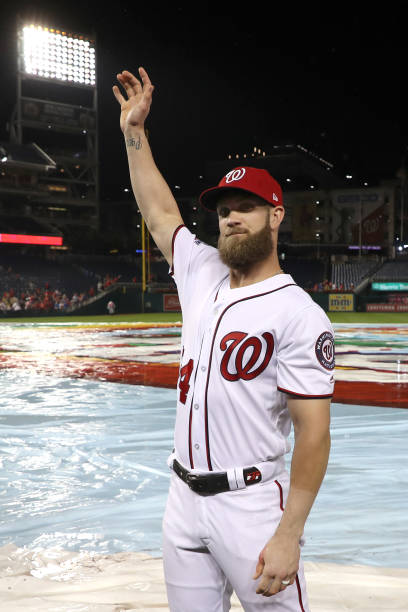 For those of you not paying attention, arguably one of the best players in baseball is an official free agent for the first time in his young career. The phenom, Mr. Eye-Black, and man with possibly the best hair in the United States, Bryce Harper.
If you couldn't tell, yes I do have a man crush on Harper. He is one of those players where if he comes to your hometown to play ball, you do everything to go watch him. The one time he came to Cleveland I made sure to clear my schedule to go see him. I'm going to ignore the fact that he went 0-4 in that game. We got the win, no big deal.
So where will he play next year and for years to come? Will he return to the Nationals? Or, will teams like the Yankees, Dodgers, Phillies, or even a surprise team come to claim his talents? Well, this 20-year-old blogger will give you his predictions and one wild card that may be in play to go and snag Harper.
Wild Card- The White Sox
If you have been active on social media you have seen that the White Sox could be in play to sign Harper. I personally don't think this will happen. While the White Sox arguably have the best farm system in baseball, they are a very mediocre team right now. What's the one thing they do have? Cash, and lots of it. They are loaded with young talent so they have the most money to spend. Harper is only 26, so by the time the baby sox make their way to the minors, Harper will still be productive and the White Sox could be a dark-horse championship contender. They could also sell Harper on being the best player to ever put on a White Sox uniform. Also, Harper has expressed interest in playing in Chicago, we will get to that later.
Washington Nationals
Yes, this is in order. Harper has spent his entire career with the Nationals. In his time there, they have constantly been a great team. They just couldn't get past that dang NLDS. During the final day of the 2018 season, a lost season for the Nationals, it was reported that they offered their superstar a 10 year 300 Million contract. Last week, Nationals owner Mark Lerner said in an interview with 106.7 The Fan, that they believe that Harper has decided to move on. That deal that they offered is their final offer. The Nationals may be in a rebuild so I'm sure they will also move on.
Los Angeles Dodgers
Its the mecca of all sports. A Historic franchise with big name players who have been in the World Series the past two seasons. With the Dodgers he would be close to his hometown of Las Vegas and the Dodgers could really put a megastar into the LA spotlight. Also, current Dodgers president of operations is the man who selected Harper first overall with the Nationals, Stan Kasten. The Dodgers might need to move some key pieces including Yasiel Puig to give him a huge offer but I wouldn't count on this happening.
Chicago Cubs
Back to Chicago. Ken Rosenthal of The Athletic just reported that the Cubs are not heavy in their pursuit of Harper. I really don't buy that much. This feels a lot like the Kevin Durant to Golden State rumors that surfaced in the middle of 2016. There was a report that came out in the middle of the season that Harper wanted to be a Cub. It sounded unfair like the Durant news. I think this makes perfect sense, a championship team stacked with young talent adding a megastar. Obviously, they would have to move some contracts like the Heyward contract, but if someone like Bryce Harper wants to play for you, you do whatever you can to make that happen. Also, there is the news that Harper loves Chicago. So if you can sell Harper on the city and the roster, watch out.
Philadelphia Phillies
The Phillies have been the team making the most noise so far as winter meetings approach. They signed 2013 MVP Andrew McCutchen to a 3 year- 48 million deal. They also traded for Jean Segura while dumping Carlos Santana. All signs point to this as being a way to make room for Harper. Move Rhys Hoskins to first and put McCutchen in left while leaving a spot for Harper to play in right. The Phillies were hot for a while last year and faltered to a below .500 record. Adding someone like Harper instantly makes them a championship contender. I think that this makes the most sense.
My Prediction- Philadelphia Phillies
I think he goes to the Phillies. It makes the most sense to me. The Phillies have been the most active team and have made it known that they are willing to spend the most money. They are a young, talented team that can make some noise in the National League with the addition of Bryce Harper. The question is will they offer Harper a short-term or a long-term contract.
Questions and comments?
thescorecrowsports@gmail.com
Follow Us on Twitter @thescorecrow
Follow Us on Reddit at u/TheScorecrow
Follow Daniel Corrigan on Twitter @Corrigan_Tweets
Main Credit Image: "[getty src="1041419994″ width="396″ height="594″ tld="com"]