Givanni Damico | October 4th, 2018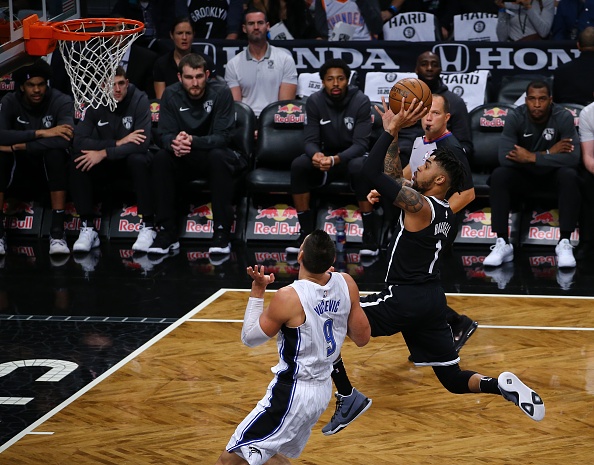 Last year was yet another let down for the Brooklyn Nets. They went into the season with low expectations and it's safe to say their expectations were met. Will they bounce back this year and make a run at the playoffs?
Recap of Last Season
To start last season, their starting lineup consisted of Jeremy Lin running the point, D'Angelo Russell at shooting guard, DeMarre Caroll at small forward, Rondae-Hollis Jefferson at power forward, and the extremely overpaid center, Timofey Mozgov. The Nets defense didn't start the season off too well, giving up 120 points in six of the first nine games. When the defense got it together, the offense started struggling. The team just never clicked from day one. When one side of the ball played well, the other side looked like a high school JV team. They didn't win more than three games in a row all season. It was just one of those years where they'd win one game and lose three more. That's how they ended up getting to 28-54. The thing is, I wouldn't necessarily put the blame on Kenny Atkinson. Atkinson was in his second season with the Nets and also his second season as a head coach so he's young and inexperienced just like his bench. He hasn't had anything to work within the first two years of his coaching career. It's almost as if he was set up for failure because no coach could take this team to the playoffs. I think the Nets upper management sees what I'm saying because if Atkinson's team performed like this if he coached any other team, he'd have been fired. This team had very limited potential.
Offense
The Nets didn't make too many changes to the team this year but I expect a higher production than last season for the offense. Spencer Dinwiddie had a breakout season last year, averaging over 12 points per game, as well as 6.6 assists, and about three rebounds per game. He only played about 28 minutes a game so let's look at how he did per 36 minutes. In 36 minutes, he averaged 16 points a game, going along with eight assists and four rebounds. These are very good stats for a point guard who doesn't have much around him to help him out. D'Angelo Russell joined the team last year. Despite starting just 35 games and playing in 48, he averaged 15.5 points per game as well as five assists and four rebounds in just 25 minutes per game. Per 36 minutes, he averaged 22 points, seven assists, and five and a half rebounds. If he is healthy all year, and they give him more minutes, their offense will significantly increase in production. DeMarre Carroll was the starting small forward last season, but I don't expect him to return to this role. He performed pretty admirably with 13.5 points per game in 29 minutes per game while also racking up six rebounds. I could see two things happening at the small forward this year. Situation one involves Rondae Hollis-Jefferson moving to small forward and starting there, then sliding Kenneth Faried in at power forward. Situation two involves Allen Crabbe moving into the starting small forward position and starting D'Angelo Russell at shooting guard with Dinwiddie at the point. Situation three, of course, is that DeMarre Carroll keeps his starting role.
The starting power forward was mainly Rondae Hollis-Jefferson last year. Hollis-Jefferson is someone that I am very high on. This kid gives his heart every time he's on the court and has loads of potential. He averaged 14 points per game along with seven rebounds and 2.5 assists last season in about 28 minutes per game. He shot 47% from the field which is very good and I think he only goes up from here. Jarrett Allen began to start games at center towards the end of the year and I believe he is back in that role. In 20 minutes per game (all season not when starting), he averaged eight points and five rebounds per game. Per 36 minutes, Allen averaged 15 points and 10 rebounds per game. This is solid for a rookie. Allen obviously won't play 36 minutes a game, but if he can average 12 points and eight rebounds in 26-28 minutes, that's good value for a young center. The Nets were second in the league in three-pointers attempted and made last year which looks good, but it's because they attempted too many. They ranked 20th in the league in three-point percentage. I'm looking forward to seeing how much success this offense has this year.
Defense
The Brooklyn Nets ranked dead last in the NBA in steals. Your team isn't going to be good if they don't create opportunities for themselves. One thing that the Nets did well last year was clean the glass on the defensive side. They ranked ninth in the NBA with 2,852 defensive rebounds and about 35 defensive rebounds per game. The Nets were very good when it came to perimeter defense last year. Opponents shot the least threes per game against the Nets and made the second-least. threes per game. Because they couldn't shoot the three ball, opponents were ranked first in the league in two-point field goals attempted and made last season. So the opponents realized that they didn't need the three-ball when they could drive on the Nets and make easy mid-range jumpers. The Nets also gave up the most total rebounds last season to opponents which very obviously takes away from their opportunities. Not only were the Nets dead last in steals, but they were also dead last in total turnovers. What you're getting from this article is that the Nets' offense actually wasn't really the problem. It was more of a defensive issue and that absolutely has to be fixed this year.
Bench
The Net's bench wasn't particularly good either. When most of your starters would be bench players on other teams, your bench players would be in the G-League for other teams. They have a good shooter off of the bench in Joe Harris who shoots over 40% from downtown. The Nets lost a lot of their bench from last season so what they have this year is a revamp. People like Caris LeVert who is one of my favorite Nets and has shown flashes of brilliance. He's someone I think can be a competent starter in a year or two. They made some underrated moves in picking up Shabazz Napier and Jared Dudley for the bench. Napier never got a chance behind Lillard in Portland and Jared Dudley is a good shooting big man. Overall, I don't love their bench but I think it is a top 20 bench this season and I think they should help out the starters more than last year's bench.
Prediction
I believe the Nets are set for an eleven seed this year. My prediction for the Nets is 36-46, which is an eight-game improvement from last season. This team is slowly trending in the right direction but it will take time to rebuild this team after Billy King destroyed it with the trades that surrendered a lot of their first-round picks this decade. I think that this season's MVP will be D'Angelo Russell. Russell put up great numbers in limited minutes last year so I can see him going off when they start and play him for 30+ minutes. I expect Russell to ball out and maybe even be considered for NBA most improved player. My secret star this year is Rondae Hollis-Jefferson. He's had an injury-ridden career so far but he is healthy now and if he is completely healthy all season long and is played on no minutes restriction, we will see a serious improvement and an impact player. Hollis-Jefferson is actually one of my favorite players in the entire league because I think it's just crazy that no one sees how much true talent this kid has. Despite another poor season, the Nets need to stick with Kenny Atkinson because I really think he is a good coach and he just needs to put all the pieces together. Will the Nets let down their fan base yet again? Or will we see them shock the league? We're all looking forward to finding out.
Questions and comments?
thescorecrowsports@gmail.com
Follow Us on Twitter @thescorecrow
Follow Us on Reddit at u/TheScorecrow
Follow Givanni Damico on Twitter @giodamico15
Main Credit Image: [getty src="864141720″ width="594″ height="465″ tld="com"]