Givanni Damico | February 27th, 2019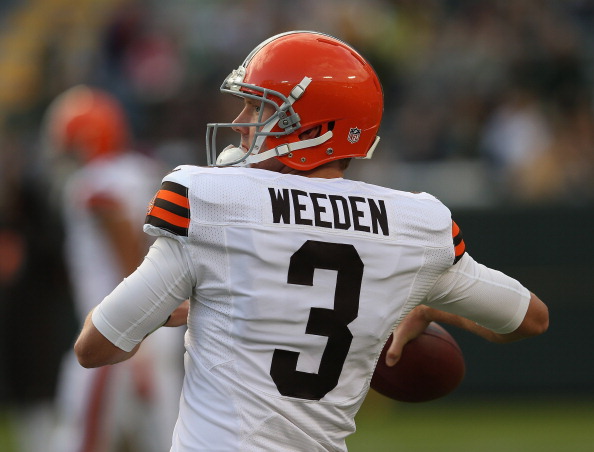 Is Brandon Weeden the worst first-round pick of all time?
I don't think it surprises anyone that the Browns would be the franchise to turn in one of the worst, if not the worst, first round pick of all time. First of all, Oklahoma State quarterback Brandon Weeden was 28 years old when he was drafted 22nd overall in the 2012 NFL Draft by the Cleveland Browns. What team drafts a so-called "franchise quarterback" that is already 28 years old? He could've won the Heisman in all four years as a starter, I still wouldn't draft a 28-year-old in the first round. There's no future there. In his one season as a starter, Weeden led the Browns to a 5-11 record. He threw for 3385 yards with 14 touchdowns and 17 interceptions. Wow, these stats are just as good as Troy Aikman's were (shade being thrown).
In the first game of his career, he recorded a passer rating of 5. No, I didn't forget the number. Five. He went 12-35 with 118 yards and four interceptions. He also fumbled twice in this game. The 28-year old rookie really turned heads, but not in a good way. He had a couple good games throughout the season, but nothing that screams "franchise quarterback." He only started five games in 2013 and his career was pretty much over from there. He went on to be a backup for both the Cowboys and the Texans.
His career begs the question, why did the Browns choose to draft a 28-year old rookie in the first round? Well, Weeden (pretty much in his prime) played very well in college, passing for at least 4,000 yards in his junior and senior seasons with 71 touchdowns over the two seasons he started. These stats are impressive, but you would think someone who was in his prime would do even better against kids that are six or seven years younger than him. He had a big arm, which is clearly what the Browns were looking for. The Browns were also looking for someone who could come in and start away, and at 28, it's safe to say that Weeden fit that profile. They viewed Weeden as someone who could play into his mid-late thirties, so they weren't really worried about his age. According to their standards, they were getting the same longevity with Weeden as they were with… here's the punchline… Trent Richardson. Well, they weren't wrong. They did get about the same usage out of both of them.
Weeden didn't have much potential. His ceiling was very low and his floor was very high. The Browns thought that Weeden would mesh well with the team's head coach and offensive coordinator, Rob Chudzinski and Norv Turner. This was in 2013 after his flop of a rookie year. This clearly didn't pan out considering Weeden would only start five games due to a thumb injury. After he continued to fail in the games he played, he would be replaced by Jason Campbell, and the Browns finally realized that Weeden was not the future of the team. I understand that the Browns were looking for someone who was pro-ready and someone with a big arm, but a 28-year old in the first round? Come on, Cleveland. Thank God they finally figured out how to draft a quarterback. It took them about two decades to figure out, though. Pretty soon, we won't be able to make fun of the Browns anymore because they'll be dominating the AFC barring an injury to Mayfield or something else drastic.
There are many busts in each first round of each draft. Luke Joeckel, Dion Jordan, Christian Ponder, etc. are all good examples. There are plenty more as well. But all of them had high potential. The team and the front office tend to get blamed when drafting a bust, but if a player is good in college and it doesn't translate, it's more the player and the staff's fault than it is the front office. When it comes to Brandon Weeden, the front office couldn't be more at fault. They wasted a pick on someone with no potential, no future, and minimal talent. This makes Brandon Weeden the worst first-round draft pick of all time.
Questions and comments?
thescorecrowsports@gmail.com
Follow Us on Twitter @thescorecrow
Follow Us on Reddit at u/TheScorecrow
Follow Us on Facebook at The Scorecrow
Follow Us on Instagram at The Scorecrow
Follow Givanni Damico on Twitter @giodamico15
Main Credit Image: [getty src="150452359″ width="594″ height="452″ tld="com"]