Givanni Damico | January 19th, 2019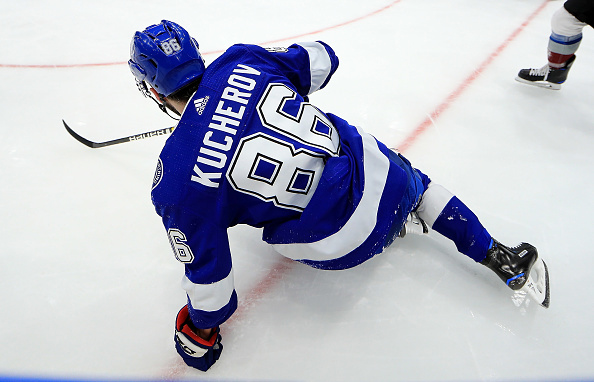 The Blue Line Report for today, January 19th, 2019. Core Four along with stacks and goalies to help you get that cash in DFS.
Core Four Skaters:
Johnny Gaudreau (CGY) at EDM
Gaudreau was a core four skater yesterday as well, although he only recorded one assist. I expect more from him tonight as the Flames take on the Edmonton Oilers. If Cam Talbot is in goal, this is a must-play. Even if Koskinen plays, the Flames always find ways to score a lot of goals and Gaudreau is usually involved. He has 72 points which is second in the league. Easy play tonight.
Nikita Kucherov (TBL) vs. SJS
Well, I might as well put the league leader in points up here as well. I really like this matchup for Kucherov and the Lightning tonight as they take on the Sharks in a revenge game (lost to them in SJ earlier this month) and now take on San Jose at home. San Jose has been rolling lately, but I fully expect Kuch and the Lightning to stop them in their tracks tonight. If you use both of these guys, it'll cost you but it will be worth it.
Sean Couturier (PHI) at MTL
Couturier has four goals and five assists in his last five games and has been one of the only bright spots on this team recently. This team is set up nicely for the future, but for now, they will struggle. I expect a Flyers win tonight against the Canadiens who will be starting Antii Niemi in goal. Couturier is on line two right now for whatever reason, but it's working. Let's see if he can keep it rolling.
Viktor Arvidsson (NSH) vs. FLA
I called a Florida Panthers win last night over the Leafs and I was right. Arvi has seven points in his last five games. Six of these points are goals. He is rolling. James Reimer will more than likely be in goal for Florida tonight and he has struggled just as much as Luongo. This is a prime opportunity for Arvidsson and the Preds to come up big.
Stacks of the Night:
PHI PP1 (Giroux, Couturier, Voracek, Van Riemsdyk)
Possible Add-Ons/Replacements: Wayne Simmonds (PP1)
Antii Niemi has been confirmed in net and I can't avoid playing this stack against him. I spoke of Couturier already, but not Giroux. Claude Giroux has six points in his last five games and has 52 points on the season. He is averaging over a point per game and has been very consistent all season. James van Riemsdyk is heating up with seven points (five goals, two assists) in his last five games. He is starting to mesh well with his linemates and is still cheap. Jakub Voracek is extremely inconsistent and hard to trust, but I would include him in this stack tonight. He also has six points in his last five games. Wayne Simmonds is a cheap, extra play for anyone playing Draftkings. Simmonds does have four points in his last five games but has had trouble getting it going this year. He is expected to be traded before the deadline which adds to his determination in playing well for his respective team.
CGY1 (Monahan, Gaudreau, Lindholm, Giordano) at EDM
Mark Giordano is riding a six-game point streak. In those six games, he has four goals and six assists. He is one of the hottest players in the league playing for one of the hottest teams in the league right now. Elias Lindholm is also on a six-game point streak consisting of one goal and seven assists. This entire Flames team has just been going off. Sean Monahan has five points in his last four games and recorded a goal last night. I said that I will keep suggesting this stack until they cool off.
NSH1 (Forsberg, Arvidsson, Johansen, Josi) vs. FLA
Filip Forsberg has four goals and two assists in his last five games. He will have a good chance tonight against James Reimer and the Panthers. Ryan Johansen has six assists over his last five games and is always handing out assists to his fellow linemates, with 34 on the year. Roman Josi has four assists in his last five games. This team and this line are up-and-down right now but tonight should be a good night for them.
TBL PP1 (Stamkos, Point, Kucherov) vs. SJS
This is an expensive stack that doesn't need much explaining. The Lightning are electrifying (pun intended) and continue to play like it. Stamkos has seven points in his last five games, while Point has six. Point has 63 points (30 goals) this year and still missed the ASG. Someone explain.
Favorite One-Offs:
Jason Zucker (MIN) vs. CBJ
Simply because Sergei Bobrovsky sucks on the road and is in goal tonight.
Blake Wheeler (WPG) at DAL
He's playing very well this season and just needs to find the back of the net more.
Tomas Hertl (SJS) at TBL
Seven points in his last five games.
Goaltenders (make sure they're starting!):
Tuukka Rask (BOS) vs. NYR
Jordan Binnington (STL) vs. OTT
Pekka Rinne (NSH) vs. FLA
Questions and comments?
thescorecrowsports@gmail.com
Follow Us on Twitter @thescorecrow
Follow Us on Reddit at u/TheScorecrow
Follow Givanni Damico on Twitter @giodamico15
Main Credit Image: [getty src="1070192370″ width="594″ height="382″ tld="com"]