Frank Dyevoich | August 16th, 2018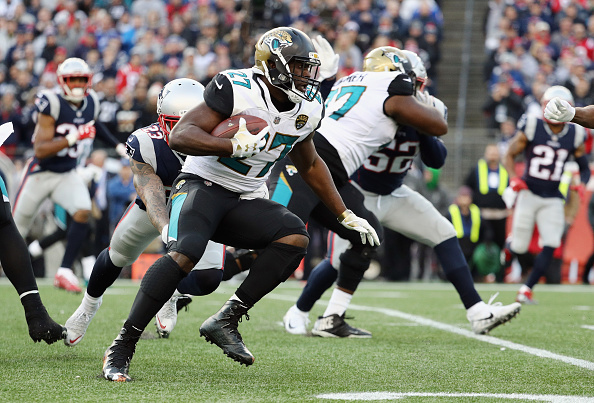 The running back position once again reigns supreme in fantasy football. There seemed to be a trend leaning toward wide receiver dominance given the consistency of the guys at the top, but the elite play of the NFL's best running backs over the past few seasons quickly put a stop to that. When preparing for your draft, you want to separate your running backs into tiers so you can find the best values without sacrificing production. Here is the fourth installment of Blood, Sweat, and Tiers. The first article on the rookies is here. The second on my likes and dislikes is here. Tier 4 is here.
Tier 3
Leonard Fournette (JAX) – In 2017, Fournette finished 10th in PPR and 8th in standard despite only playing 13 games. His 20.6 carries and 23.4 touches per game were both 3rd behind only Zeke and Bell. Fournette's value comes from his huge volume as a runner. He was 7th in carries, 8th in yards and 3rd in rush TDs, again in only 13 games. He had 20 carries or more 54% of the time, and in the postseason, he averaged 23.3 carries. Fournette was also the most efficient RB with carries inside the 5-yard line, converting 6 of his 9 attempts into TDs (67%). In analyzing Fournette, the most fascinating statistic I came across was his speed. Out of every offensive play in the NFL, the top 2 fastest recorded times were both Leonard Fournette, reaching speeds of 22.05 mph and 21.76 mph, faster than Tyreek Hill (21.64 mph) and Marquise Goodwin (21.68 mph). He has also lost weight in the offseason so he could be even faster.
The drawbacks on Fournette are his subpar 3.9 YPC and the lack of weapons around him to take the focus off of him. Last year Fournette saw 8+ defenders in the box 48.7% of the time and that number is not likely to go down. He is also an injury concern as he has had lingering foot issues since his LSU days, and he is not the same runner when he fights through it. Before his injury in week 6, he scored a TD in every game and he averaged 4.6 YPC. After his injury, his YPC dropped to 3.2. With the addition of Andrew Norwell beefing up the offensive line, and the departure of Chris Ivory with no replacement drafted, Fournette is in line to see an even larger workload in 2018, especially considering the Jaguars were 1st in rushing attempts. If he can improve his efficiency and stay healthy, he can easily join the elite tier of RBs.
Kareem Hunt (KC) – Last year Kareem Hunt burst onto the scene after being forced into a starting role due to the injury to Spencer Ware, and he rewarded those owners that took a chance on him at the end of the 2nd round. He led the league in rushing despite having 11 carries or less in 4 games, and he was near the top of the league in carries (18.1) and touches (21.7) per game. Hunt was also extremely efficient with his touches, finishing 3rd in YPC (4.9), 2nd in 10+ yard (35), 1st in runs of 15+ yards (18), and tied for 1st in 100-yard games (6). He also finished 1st in evaded tackles (137) for a juke rate of 42.2% (2nd). I was a little concerned that Hunt's workload would be decreased due to the return of Spencer Ware, but he is not progressing the way the Chiefs had hoped and he was nowhere to be seen at OTAs. In fact, Hunt has been heavily working on his route running and pass catching, and it is likely that he sees an increase in both workload and efficiency in 2018.
The Chiefs have rookie QB Patrick Mahomes at the helm which inevitably leads to more reliance on the running game. Mahomes' mobility is very underrated and his escapability combined with his talent once he is outside the pocket should open more holes for Hunt. The Chiefs also added Sammy Watkins to the mix, which will limit the number of times opposing secondaries can stack the box. Ball security is also not an issue for Hunt, as he fumbled on the first carry of his career and then never again. The Chiefs seemed to lean on him more as the season went on, with Hunt averaging 26 carries in the fantasy playoffs and scoring a TD in his final 5 games. With the potential to outperform his numbers in 2017, you can feel comfortable using your 1st RD pick on the elusive RB from KC.
Dalvin Cook (MIN)– The fantasy football arena was robbed of a new RB1 superstar last year when Dalvin Cook tore his ACL in week 4. Before that, Cook had established himself early as a workhorse RB. In his 4 games, Cook had a 65.7% snap share which was good for 11th best and a 69.2% opportunity share which was good for 7th best. When the Vikings had the ball, they gave it to Dalvin Cook. Though he only played in 4 games, he finished 9th in PPG in both PPR and standard, averaged 18.5 carries per game at 4.8 YPC and 21.3 touches per game. If you give Cook a full game in week 4 and extrapolate his numbers over a 16 game season, he would have had 296 carries for 1,560 yards and 44 receptions on 64 targets. The numbers speak for themselves. Hopefully, Cook can stay healthy because his outlook for 2018 is even brighter.
The Vikings were 2nd in rush attempts last year so you know they are going to feed their stud RB early and often. Also up for grabs are Jerrick Mckinnon's 68 targets and 51 receptions from last year, and back up RB Latavius Murray does not catch passes. Cook will rarely see stacked boxes with guys like Stefon Diggs and Adam Thielen commanding the attention of opposing secondaries, and though Case Keenum had a phenomenal year in 2017, Kirk Cousins is certainly an upgrade. Lastly, the Vikings have a top 3 defense in the NFL so Cook figures to be in a lot of positive game scripts with Vikings running the ball to grind out the clock in the 4th quarter. Don't be surprised when Dalvin Cook finishes as a top 5 RB, assuming of course that he can stay healthy. I love taking Cook as my RB1 in RD2 after locking up a Tier 1 WR.
Melvin Gordon (LAC)– After a miserable rookie campaign, Gordon came roaring back with a vengeance in 2016, finishing 7th in PPR and 8th in standard with 12 TDs. In 2017, Gordon improved on those numbers, finishing 5th in both PPR and standard and he replicated his 12 TDs. He was near the top of the league with 17.9 PPR PPG, 17.8 carries per game and 21.3 touches per game and he finished 3rd in red zone touches (57). He also jumped from 41 receptions to 57 receptions, and with the ACL injury to Hunter Henry, his role in the passing game figures to increase even further. The main concern with Gordon is his stagnant 3.9 YPC, but the end of last season gave a reason for hope.
Over the last 4 games, Gordon finished with 77 carries for 330 yards (4.3 YPC) and 16 receptions (4 PG) for 174 yards with 3 total TDs. His 16 game pace with those numbers would be 308 carries for 1,324 yards and 64 receptions on 84 targets for 696 yards. Gordon also should be more efficient in 2018 with an improved offensive line, as the team added center Mike Pouncey in free agency and right guard Forrest Lamp should be healthy after recovering from a torn ACL. With the potential for 2,000 YFS, Gordon is a safe bet to return value at the top of the 2nd round.
Questions and comments?
thescorecrowsports@gmail.com
Follow Us on Twitter @thescorecrow
Follow Us on Reddit at u/TheScorecrow
Follow Frank Dyevoich on Twitter @Fantasy_Giant
Main Credit Image: [getty src="908416904″ width="594″ height="403″ tld="com"]