Frank Dyevoich | July 30th, 2018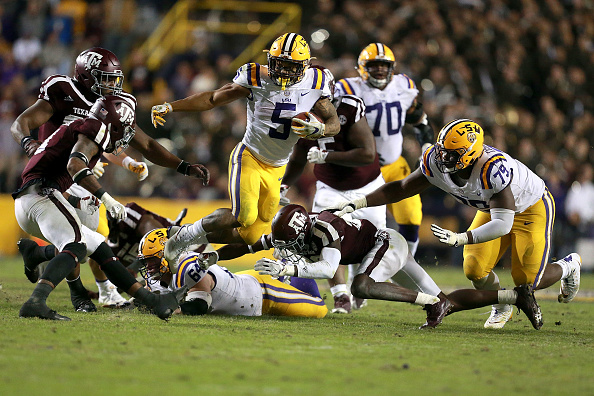 The running back position once again reigns supreme in fantasy football. There seemed to be a trend leaning toward wide receiver dominance given the consistency of the guys at the top, but the elite play of the NFL's best running backs over the past few seasons quickly put a stop to that. When preparing for your draft, you want to separate your running backs into tiers so you can find the best values without sacrificing production. Here is the first installment of Blood, Sweat, and Tiers.
The Rookies
A common stigma in fantasy football is that rookies are not very valuable. However, this could not be further from the truth. When it comes to the rookies, no position is impacted greater than the running backs. Every year rookie running backs dominate the fantasy football arena and every year they are underappreciated going into draft season. As I have said before and will continue to say until I'm on my deathbed, fantasy football is all about opportunity. If a player capitalizes on his opportunities then the touches will follow.
Last Year, Spencer Ware went down and Kareem Hunt seized his opportunity. The Saints traded Adrian Peterson and Alvin Kamara seized his opportunity. In 2016, it was Ezekiel Elliot and Jordan Howard. In 2015, it was Todd Gurley and Jeremy Hill. See where I'm going with this? This year's running back class is loaded with talent and will likely be discussed alongside the 2014 wide receiver class and the 1983 quarterback class. Do not discount them on draft day, and more importantly, draft several of them.
How They Stack Up
Saquon Barkley (NYG) – He's a stud and will be in a future tier. Stay tuned.
Derrius Guice (WSH) – Guice is an animal. He averaged 6.4 YPC in college and he is much faster than he looks. He is a power back that will hit the holes with force, but he is shifty enough where he can also shake off and avoid tackles in open space. Chris Thompson will be the passing downs back for the Redskins, but Guice should easily win the early downs and goal-line role in this offense. He is also a very capable pass catcher so he is not guaranteed to come off the field on every 3rd down. Robert Kelley is on the roster bubble and Samaje Perine was underwhelming to put it modestly. With an ADP behind guys like Jay Ajayi and Alex Collins, if Guice wins the job in the preseason his floor and his ceiling are higher than both of them.
Rashaad Penny (SEA) – The Seahawks have rarely had a 1st round draft pick over the past few years and they chose to spend it on San Diego St. RB Rashaad Penny. The Seahawks have already stated that Penny is going to be their three-down workhorse. Now, all we have to do is buy in. Last year Penny lead the NCAA with the most YAC and with his sub 4.5 speed he is a threat to take it the distance every time he touches the ball. He also has shown that he can carry a heavy workload, finishing with 50% of his teams total rushing yards and TDs. With a current ADP of RB 21, I feel that he is fairly priced and should be able to return value. The only downside to Penny is the atrocious offensive line of the Seahawks. He will get between 270-315 total touches and is a safe RB2 for your fantasy team.
Sony Michel (NE) – Sony Michel's upside is through the roof as the Patriot's lead running back. They are always among the highest scoring teams and they consistently sit at the top of the league in most running plays in the red zone. Conventional wisdom says do not waste an early pick on a Patriots running back because every week it could be a different guy leading the charge, but recently that is because the running backs that they have had had their specific roles. On the other hand, Michel is great at everything. He can be the early down/goal line thumper and he can run routes and catch the ball in space. He is also one of the best pass blockers in this class so he does not need to come off the field on passing downs. The Patriots realize the potential of a back like Michel in their offense and they spent a 1st round pick to ensure they got him. His poor ball security certainly poses a risk given his 5th round ADP, but I am willing to take that risk given the potential reward.
Ronald Jones (TB) – Compared by most to Jamaal Charles, Jones has the breakaway speed to score on every play. He averaged 6.1 YPC for his career at USC and he scored 42 total TDs in 40 games. He landed in an excellent spot as he should be able to win the lead back role pretty handily. He is a candidate for 15-20 touches per game, 1200 YFS and 6-8 TDs. His downside comes with his ability to stay healthy as he has battled nagging injuries over the years, but his upside as the main back in a fast-paced offense makes him worth a 6th or 7th round pick to add to your RB depth with the hopes of scoring this year's Kareem Hunt.
Royce Freeman (DEN) – With the departure of C.J. Anderson, there are 245 carries and 40 targets up for grabs. Only Devontae Booker is in competition with Freeman and we have seen enough of Devontae Booker and his career 3.6 YPC to know that he is not the answer. While Booker could open the season first on the depth chart, Freeman should still be looked at as the favorite to emerge and be no worse than a viable flex for most of the year. Freeman is a bruiser and if he wins the job in pre-season he could be a candidate for 250 carries. I'd take him in the 6th or 7th round.
Kerryon Johnson (DET) – The Lions have been looking for their first 1,000-yard rusher since Reggie Bush (you heard that right). Kerryon is an excellent runner between the tackles and could be just the guy the Lions have been looking for. However, the downside to Johnson is the other members of the backfield. Theo Riddick is one of the best pass-catching backs in the league so his role is solidified and LeGarrette Blount was signed as a free agent. Blount is likely a depth move and Johnson should be given every opportunity to win the early down/goal line role since the Lions traded up for him in the 2nd round. Sitting currently as the RB34 in ADP, he is one of my favorite picks in the 8th round.
Nick Chubb (CLE) – When the Browns used one of their early 2nd round picks on Chubb they were essentially telling us they had him graded as a 1st rounder. It seems odd considering they spent $5 million a year on Carlos Hyde in free agency. It is difficult to project Chubb for more than 150 touches with Hyde in his way, but if Hyde struggles early or wears down as he is known to do, Chubb could be a valuable member of your team for that final playoff push. I like taking him anywhere after the 10th round.
Honorable mentions – Nyheim Hines figures to be the change of pace back for the Colts and if Marlon Mack struggles early Jordan Wilkins could take the early down/goal line role. Kalen Ballage figures to be the pass-catching back on the Dolphins and Mark Walton for the Bengals, and both could be useful flex options in PPR some weeks. Chase Edmonds is your handcuff for David Johnson, Justin Jackson is your handcuff for Melvin Gordon and John Kelly is the likely handcuff to Todd Gurley, though Malcolm Brown could hold onto that job.
Questions and comments?
thescorecrowsports@gmail.com
Follow Us on Twitter @thescorecrow
Follow Us on Reddit at u/TheScorecrow
Follow Frank Dyevoich on Twitter @Fantasy_Giant
Main Credit Image: [getty src="879223912″ width="594″ height="396″ tld="com"]