Frank Dyevoich | August 8th, 2018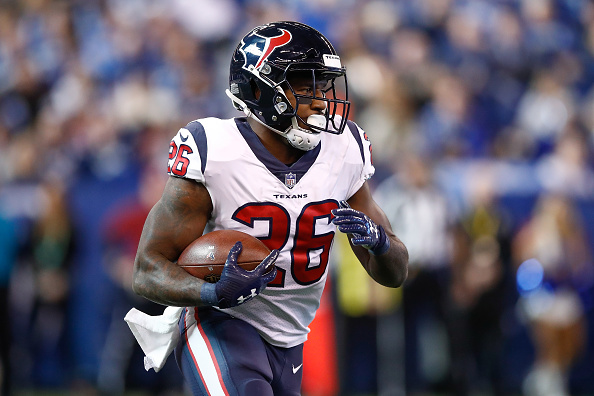 The running back position once again reigns supreme in fantasy football. There seemed to be a trend leaning toward wide receiver dominance given the consistency of the guys at the top, but the elite play of the NFL's best running backs over the past few seasons quickly put a stop to that. When preparing for your draft, you want to separate your running backs into tiers so you can find the best values without sacrificing production. Here is the second installment of Blood, Sweat, and Tiers. The first article on the rookies is here.
Guys I Like
Lamar Miller (HOU) – In the 7 games he played with DeShaun Watson, Miller averaged 17 carries a game and never finished worse than an RB2. D'Onta Foreman is coming off a torn Achilles and may start the season on the PUP list, but you should definitely target him in the later rounds if you draft Miller. Miller is also the best pass catching RB on the team and had just as many receptions as Devonta Freeman, yet he is being drafted 3-4 Rounds later. He is going after Derrick Henry, Jay Ajayi and Mark Ingram (suspended 4 games). DeShaun Watson is a running QB which opens up more holes in the ground game for Miller. He has RB1 upside and can be drafted as your RB3 or RB4.
Dion Lewis (TEN) – Last year Lewis set career highs in carries (180), rushing yards (896), and total TDs (9), and averaged a stellar 5.0 yards per carry. He is always an injury concern as last year was the only season he played 16 games, but if he can stay healthy he will out-perform Derrick Henry in PPR. New offensive coordinator Matt LaFleur stems from the Kyle Shanahan coaching tree so Lewis should see plenty of work in the passing game. He could also get work on 1st and 2nd down and be a featured weapon in the red zone. Last year most of his carries were on early downs and he was top 10 in red zone touches (43).  His PPR upside is an RB1.
Kenyan Drake (MIA) – The Dolphins offensive line was among the worst in the league last year, finishing dead last in average yards before contact for their RBs (.59 yards). Despite that woeful performance, Drake averaged 4.7 YPC on the season and 5.0 YPC in his final 9 games. He also finished with the highest average YAC per attempt with 4.4 and had the highest graded RB performance on the season. He should see more work in the passing game with the departure of Jarvis Landry and is a safe bet to see 250 touches.
Aaron Jones (GB) – If you watched the Packers games last year you could see that Aaron Jones was easily the best RB in that backfield. In the 4 games he dominated, he averaged 15.5 carries per game at 5.3 YPC. The more work he got, the better he got posting averages of 6.6 YPC and 7.7 YPC in the two games he had 17+ carries. He strengthened his lower body in the off-season to help with pass protection and to help prevent recurring soft tissue injuries. Ty Montgomery can't stay healthy and Jamaal Williams is average. The 2 game suspension will drop him in the draft and I expect him to be the RB1 in Green Bay by week 5.
Rex Burkhead (NE) – The addition of Sony Michel does not bode well for Burkhead's overall usage, but he should still be a valuable part of New England's high scoring offense. He scored double digits in PPR 60% of the games he played and he will be a favorite target of Brady, especially early on with Julian Edelman suspended 4 games. Burkhead has a shot to be the preferred red zone option and goal-line back as well. Michel is extremely talented, but if he struggles early on or fumbles himself into Bill Belichick's doghouse, the sky is the limit for Burkhead. He is a great value at his current ADP and we will see very early on how the Pats plan to use him.
Guys I don't like
Derrick Henry (TEN) – When the Titans decided to let DeMarco Murray pursue other career opportunities, everyone touted Derrick Henry as a top 5 RB. Then the team made Dion Lewis the 11th highest paid RB and it all went out the window. Lewis is a better fit in the Matt LaFleur offense and will be the guy on the field when the Titans are in catchup mode. Henry certainly has upside as the most likely candidate for goal-line work, I just don't project that he will get the touches needed in order to return value at his current ADP of RB17. I would not draft him any higher than the RB25.
LeSean McCoy (BUF) – According to a study by numberfire.com, the average threshold for RBs to fall off the proverbial cliff is 1,800 career carries. McCoy currently has 2,187 carries on his career. He reached the threshold in the 2016 season where he had 1,267 yards and 13 TDs in 15 games. Last year his yards went down and his TDs decreased by more than half in 16 games. He also was stuffed behind the line of scrimmage a league-high 55 times. The arrow is clearly pointing down for McCoy. Workload aside, the Bills lost Pro-Bowl left tackle Cordy Glenn and guard Richie Incognito from their offensive line. Couple this with the fact that their best WR is Kelvin Benjamin and they will likely be starting rookie QB Josh Allen, and it spells disaster for McCoy. I wouldn't touch him at his current ADP of RB13, and quite frankly I don't think he finishes in the top 24.
Jay Ajayi (PHI) – With a current ADP of RB21, I don't think the touches will be there for Ajayi. He started to find his groove as the Eagles headed into the post-season last year and he still only averaged 28 snaps per game. The Eagles have already said they want to get Corey Clement more involved and Darren Sproles is returning as well. With so many mouths to feed in that backfield, we could be looking at a full blown 3-man committee and predicting which guy will be the highest scorer from week to week will be a fantasy nightmare. Take my advice and let your league mates deal with that headache and throw your dart on him in daily fantasy when the matchup looks tasty.
Alex Collins (BAL) – Every year there is a breakout RB on the Ravens that finishes inside the top 24, and every year that breakout RB is NOT the guy drafted first. This year, Alex Collins currently has an ADP of RB22 and is going firmly in the 4th round. He looked great running the ball last year, but I believe that was a testament to the Ravens' always efficient run game. Don't forget that Collins was released by the Seahawks, a team that has been in desperate need of good running backs, and a team that preferred Eddie Lacy to Alex Collins. Add in the return of Kenneth Dixon to the mix, who was a consensus RB2 in PPR leagues going into last year's draft before he got hurt. Collins could break the mold of the post-Ray Rice backfield in Baltimore and finish as a strong RB2 again, but with so much uncertainty I will be steering clear of Alex Collins at the cost of a valuable 4th round pick and using a 12th round pick on Kenneth Dixon.
Mark Ingram (NO) – Is it only because he is suspended for four games that I don't like Mark Ingram this year? Yes. Yes, it is. But it is important to note a few things as a result of the suspension. The Saints have a week 6 bye so you will only be able to play Ingram once before week 7. That is half of the regular fantasy season. Ingram is also 28 years old and in a contract year. If the Saints get enough production out of their backups, you could see them phase Ingram out of the offense and find his successor in free-agency or the draft. It is very possible that Ingram is used the same way and is just as productive in which case he will be extremely valuable down the stretch. However, if that is the case I would much rather try and trade for him later than carry him on my bench for half of my season.
Questions and comments?
thescorecrowsports@gmail.com
Follow Us on Twitter @thescorecrow
Follow Us on Reddit at u/TheScorecrow
Follow Frank Dyevoich on Twitter @Fantasy_Giant
Main Credit Image: [getty src="901960352″ width="594″ height="396″ tld="com"]