James Hicks III | February 21st, 2019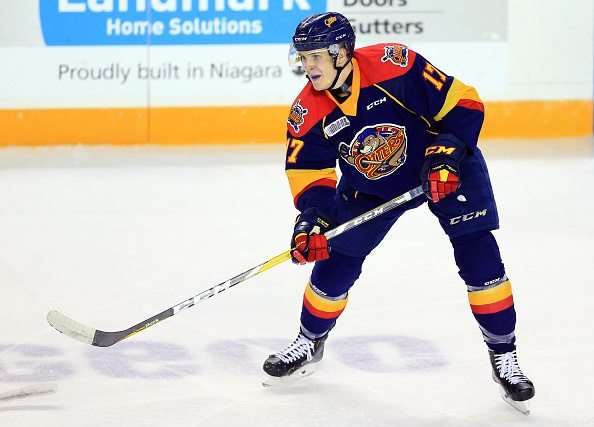 The Chicago Blackhawks have made a trade with the New York Rangers. While it may seem like an interesting one, Darren Raddysh was traded from the AHL Rockford IceHogs to the Hartford Wolf Pack for Peter Holland.
Some of you may be asking why I think this trade is considered interesting… To be honest, when I heard the Blackhawks made this move, I was dumbfounded. I guess I might not truly understand why this deal was done. As a follower of the Rockford IceHogs, Darren Raddysh has had a chance to really grow on me. Some may have thought he had no path to the NHL. But, I feel like the 22-year-old had a chance to grow and flourish within the Hawks organization. Some may be wondering, who the heck is Darren Raddysh and why should I care about this trade? Well, let's get into that right now
Darren Raddysh, a Toronto Native began his rookie season in 17-18 in which he had 5 goals and 17 assists in 66 games. He then signed a free agent deal with the Blackhawks on May 18th,2018. This season has gone quite well I would say. He's up in 3 offensive categories with 8 goals and 18 assists in 54 games. Needless to say, the defenseman has done all he can to help the Rockford blue line. But, to play devil's advocate, some players were going to have to go with the awaited arrival of Adam Boquist (Blackhawks 1st round pick), and Nicolas Beaudin (Blackhawks 1st round pick). Hopefully, Raddysh gets a shot to play in the NHL soon with the Rangers.
Peter Holland is a former first-round pick in the 2009 draft by the Anaheim Ducks. In 266 career NHL games, he has 36 goals and 49 assists. This season with the Hartford Wolf Pack, his ranks 6th in AHL scoring and now gives the IceHogs a bit of a boost to make the Calder Cup Playoffs again this year. If I had to guess where the 28-year-old will play, my guess would center the first or 2nd line. But ultimately, that will be up to Derek King.
Closing Remarks, While this may seem like a move to free up a roster spot, I don't really care for this trade. But, they don't pay me to make these types of decisions. Smart move on behalf of the New York Rangers, I can personally tell you, they will be very happy with him going forward.
Questions and comments?
thescorecrowsports@gmail.com
Follow Us on Twitter @thescorecrow
Follow Us on Reddit at u/TheScorecrow
Follow Us on Facebook at The Scorecrow
Follow Us on Instagram at The Scorecrow
Follow James Hicks III on Twitter @JDHicks88
Main Credit Image: [getty src="614490602″ width="594″ height="427″ tld="com"]