Dale Money | February 6th, 2019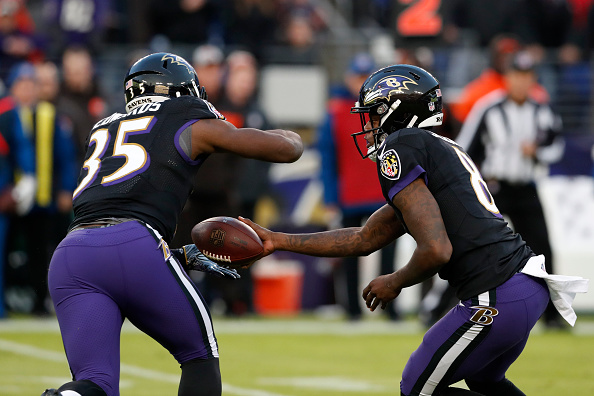 The Baltimore Ravens are coming off of a 10-6 season in which they needed to rattle off 6 wins in their last 7 games, eventually overtaking a Pittsburgh Steelers team that had gone into a complete tailspin, after looking like a virtual lock to win the division. Winning the AFC North, and earning themselves a wild-card matchup with the Los Angeles Chargers, they would need a late rally just to give the Chargers a game, eventually losing 23-17. However, there is a lot to be excited about moving forward, with a fresh new quarterback and a new offensive identity.
The Offense
Rookie quarterback Lamar Jackson was brought in late in the season when longtime starter Joe Flacco went down with an injury. He went 6-1 in seven regular-season starts to lead the Ravens on a run to the AFC North title before struggling in his playoff debut. Jackson wasn't great with his arm, to say the least, having never topped 204 passing yards in a game, it was with his legs that Jackson really caught peoples attention pretty much from his debut game. He helped create a dynamic rushing attack that gave the Ravens enough confidence to allow him to stay as a starter, even when their longtime leader returned. That's huge praise given the man he was replacing. Jackson's development over the next handful of seasons will be something to keep an eye on.
The Ravens brought in John Brown, Willie Snead, and Michael Crabtree last offseason to try and remake the wide receiver core, it didn't really turn out that great. Their leading receiver last year was Brown, with just over 700 yards receiving and 5 touchdowns on 42 receptions. Their receivers on a whole were responsible for contributing the most dropped passes in the league, Crabtree was second worst among receivers with 7 drops, and Brown was third with 6. The team is again stuck with a lot of questions at wide receiver.
Brown is on the way to being a free agent, Crabtree is possibly on his way out the door, due to cap reasons, and Snead is a solid receiver, but he will never be a game-changer. We should expect the Ravens to again hit the free agent market in order to try and solve that issue, and will more than likely be looking to draft a wide receiver in either the first or second round. With this draft loaded with high-quality wideouts, they should be able to grab somebody worthwhile.
Mark Andrews led all rookie tight ends with 552 receiving yards in 2018 and became a favorite target of Jackson down the stretch. A third-round pick under a team-friendly contract for at least three more years, Andrews will be a crucial part of the team's future if he and Jackson can grow together. The Ravens are stacked at tight end, with both Nick Boyle and Maxx Williams going into the offseason as free agents. Out of the pair of them, I would expect them to lean towards resigning Boyle as his blocking ability can't be overlooked.
The Ravens actually finished the regular season ranked second overall in team rushing, just behind the Seattle Seahawks with 2,441 yards on 547 attempts. You could say the biggest surprise of the year was the emergence of undrafted rookie Gus Edwards. After playing a minimal role over the first half of the season, Edwards became the starter once Alex Collins was placed on IR and didn't let up, topping the Ravens in rushing with 718 yards and 2 touchdowns. They may just decide to go into next year with a trio of Edwards, Dixon, and Montgomery. That would at least allow them to focus on other positions in the draft that are of much more concern, running back isn't a glaring need for the time being.
The Defense and Moves to be Made
Joe Flacco is looking likely to be on his way out the door. This is down to a host of factors, including the emergence of dual-threat Lamar Jackson, the huge contract, and then also the age factor. Finding a trade partner for the longtime veteran certainly won't be easy, however, there certainly could be suitors that might be looking for a quarterback with his credentials. The guy could be a nice fill in for a team looking for a short term fix, while they groom a fresh rookie quarterback. The Washington Redskins and Jacksonville Jaguars are the two teams that seem the most likely as being the best candidates for his services.
They will have some real work ahead of them this offseason with expiring contracts. Inside linebacker C.J. Mosley has had recent talks with the team. His numbers with the Ravens have been superb leading the Ravens in tackles last season with 105. Also when you look at his reliability, he's missed only three games in his career. It would be a big mistake to allow him to walk, but I expect them to get him signed. Outside linebacker Za'Darius Smith had a good year and could be ready to hit the market.
Then you have longtime defensive mainstay Terrell Suggs, he is a pending free agent, and is now 36 years of age, he did have his fewest sacks in a full season since 2007, but there's no doubt of his impact on Baltimore's top-ranked defense. Suggs has said he does not plan on retiring and would like to stay on with the team. Some other players who are set to become unrestricted free agents include quarterback Robert Griffin, as well as running backs Buck Allen and Ty Montgomery.
The speculation on whether John Harbaugh would be let go was finally put to rest, having locked in Harbaugh to an extension that runs through 2022. With former general manager Ozzie Newsome stepping down, the Ravens chose former assistant general manager Eric DeCosta to fill the position. DeCosta had a big influence in molding the identity of the Baltimore Ravens, having had a hand in drafting a number of the biggest players this franchise has ever seen, including Ed Reed, Terrell Suggs, and Jamal Lewis.
Draft Targets
N'Keal Harry, WR Arizona St. – The Ravens would love to have a game-breaker, a deep threat who could grow with Lamar Jackson, and when was the last time they had a true star receiver. A potential true red-zone threat, he posted 17 touchdowns in his last two years at Arizona State. Harry has the prototypical size you want in a receiver, and excellent body control adjusting to the ball. Although, he doesn't create a lot of separation and lacks shiftiness to make people miss.
Kelvin Harmon, WR NC State –  He is 6' 3" 213 lbs with very nice speed, and is still very young, just 20 years old. Can make catches outside of the framework of his body without much trouble. Will make plays downfield, with the ability to win the battles in contested areas. Lacks elite quickness and speed to turn short catches into significant gains. He is a player the Ravens may think of taking a flier on in possibly the first or second round, should he fall that far.
Nasir Adderley, FS, Delaware – Coming out of Delaware, Nasir Adderley I'm sure, is not a name a lot of people are familiar with. But he has everything you want from your free safety, including competitive toughness, range, and physicality. He has unlimited energy and with the versatility he possesses, is a prospect that could be a great new addition to add to a Ravens defense that needs to replenish its safety depth.
Check out our other Team Reviews: Atlanta Falcons | Minnesota Vikings | Washington Redskins | Miami Dolphins | Cincinnati Bengals | San Francisco 49ers | New York Jets | Denver Broncos | Indianapolis Colts | Oakland Raiders
Questions and comments?
thescorecrowsports@gmail.com
Follow Us on Twitter @thescorecrow
Follow Us on Reddit at u/TheScorecrow
Follow Dale Money on Twitter @packerd_00
Main Credit Image: [getty src="1088243890″ width="594″ height="396″ tld="com"]