Daniel Corrigan | March 21st, 2019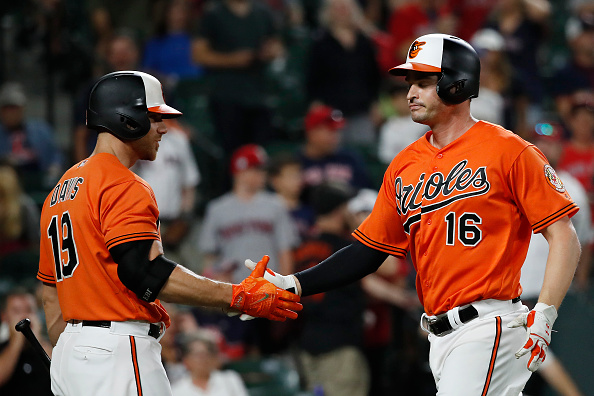 If we are being honest, all I have to do is say "yikes" and that would be my preview of this team. Just an absolutely terrible ball-club. Hard to believe that only a few years ago, the Orioles had Manny Machado, Chris Davis (when he was good) Adam Jones, and Matt Wieters. This team reached the ALCS in 2014. So how were they this past season? 47-115 and finished dead last in the AL East for the second straight year. This will be a painful process, but let's take a look at what the Orioles will field this season.
The Infield
Losing Machado is hard enough for a really bad team. I mean I really feel for Orioles fans'. I have been through a rebuild or two from my team and it sucks. Just stay patient. That is all you can do.
1B- Trey Mancini
Mancini could be the bright spot for this team. He is now just entering his prime and has a lot of power in his bat. He must be spending too much time around Chris Davis, as his strikeouts increased from the previous season. Mancini is your typical power-hitting first-basemen. I expect a big year out of him.
2B- Jonathan Villar
Villar could be the most "meh" player of all-time. He is a good player, just something about him makes him "meh." The positives are that he is pretty damn fast. He steals a ton of bases. He has a decent bat, not really any power behind him. He is also only 27 years-old. He needs to work on his defense. In six seasons, Villar has a career dWAR of 2.0.
SS- Alcides Escobar
Maybe five years ago this would be a good player to have. Escobar is just not the same player he once was. He was great with the Royals teams. He is just way past his prime. Hopefully, the Orioles use him as a leader and mentor to their youth. Escobar has that winning attitude. He would always kill my Cleveland Indians, but he was so fun to watch, I almost didn't mind.
3B- Renato Nunez
Nunez is very young and has shown some promise. He needs to improve defensively. He did, however, slash .322/.419/.741 last season. That's not all that bad. The thing about Nunez is that he is only 25. He has time to work out the issues. With a struggling Orioles team, he will get a lot of reps to figure it out.
DH- Chris Davis
The Orioles are stuck with Davis. My lord has he been terrible these past two seasons. Hard to believe this was the most feared hitter in baseball only a few years ago. He signed that massive contract that will land him $23 million AAV. You can't trade him, might as well hope he can still give you 20+ HRs a year.
Outfield
Not much to talk about here. Losing fan-favorite Adam Jones stings. He deserves to go find a winner (but he chose the D-Backs?) The Orioles are not trying to win this season or for the near future, so let's check out who will be patrolling the outfield.
CF- Cedric Mullins
Mullins made his debut in the majors last season. He only played 45 games, but he did not produce all that much. The Orioles will be experimenting a lot these next few years, luckily Mullins is very young and has lots of time to show what he has.
RF- Mark Trumbo
Trumbo was once a perfect pair with Chris Davis. Trumbo is a power-hitter. The problem is, every power-hitter when they get older become almost worthless. He still hit a respectable .261 last season, but only in 90 games. I can see Trumbo being traded to a contender who needs some pop in their lineup.
LF- Joey Rickard
Rickard is really just a fill-in guy. He has no real identity. He is 28 and has maybe one last shot to prove that he belongs. He doesn't have a great average, doesn't hit for power, not horrible but also not good on defense. Just a fill-in player.
Rotation
Andrew Cashner
Mike Wright
Another "yikes" with these Orioles. Again, let me say, this team is not trying to win. Right now, they are just trying to find themselves. Cobb had some good years with the Rays but just inst the same pitcher. Bundy had a decent 2017 but has never been able to get his ERA under 4.00. He is young so he has time to figure it out. Cashner had some years where he showed promise but is not a guy who would be in any competing team's rotation. Wright and Hess are like most of the Orioles roster. Just some fill-in guys. Since they play for a bad team, they have the blessing of getting some innings pitched and try and improve their careers.
Bullpen
This may be the worst part of this roster. They have no true identity. Givens will be the closer and has had some pretty good years in his short career. Castro is young but needs to improve his ERA. Bleier is older but has been pretty solid. He has an ERA under 2.00 but has not pitched many innings. Scott, Carroll, and Fry are all very young. They have collectively not pitched many innings, but the key is that they are young. They have time to cement themselves in the bullpen as the Orioles go through this rebuild.
Predictions
It's not going to be good. They have a horrible team in a great division. They have some young guys, but also a lot of veterans. The hope is that the veterans can teach these young guys how to win, and what it takes to win in this league. I think they just have to improve their record. They won 47 games last season. There is just no way you can be that horrible again. I think that they will go 61-101. Now is the time to test your farm system and get a good player from the draft. Sorry Orioles fans, these next few years will not be fun for you.
Check out our other Team Previews | Colorado Rockies | Toronto Blue Jays | Minnesota Twins | Atlanta Braves | Chicago Cubs | Tampa Bay Rays | Arizona Diamondbacks | Miami Marlins | Cincinnati Reds | Seattle Mariners | Texas Rangers |Los Angeles Dodgers | New York Yankees | Milwaukee Brewers | San Diego Padres | Detroit Tigers | Kansas City Royals | Cleveland Indians | Oakland A's | Philadelphia Phillies | Boston Red Sox | New York Mets | St. Louis Cardinals | Pittsburgh Pirates | Washington Nationals | Houston Astros
Questions and comments?
thescorecrowsports@gmail.com
Follow Us on Twitter @thescorecrow
Follow Us on Reddit at u/TheScorecrow
Follow Us on Facebook at The Scorecrow
Follow Us on Instagram at The Scorecrow
Follow Daniel Corrigan on Twitter @Corrigan_Tweets
Main Credit Image: [getty src="1015352782″ width="594″ height="396″ tld="com"]