Givanni Damico | February 19th, 2019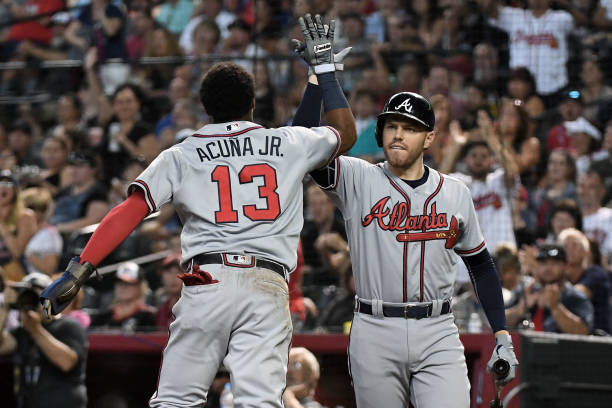 A look at what the NL East division champion Atlanta Braves have done to improve on last year's 90-win season.
RECAP: 90-72 (1st in NL East) #3 Seed
The Braves played far above the level I expected them to play at last season. They had a very well-rounded team and meshed very well for the most part. They had a few pieces who were low-risk, high-reward players such as Anibal Sanchez, who was viewed as a washed up has-been. He pitched above and beyond expectations but left the team this offseason. Charlie Culberson also came up big in situations off the bench and making spot-starts. Mike Foltynewicz and mid-season acquiree, Kevin Gausman, both pitched very well as well. Julio Teheran maintained a sub-3.00 ERA as well despite putting up 11 no-decisions. Freddie Freeman, Nick Markakis, and rookie phenoms Ozzie Albies and Ronald Acuna were the best hitters on the team this year. Kurt Suzuki was a very solid catcher for them offensively, but unfortunately, he is no longer with the team. One thing that I'm interested in this year is the progression of Dansby Swanson. He was a let down last year, recording a .238 batting average and I am close to labeling him a bust. I don't want to do that yet so I consider this his make-or-break season. The Braves lost the NLDS to the Dodgers 3-1.
Key Additions:
Josh Donaldson (2018 w/ TOR & CLE): .246 BA, 8 HR, 23 RBI, .352 OBP, .449 SLG, .801 OPS, 1.2 WAR
Josh Donaldson has had a very up-and-down career. His value has definitely dropped since he was crowned MVP in 2015. Donaldson struggled to stay on the field last season. He only appeared in 52 games and clearly lacked his normal power. His batting average was down as well and it was just overall a season to forget. I think this could be a huge signing for Atlanta because he is still Josh Donaldson. He struggled last year, but mainly due to injury, so who knows what he's still capable of when he comes back at full strength. He got a big contract at one year/$23 Million but if he plays as he did in his prime, he's worth every penny. If he's a disappointment, he might be a trade piece for them but I see him riding out the entire season with Atlanta whether good or bad. This is kind of like a test run with the one-year deal, so if he excels, the Braves could extend him. Keep in mind, Donaldson is 33 years old so it's not likely that he gets anything more than a two maybe three-year extension if they extend him at all.
Brian McCann (2018 w/ HOU): .212 BA, 7 HR, 23 RBI, .301 OBP, .339 SLG, .640 OPS, 1.0 WAR
I think this a good signing for the purpose of a storyline. What I mean about this is that Brian McCann will be joining the Braves once again for his second stint with the team. The Braves drafted McCann and he played nine years with the team and was a fan favorite. Brian McCann is 35 years old. So far, both of the free agent signings by the Braves have been old veterans who are past their prime, but I don't mind that. The Braves are a very young, up-and-coming team with young studs like Ronald Acuna Jr., Ozzie Albies, Dansby Swanson (maybe), and many others. It is always good to have a few veteran presences in the clubhouse to provide their wisdom to the young guys. The only reason I don't love this signing is that this is a serious downgrade from Kurt Suzuki. I'm aware that Tyler Flowers will more than likely be the starting catcher and McCann the backup, but McCann used to be known for his hitting. He has never been a good defensive player and he's only declined. Clearly, his offense has also declined. Keep in mind that McCann only appeared in 63 games last season, usually playing behind Evan Gattis, Max Stassi, or Martin Maldonado. McCann is a good player to bring in as a back-up catcher and a clubhouse presence, but really nothing more.
Subtractions:
Anibal Sanchez (2018 w/ ATL): 24 GS, 7-6, 2.83 ERA, 135 K, 42 BB, 1.083 WHIP
New Team: Washington Nationals
Anibal Sanchez was a very consistent piece of the 2018 Atlanta Braves' rotation. The Braves didn't have high expectations for Sanchez, who had three terrible years in a row. The year before with Detroit, Sanchez pitched to a 3-7 record with a 6.41 ERA. I don't think last year will be the new norm for Sanchez, not that I'm calling it a fluke season. I expect him to be a fourth or fifth guy for the Nationals and pitch to an ERA just over 4.00. Despite playing well last season, I don't think this loss will impact the Braves whatsoever. Touki Toussaint, who the Braves called up during the month of September last year, will take over Sanchez's spot in the rotation. Toussaint, 22, pitched well in his first month of action, going 2-1 in five games started with a 4.03 ERA and striking out 10 batters per nine innings. His BB/9 was far too high, as he walked 6.5 batters per nine innings. Baseball is changing. Pitchers are throwing with more velocity than they are with control, but I think these numbers will go down for Toussaint. Overall, the loss of Anibal Sanchez shouldn't affect the Braves.
Kurt Suzuki (2018 w/ ATL): .271 BA, 12 HR, 50 RBI, .332 OBP, .444 SLG, .776 OBP, 2.1 WAR
New Team: Washington Nationals
It's not fun losing two of your players to the same team that also happens to be in your division. Unfortunately, this is the case for the Atlanta Braves. I was not phased by the loss of Sanchez because I don't think he will be very impactful in Washington, but Kurt Suzuki is someone that you really don't want to lose. Suzuki is one of the most consistent offensive catchers in the league. He has a career batting average of .258 which for a catcher, is very solid. Suzuki has had more power over the last two years (31 home runs) than he has had since the 2009-2011 stretch when he had 42 home runs over the course of those three years. Unlike with Anibal Sanchez, the Braves don't have a suitable replacement for Suzuki. Tyler Flowers is expected to take over the starting job, with McCann also contending for it. Both catchers hit sub-.230 last season, with below-average power. Flowers is the better defensive catcher of the two and is also slightly younger. Suzuki is someone who will be mentioned when the Braves play the Nats and he is someone who can do damage. For the time being, the Braves' catcher situation is poor because of this loss.
Strengths:
Youth:
The Braves have a very good farm system and superb young players at the Major League level.
Ronald Acuna Jr., OF
Ronald Acuna Jr. Many people are boldly predicting an MVP season for Acuna, which is a reach in my opinion. Acuna slashed .293/.366/.552 last season with 26 home runs and 64 RBIs. He also stole 16 bases and had a WAR of 4.1. I think Acuna will easily have an all-star season and eclipse 30 home runs and possibly hit .300. MVP is possible, but not likely. Acuna needs to show consistent bat control as well as maintain his plate vision to be even more successful. He is an anomaly and a five-tool player that could be the face of this franchise for a long time.
Ozzie Albies, 2B
I'm hearing that many people don't recognize Albies as a top 10-second baseman and I think that's preposterous. I realize that he has only played a year and a half in which he was a bit inconsistent, but these are the growing pains of a young player. Albies is also capable of being a five-tool player. He certainly has a lot of pop in his bat, plus he is a switch hitter, which is always valuable.
Sean Newcomb, SP
Newcomb showed a lot of promise as a top-three guy in the rotation last season. He finished the season with a 12-9 record, a 3.90 ERA with a 1.329 WHIP. He averaged about four walks per nine innings as well as nine strikeouts. Newcomb has a little bit of a higher tendency to give up the long ball, giving up 18 last season. Newcomb should be the No. 2 guy in the rotation this coming season, which will be a good test for how consistent and dominant he can be.
The Braves have numerous other good young players as well as a great farm system. I just highlighted the top three in my mind.
Outfield:
The Braves have four outfielders who are all capable of starting. I already spoke of Ronald Acuna, who is easily becoming a fan favorite. One person in that outfield that makes a difference, someone who is one of the most underrated players in the league, in my opinion, is Ender Inciarte. Inciarte slashed .265/.325/.380 last season with 10 home runs and 61 runs batted in. He also stole 28 bases and won a gold glove. He lacks a power bat, but he is someone you can rely on to get on base and to come through in clutch situations. Nick Markakis is another guy who is very underrated. Resigning him was huge for the Braves' outfield situation going into 2019. Markakis was a first-time all-star last year (about time) as he slashed .297/.366/.440 with 14 home runs and 93 runs batted in. He won both a silver slugger award and a gold glove. He would have been hard to replace, so Atlanta gets him for another year. Adam Duvall was terrible last season, but he presents an aspect of the game that Inciarte nor Markakis contain: power. He hit .195/.274/.365 with 15 home runs and 61 runs batted in. This was mostly with Cincinnati. Duvall won't start usually, but he will be great in pinch-hitting situations when a power bat is needed. In 2016, Duvall hit 33 home runs, so the power is definitely there.
Weaknesses:
Catcher
I've discussed this in depth already. Both Flowers and McCann are below average hitters who won't really win you games using the bat. McCann is a liability behind the dish as well. Flowers is a solid fielder, but they definitely need to look to improve here.
Bullpen
The Braves bullpen depth is very weak, arguably weaker than the Red Sox. They really only have Arodys Vizcaino. Dan Winkler and Jonny Venters pitched pretty well last year, but they aren't anything to write home about. Vizcaino only appeared in 39 games and pitched to a 2-2 record with a 2.11 ERA. He has relatively good control for a flamethrower, walking about 3.5 batters per nine innings. He struck out 9.4 batters per nine. I think the Braves should look into bringing Craig Kimbrel back to Atlanta. Vizcaino can't stay healthy enough to be an everyday closer so he can be pushed up to a set-up man. They're gonna need their starting pitchers to go deeper into games than four or five innings because they don't have the bullpen depth or good enough pitchers in the pen to pitch half of a game.
Infield Projections:
C – Tyler Flowers, Brian McCann
1B – Freddie Freeman
2B – Ozzie Albies
3B – Josh Donaldson/Johan Camargo
SS – Dansby Swanson/Charlie Culberson
Note:
Dansby Swanson needs to step it up. He's looking like a bust. He only hit .238 with 13 home runs in 478 at-bats. That's two straight seasons with a sub-.240 batting average.
Starting Rotation Projections:
Mike Foltynewicz
Sean Newcomb
Kevin Gausman
Julio Teheran
Touki Toussaint
Note:
Mike Foltynewicz and Kevin Gausman were fantastic for the Braves last season. Folty had a 13-10 record with a 2.85 ERA and struck out 10 batters per nine innings. Before last season, he's never pitched to a sub-4.30 ERA. Talk about a breakout year. Gausman was never very good for the Orioles, but once he joined Atlanta, he started to shine. He went 5-3 with a 2.87 ERA while striking out seven batters per nine innings. These two need to continue their dominance and lead the rotation along with Sean Newcomb.
Bullpen Projections:
Dan Winkler
Sam Freeman
Chad Sobotka
Jonny Venters
A.J. Minter
Arodys Vizcaino
Note:
This is easily the weakest link of the team. Also, I forgot to give A.J. Minter credit for a good season last year. He pitched to a 4-3 record with a 3.23 ERA and struck out 10 batters per nine innings. They need to add some star power and depth to this bullpen
Prediction:
I think the Braves will place second in the NL East behind the Philadelphia Phillies. I think the Phillies are just better overall after making all the additions that they've made this season. If they add Harper or Machado, I think that puts the Phillies ahead by at least five games by the end of the year. As of now, I think the NL East will be a back and forth battle between these two teams. The addition of Josh Donaldson, if he plays even half as good as he did in his MVP season, is huge for the Braves. I think Donaldson hits around .265 with 25-30 home runs this year. Another bold prediction: it's Dansby Swanson's time to shine. Swanson will hit .270 with 20 home runs this year at a minimum. If he doesn't it's time to trade him.
This division will be a fun battle as both the Nationals and the Phillies will also contend for the division as well as the World Series.
Check out our other Team Previews | Colorado Rockies | Toronto Blue Jays | Minnesota Twins
Questions and comments?
thescorecrowsports@gmail.com
Follow Us on Twitter @thescorecrow
Follow Us on Reddit at u/TheScorecrow
Follow Us on Facebook at The Scorecrow
Follow Us on Instagram at The Scorecrow
Follow Givanni Damico on Twitter @giodamico15
Main Credit Image:"[getty src="1042833186″ width="594″ height="396″ tld="com"]