Nickolas Loza| August 25th, 2018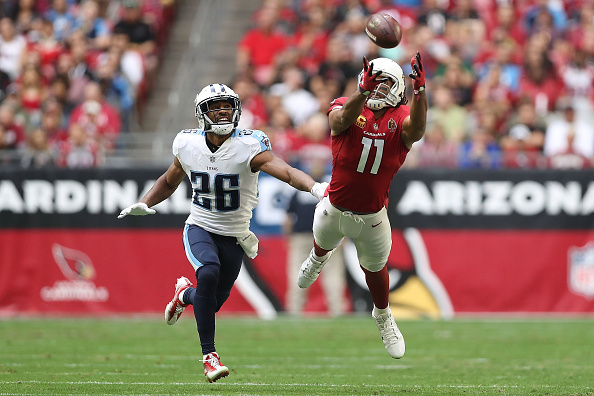 The Arizona Cardinals had an up and down season last year. They had a rash of injuries including their star player David Johnson. Can they rebound this season from 8-8 last year and 7-8-1 in 2016 to reclaim a spot in the playoffs?
Arizona Cardinals Season Preview
Recap of Last Year
The Arizona Cardinals last year weren't flying very high, they only had an 8-8 record and they missed the playoffs and were 3rd in the NFC West. The injury bug clipped their wings as QB Carson Palmer and RB David Johnson both went down with season-ending injuries during the season, leading Palmer to retire and Johnson to recover. Their offense struggled at the best of times, being the 7th worse in the league and only scoring 18.4 points per game. Their defense was 19th best and allowed 22.6 PPG. So what does this year hold?
Strengths This Year
Some strengths this year could be their running game which will get David Johnson back which will help tremendously as he is very well rested. One of their biggest strengths is their passing game which signed WR Brice Butler to a two-year extension and they kept their best weapon in the slot receiver position in Larry Fitzgerald. Another one of their big strengths will be the offensive line, which consists of Justin Pugh, Andre Smith Mike Iupati, AQ Shipley and DJ Humphries. Cardinals QB's were sacked 52 times which was the fourth most in the league last year so the O-Line must improve if they want to keep new QB Sam Bradford, who has knee problems, healthy. A minor strength will be at linebacker where they have All-Pro Chandler Jones who earned All-Pro honors last year.
Weaknesses This Year
Here we go with the negativity again, as we have to review some weaknesses to the Cardinals team. One of their biggest weaknesses will be on defense where they lost Safety Tyrann Mathieu after they released him, which will leave a big hole in the secondary where there will be more pressure on Patrick Peterson to perform. Overall this year their defense will be just outside of bad just as it was last year. Of course, losing CB Justin Bethel doesn't help either. Also, with Mathieu being released it puts too much pressure on the others to perform and it puts too much pressure on the offense to put up A+ numbers when they're a C+ offense at the best of times. This defense is going to have to improve dramatically if the Cardinals want any chance to get a Wild Card spot, especially in the NFC which is going to be a junkyard scrap to the finish. Another weak spot could be on special teams after Justin Bethel left who was a key member of that unit. One of the keys to a good football team is having good special teams and what the Cardinals have is meh. The punter last year averaged 47 yards a punt which isn't bad but needs slight improvement.
Additions/Improvements
Let's talk about the Cardinals eventful offseason shall we? The Cardinals added a new head coach in Steve Wilks after Bruce Arians retired, a new QB in Sam Bradford, G Justin Pugh, DE Benson Mayowa, QB Mike Glennon, and WR Brice Butler. Sam Bradford will bring some veteran experience to the locker room and QB room where they drafted QB Josh Rosen. Justin Pugh will bring an anchor at the guard position. Mike Glennon gives them depth and so does Benson Mayowa and Brice Butler who is your average receiver. The offensive line should be great this year. Let's look at things positively for once, the Cardinals didn't do an entire roster dump like Seattle did, and they still have a core to build around on defense in Chandler Jones and Patrick Peterson. They also have a future QB in Josh Rosen to look forward to.
Subtractions/Regressions
Now let's move on to their losses. This is where it gets ugly. Their losses in the offseason consist of Coach Bruce Arians, QB Carson Palmer, S Tyrann Mathieu, WR John Brown, S Tyvon Branch, and RB Adrian Peterson. That's ugly. They lost their veteran QB, two important safeties, and their second best receiver. Replacing John Brown with Brice Butler certainly doesn't inspire confidence in the WR crew. Making up for losing two safeties isn't easy either. I can't see a lot of improvements outside of the fact that they have a veteran in the QB room again and they improved at the guard position.
Prediction
The Cardinals shouldn't do too terribly this year and should be around 7-9. They play in a tough division with the up and coming 49ers, the stacked Rams, and the always dangerous Seahawks. Not to mention they have road games vs. the Packers, Chiefs, Vikings, and Falcons. This will be a rebuilding year no doubt, but they could have future success if Josh Rosen is a good QB and if the Cardinals system stays as good and patient as it has been over the years.
Questions and comments?
thescorecrowsports@gmail.com
Follow Us on Twitter @thescorecrow
Follow Us on Reddit at u/TheScorecrow
Follow Nickolas Loza on Twitter @sp0rtstAlkNick
Main Credit Image: [getty src="889799086″ width="594″ height="396″ tld="com"]