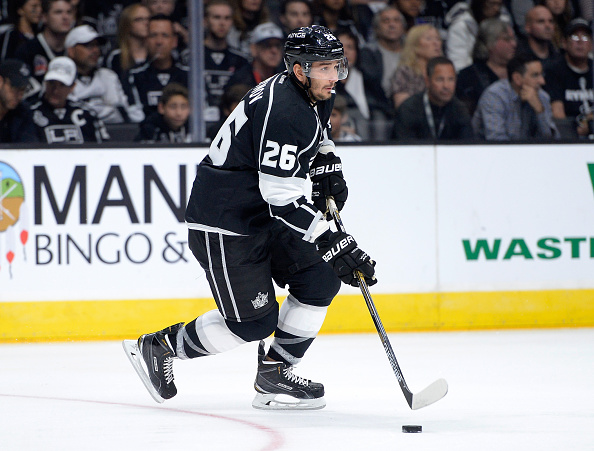 Carson Babbini | May 30th, 2019
Last week, the entire NHL world was sent into a tailspin as a decision came down from arbitrator Shyam Das on the suspension of former Los Angeles Kings defensemen Slava Voynov after a domestic violence charge back in 2014.
Going back to the incident itself, the things that Voynov were convicted of were absolutely appalling and disgusting. According to Voynov's wife at the time, Voynov punched, choked, and shoved his wife at a Halloween party. After these allegations surfaced, the Kings quickly took action and terminated his contract in 2015. The last time that Voynov played for the Kings was October of 2014. He was suspended by the league indefinitely, spent two months in jail, then returned to his home country of Russia to play for St. Petersburg SKA of the Kontinental Hockey League or KHL.
The decision that came down last week was shocking, to say the least. In his decision, Das says, to paraphrase, that since Voynov has not played in the league since 2014, his suspension has been a long one, so Voynov will be reinstated halfway through next season. The original decision by NHL Commissioner Gary Bettman was to suspend Voynov through next season and the 2020 playoffs, which was appealed by the NHLPA, and that is how this decision came to be.
The reaction from the NHL was put into a statement they released that said, in part, "While we do not believe Mr. Voynov was entitled to any 'credit' for time missed during 2018/19 season, we accept Arbitrator Das' conclusion that the precise factual context here was unusual – including the fact Voynov has not played in the NHL since October 2014, and that he did not play professional hockey at all during the 2018/19 season". The statement also goes on to say that they support that the decision upholds their code of conduct. As for the Kings, their statement was brief and effective stating, "Today the NHL arbitrator rendered a final decision on further discipline to Slava Voynov. From our perspective, the player will not be playing for the Kings. We will now determine the impact of the arbitrator's decision on our rights to the player and consider our options going forward".
For now, Voynov can only watch and wait to see if the Kings decide to trade his rights, or if he decides to come back to the NHL at all. This will be an interesting situation to watch and to see how it could be used to handle cases of domestic violence in the future.
Questions and comments?
thescorecrowsports@gmail.com
Follow Us on Twitter @thescorecrow
Follow Us on Reddit at u/TheScorecrow
Follow Us on Facebook at The Scorecrow
Follow Us on Instagram at The Scorecrow
Follow Carson Babbini on Twitter @cbabs1120
Main Image Credit:
[getty src="456893794″ width="594″ height="451″ tld="com"]