Joe Hines | June 12th, 2018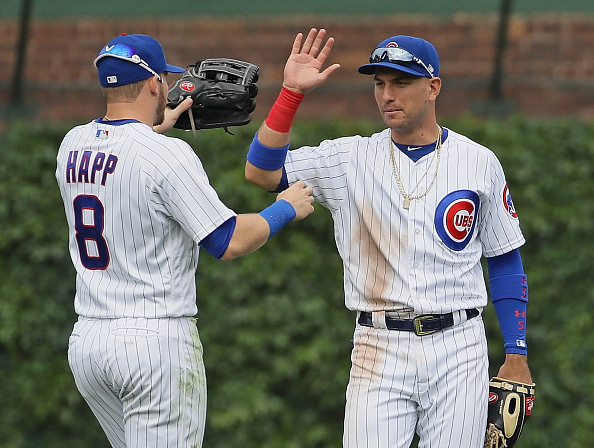 I am puzzled each time I see the Chicago Cubs lineup on any given day and fail to see the name of Albert Almora Jr.  The team's number 1 pick from the 2013 draft (6th overall), and not to be discounted as the first under the Theo Epstein regime, has become the player the organization hoped for when he was drafted out of Mater Academy Charter School in Florida.
He is the most natural defensive outfielder I have watched recently, playing for the Cubs or any other team. I don't need defensive WAR, although he is fourth among all major league outfielders at 4.3, to tell me when a player is superlative defensively, you can just see it. And I can just see it with Almora. He announced his coming out in a weekend series in April at Coors Field in Denver. He put on a defensive clinic, making one highlight reel catch after another in the weekend series. Almora Jr. punctuated his performance with three of the finest, acrobatic catches a fan will ever see during the third and final game of that weekend series. He ranged to his left, his right, and finally back, reaching fly balls that no other human would dare even attempt.
And as if the defensive prowess was not enough, he is batting .323. Manager Joe Maddon often cites the matchup excuse when explaining why Almora isn't in the lineup. He says that Ian Happ is a switch hitter and Almora doesn't match up as well vs. right-handers. But he hits over .300 against right-handers. I often think that the Maddon legend is formed in spite of himself. Witness the well-documented handling of his pitching staff in the 2016 World Series, which very nearly cost the Cubs the seven-game victory.
That doesn't fly, however. First of all, Happ has a strikeout rate of 40% this season. Granted, it's a small sample size, but once again, my eye tells me he needs more minor league seasoning. Additionally, he is clearly a liability defensively as evidenced by a -0.9 Defensive WAR. He made three fine catches in the just-completed series against Pittsburgh, but two of those were necessitated by Happ's slow breaks, and in one case, two steps back when the ball was in front of him. The next time Almora makes a false start for a fly ball will be his first.
Ian Happ may turn into a Hall of Fame player, and he may wind up with a career .300 batting average with 500 home runs, but he is not even close to the player that Almora is now. I'm a big fan of strong, up-the-middle defense, and the Cubs are strongest with Albert Almora manning center field.
Questions and comments?
thescorecrowsports@gmail.com
Follow Us on Twitter @thescorecrow
Follow Joe Hines on Twitter @hines_joe
Follow Us on Reddit at u/TheScorecrow
Main Credit Image: [getty src="969836354″ width="594″ height="448″ tld="com"]