Liam Romero | February 10th, 2019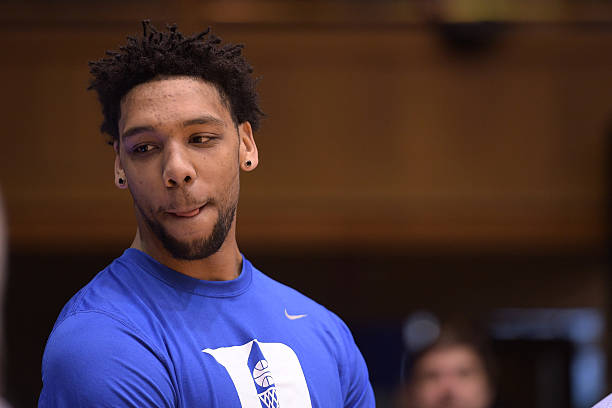 The 2015 draft class has progressed to the point where the players have made their names in the league and NBA fans now know who's relevant and who isn't. Players like Karl-Anthony Towns, D'Angelo Russell, and Kristaps Porzingis define the 2015 NBA Draft Class and have solidified themselves in the league. One name that was thought to be a bust until this season is the third overall pick, Jahlil Okafor. The star big man came off a national championship team with Duke University in 2015.
The Beginning
Jahlil Okafor was a national player of the year in high school, a McDonalds All-American, and the most recruited player in the entire nation. He was being heavily scouted by NBA teams early on, and he was a clear choice for a top-five pick. Dominating all competition while at Duke University in 2015, Okafor brought Coach K a National Title and soon declared for the draft. Okafor was being ranked the best big man in the draft behind Karl-Anthony Towns and a clear cut pick for the 76ers who were coming off an atrocious, 18-64 record. At the time, Philadelphia had drafted Joel Embiid in 2014 who wouldn't play a game until 2016. Okafor would have a large role with the team his rookie season. He relied heavily on his post game, but he lacked the elite athleticism that many other big men in the league would overshadow him with, something Embiid would eventually use to take his role.
Okafor was an unfortunate victim of terrible timing early on in his career. Having a solid rookie season averaging 18 ppg, Okafor looked to be a solid rookie to develop into a star. The next season though, Joel Embiid was beginning to make appearances with the 76ers and brought upon "The Process" to Philadelphia and Okafor was swept under the rug. In his second season with the 76ers, Okafor only played in 50 games and his scoring average dropped to 12 ppg as well as blocking 1 shot. The 2017 season was the lowest in his career, only playing 28 games and two with the 76ers while scoring 5 ppg in Philly. He was then traded to the Brooklyn Nets where he would play in 26 games and up his scoring averages to 6.4 ppg on 56% shooting. Between the 2016-2017 season, Okafor's minutes dropped from 22-12 mpg. Once again though, Okafor fell victim to terrible timing and was thrown to the backseat. That season, the Nets traded for D'Angelo Russell and Brook Lopez in a deal with the Lakers and Okafor's time on the court was slashed to accommodate their new acquisitions. By this time, Okafor was typically agreed upon to be a bust in the 2015 draft. Not many teams were interested in him at the end of the 2017-2018 season, but the New Orleans Pelicans offered him a one-year, $1,567,007 contract.
The Light at the End of the Tunnel
Now with the Pelicans, Okafor prepared to work hard and make his place in the league. For the first time in his career, Okafor finally had the gift of good timing. Not long after joining New Orleans, the drama surrounding Anthony Davis and his requested trade ensued and the Pelicans needed a big man to take the place of Davis was then on restricted minutes. Okafor exploded onto the NBA scene in mid-January right around the time Davis requested a trade. On January 21, Okafor played 35 minutes and went off for 20 points and 10 rebounds in a win against the Grizzlies in Memphis. In the following games, Okafor would have three more double-double performances including one with 24 points and 15 rebounds against the Spurs. Since January 21, Okafor is averaging 16.4 ppg with his newfound minutes. The New Orleans Pelicans called out for a big man when they needed one and Jahlil Okafor answered the call. With nothing to lose and everything to gain, it will be no surprise to see his name in the headlines again with great stat lines.
Jahlil Okafor has proven to be an exceptional rebounder and an elite post scorer. He is more than capable to take on large amounts of minutes and leading a team offensively and defensively with his size and strength in the low post. In prior seasons, Okafor was labeled a bust and often thrown to the side. Today though, Okafor has a spark to light his NBA career on fire and he is continuing to prove his critics and doubters wrong as he sees more and more success with the Pelicans. With the eventual departure of Anthony Davis, more minutes may soon be thrown Okafor's way.
Questions and comments?
thescorecrowsports@gmail.com
Follow Us on Twitter @thescorecrow
Follow Us on Reddit at u/TheScorecrow
Follow Liam Romero on Twitter @LiamRomero9
Main Credit Image:[getty src="510197178″ width="594″ height="396″ tld="com"]