Beth Sullivan | July 30th, 2018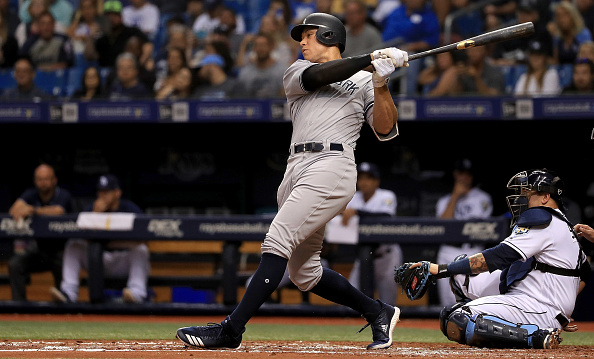 Aaron Judge was in the 1st inning of Thursday's game when he was hit by a pitch.  He was later removed from the game due to continued pain and swelling and underwent additional imaging which revealed a distal ulnar styloid chip fracture which was non-displaced. That was a mouthful just to type, let alone understand. What exactly is wrong you ask.
If you feel your own wrist below the little finger where the wrist bends up and down when moved, you will feel a little bump. This is your ulnar styloid  When the baseball struck Judge, the small tip of this bone was chipped off. This injury more commonly occurs when you fall and try to catch yourself on an outstretched arm. Since the injury was described as non-displaced, this indicates that the broken piece did not move away from its correct position. That is good news. No surgery is needed. A simple cast is applied and the bone is allowed to heal. In most people, this small chip will heal in 2-3 weeks. Given the nature of Judge's profession and the stressors applied to the injured area when batting, I would expect 3 weeks is the minimum time he is out and expect it will be more like 4-5 weeks before he will be cleared for all activities. If he returns before the injury is solidly healed, the possibility he could re-injure the bone and be lost for the postseason increases. So erring on the side of caution now makes his availability into the postseason greater in the long run.
Questions and comments?
thescorecrowsports@gmail.com
Follow Us on Twitter @thescorecrow
Follow Us on Reddit at u/TheScorecrow
Follow Beth Sullivan on Twitter @GAPeachPolymer
Main Credit Image: [getty src="1004917282″ width="594″ height="359″ tld="com"]