Pranav Ramasubramanian | April 20th, 2019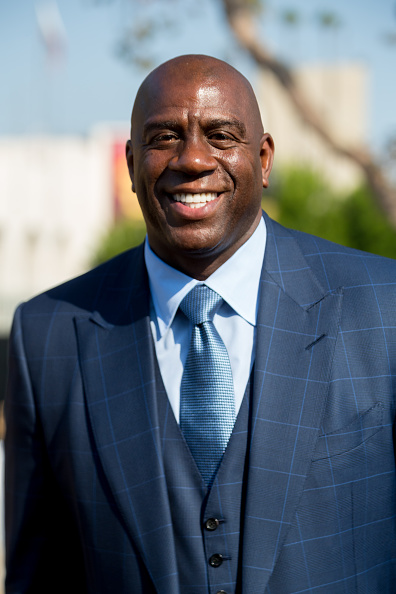 The Los Angeles Lakers were expected to do big things after acquiring LeBron James in free agency at the beginning of the season, but an unexpected groin injury knocked him out for 18 games and changed the course of the Lakers season. After the tumultuous turn of events that knocked the Lakers out of the playoffs, Magic Johnson decided it was best for him and the organization if he stepped down from being president of basketball operations. Magic Johnson helped the Lakers get LeBron James and he was set to pitch the plan to recruit free agents like Kawhi Leonard, Kyrie Irving, Kevin Durant, and Klay Thompson to try and get them on the Lakers, but the pressure was too much. Magic always seemed to be tampering and getting fined for it and it got to the point where he couldn't even congratulate a player on his accomplishment, which led to Magic getting frustrated.
Rob Pelinka wasn't happy with the fact that Magic didn't show up to work every day and he made jokes about it in the team facility. Magic also disliked Rob because of the way he worked so it was tough to really a build a team when the two people trying to build it were disconnected.
The First Trade
The first move that Magic Johnson made after becoming president of basketball operations for the Los Angeles Lakers was trading away bench spark Lou Williams to the Rockets for Corey Brewer and an unprotected first-round pick in an effort to help the Lakers fully tank the season to get the highest draft pick possible. Lou Williams was of the mindset to keep playing hard and tried to win more games for the team because he didn't want to waste some of his good years left in the league tanking, but Magic wanted younger players so once he got the draft pick in the trade offer he accepted and got rid of Lou. Lou Williams could've stabilized the bench for the Lakers this year and the 2017 draft they tanked for was one that saw many good players slip past the top ten like Donovan Mitchell, John Collins, and Jarrett Allen. Corey Brewer didn't offer anything to the Lakers in his two seasons with the team by only averaging 4.2 points in 78 games and made more boneheaded plays than good ones. Lou Williams would get traded from the Rockets to the Los Angeles Clippers in the summer of 2017 in a massive blockbuster that helped the Rockets land Chris Paul. Lou Williams made the Clippers instantly better with his bench play, putting up career numbers to help the Clippers get better and even make the playoffs this year. This wouldn't be the only move of 2017 that Magic Johnson would later grow to regret.
The Trade That Gave Away an All-Star
The Los Angeles Lakers needed to clear up some major cap space in 2017 to go after two max free agents in the summer of 2018. They needed to get rid of Timofey Mozgov's big contract and the Nets said they wouldn't take Mozgov's contract unless they got a young asset in return. At that time, D'Angelo Russell had shown flashes of potential, but he was injury-prone and Magic Johnson wasn't keen on waiting and letting him develop because he wanted the rebuild to go fast. Controversy struck in March of 2017 when Russell tried to prank Nick Young by recording his infidelity to Iggy Azalea and it got leaked. Russell had lost the trust of teammates, who had alienated him and it was becoming a real problem in the locker room. Magic was unable to see the benefit of keeping Russell around after that, especially with the Lakers getting the No. 2 pick and targeting Lonzo Ball in that year's draft. So on June 20th, 2017, he traded D'Angelo Russell and Timofey Mozgov to the Brooklyn Nets for Brook Lopez and the 27th pick in the draft. It looked like a win for the Lakers because they would get a higher draft pick that would turn into volume scorer Kyle Kuzma and got rid of a locker room problem in Russell, but nobody saw Russell's ascension coming. This year, D'Angelo Russell averaged 21.1 points and is an All-Star leading the Brooklyn Nets to the playoffs and the Lakers could've kept him by simply moving him to shooting guard or the bench because they needed the outside shooting more than ever this season.
Roster Construction Errors
After signing LeBron James, the Lakers were thinking big and tried to pair him with another superstar, but Paul George re-signed with the Oklahoma City Thunder and R.C. Buford refused to deal Kawhi Leonard to the Lakers sending him to the Raptors instead making the Lakers play the waiting game. Magic Johnson thought that putting shooters around LeBron James wasn't the way to go because they had seen that it failed in Cleveland. So they decided the best way to build the team to compete with Golden State was to get tough guys, who could get physical and challenge the opposition when they are shooting or trying to get to the rim. The Lakers coaching staff tried to reason with Magic to try and keep Julius Randle and Brook Lopez, but Magic decided he wanted to do something else with that cap space and even though JaVale McGee was solid, he was banged up for some of the year and Randle and Lopez could've made the Lakers stronger in the post. The money they used on Rajon Rondo, Lance Stephenson, JaVale McGee, and Micheal Beasley was at least forgivable, but giving Kentavious Caldwell-Pope $12 million wasn't ideal when they could've used that money on a more consistent player.
The Lakers coaching staff pushed Magic Johnson to re-sign Brook Lopez and Julius Randle instead of signing JaVale McGee, Michael Beasley, and Lance Stephenson, per The Athletic

Lopez is 12th in the league in 3PM with 158 3PM

Randle is averaging 21 PPG & 9 RPG pic.twitter.com/Rcc6wm80QX

— NBACentral (@TheNBACentral) March 11, 2019
Thomas Bryant was waived by the Lakers after showing potential as a good stretch five to make way for Moritz Wagner, but Bryant was picked up by the Wizards and had a solid season, showing the Lakers missed on yet another big man. LeBron missed the shooting badly this year and more physical play led to bad defense on the other end, making the Lakers lose more games.
Trade Deadline Drama
Anthony Davis requested a trade out of the New Orleans Pelicans 10 days before the trade deadline on January 28th and had the Lakers as one of his preferred destinations to land sending the Lakers front office in a frenzy. The Lakers were ready to offer everything and their offer included Lonzo Ball, Kyle Kuzma, Brandon Ingram, Josh Hart, Ivica Zubac, Kentavious Caldwell-Pope, and two 1st rounders just for Anthony Davis because they really wanted a second superstar for LeBron James.
Lakers Final trade offer to the Pelicans included; Lonzo Ball, Kyle Kuzma, Brandon Ingram, KCP, Josh Hart, Zubac, and Two 1st-Round Picks for Anthony Davis and Solomon Hill, per @BA_Turner.

— Hoop Central (@TheHoopCentral) February 5, 2019
The New Orleans Pelicans were divided, as the coaching staff begged Dell Demps, GM of the New Orleans Pelicans, to accept the offer because they really liked Brandon Ingram. Dell Demps decided to counter-offer with Solomon Hill and four first-round picks along with more picks instead and the Lakers just couldn't succumb to those demands and pulled out of trade talks. The Pelicans knew dealing with Rob Pelinka wouldn't help their cause so they didn't answer his calls and only talked with Magic Johnson, who really didn't know what he was doing when it came to negotiating. The Lakers also made a mistake leaking the trade offers with all the player's names included because it ruined the team chemistry for the rest of the year and the veterans didn't play well, even though the young core seemed unaffected and still put up good numbers. The Pelicans had believed that tampering was going on since Rich Paul of Klutch Sports also has LeBron James as a client and that James convinced Davis to come join him in LA. This made Dell Demps get revenge by breaking the Lakers apart and also was really using the deal as leverage to try and get Danny Ainge to include Jayson Tatum in his offer in July.
Team Meeting
After the New Orleans Pelicans had toyed with the Los Angeles Lakers in trade negotiations with Anthony Davis, Magic Johnson knew it was time to meet with the team so he held an open forum before their game against the Philadelphia 76ers that week. Magic Johnson took the approach of an executive that was focused on getting his team to the playoffs and urged his team to stay focused to get to the playoffs and not get distracted. The talk made nothing better as they let up 143 points to the 76ers the next game and the players didn't seem to be very enthusiastic about the meeting with Magic. Magic should have just let the situation cool itself down before talking to the players, but he thought talking earlier would be better. The players weren't just mad at Magic, they were also mad at LeBron James and it showed on the court at times when they would decide to shoot quick shots or not give James the ball even if he called for it because they knew they were not wanted. It was surprising that Jeanie Buss denied putting the whole roster on the trade block for Anthony Davis even after all the leaks, but she did so because she felt it was better to try and keep that stuff in the organization, contrary to Magic.
Questionable Trade Deadline Move
After the Lakers' failure to get Anthony Davis, they decided to focus on beefing up the roster by trading away other players on the team. The Lakers wanted to get some shooters around LeBron as they wanted to space the floor out more. So on February 5th, 2019 the Lakers traded Sviatoslav Mykhailiuk and a second round pick for Reggie Bullock, which turned out to be a good move. Bullock proved that he was a solid player and helped the Lakers win some close games, doing his best to keep the Lakers in the playoff picture. Magic should've just stopped there, but he wanted to make a more drastic win-now move and traded away promising young center Ivica Zubac for Mike Muscala. Muscala wasn't playing well for the Clippers this year and didn't add anything to the Lakers when he played making the team worse because he didn't score enough while being a defensive liability. 
On February 7th, the #Clippers acquired Ivica Zubac (@ivicazubac). After that trade, the Clippers have gone 13-4, while the #Lakers have gone 3-14. Appreciate the big man.

— Farbod Esnaashari (@Farbod_E) March 23, 2019
It's laughable that they wanted to appease JaVale McGee with more playing time because they are likely to let him walk when his contract expires. Michael Beasley hadn't fit in well in terms of playing time so adding him in the trade was probably the only benefit for the Lakers. If the Lakers can't land Nikola Vucevic or another decent big man, this trade for Zubac will look very bad as even Jerry West laughed at the Lakers when Zubac just fell right in his lap.
The Press Conference That Ended It All
The Lakers played the TrailBlazers last Tuesday and Magic was holding a news conference before the game to address the reporters when he abruptly broke the news that he was stepping down. Magic said he wanted to go back to being himself and being more in an advisory role rather than a prominent role in the organization because of all the restrictions that came with it.
Magic had also felt guilty playing too much of a role in other people's livelihoods and just wanted to be someone who helped other people, especially after he got a call from Serena Williams asking him to be her adviser. Magic didn't inform the Lakers of his intentions so everything was happening on the spot, which got really messy for the Lakers. Magic said he had no ill will towards the Lakers and still loved Jeanie Buss like a sister and the Lakers seemed to be fine with him leaving. The Lakers should be happy considering Magic Johnson did help the Lakers get rid of Jim Buss, who was way worse and could've done more damage to the Lakers.
Potential Replacements:
Jerry West
The current Los Angeles Clippers consultant, Jerry West, who has rebuilt the Clippers and several other franchises to a championship-winning pedigree has always had a desire to end his career with the Los Angeles Lakers as an executive, but mutual interest seems to not be there. West would be tough and would make the necessary moves fast to help the Lakers get back to their winning ways without hesitating. West is also smart enough to the point where LeBron James wouldn't clash with him on certain moves and would know it was for the best. The Lakers first have to reconcile their relationship with West because if they don't like working with him he won't have the same impact that he had the 1st time and the results will show. The Lakers also must pitch a coherent plan to West because West has a good role with the Clippers and may be looking to stay in a stable organization with Steve Ballmer and chasing free agents rather than leaving. This should be the No.1 choice for the Lakers because West would build the Lakers back up, but whether the Lakers go after West aggressively is yet to be seen.
Kurt Rambis has been a part of the Lakers organization for many years as an assistant coach to Phil Jackson when the Lakers were winning titles. After a failed stint as head coach in New York, Rambis rejoined the Lakers in an advisory role to help the young Lakers grow and be part of the great franchise that he had once played for. The wife of Kurt Rambis, Linda Rambis is good friends with Jeanie Buss and Linda has one of the most important positions on the team as a Manager of Special Projects. One of the few people Jeanie trusts is Linda and so that could set up Kurt Rambis with a bigger role and possibly a chance to take over as president of basketball operations. It's probably better to keep Rambis at his role right now because Rambis has not done well with bigger roles in organizations in the past as he has been fired numerous times. Jeanie Buss could be looking to stay within the Laker family, which in this instance wouldn't be a great move. There is a difference between having experience and being qualified so Jeanie Buss should just look for another member within the Laker family in this case.
This is a big longshot because Kobe has stated on many occasions that he is done with the NBA and would rather spend more time with kids and creating content whether it be a podcast or book. He does understand the situation of the Lakers organization better than anyone else and could work well with LeBron if given the proper space. Rob Pelinka was Kobe Bryant's agent when Kobe was a player so the understanding and respect would be there from Day 1. Kobe also gets along with other members of the organization like Jeanie Buss and Kurt Rambis so he would make sure to always be consistent and do his job well. The only issue that could arise would be Kobe wouldn't be able to be in the office every day and that might not please Pelinka. Kobe has expressed his interest to help the Lakers out so maybe this could be that way.
Chauncey Billups has no previous experience of being a part of team operations, but he has great communication skills that could help him negotiate deals with opposing teams. He has zero scouting experience, but it wouldn't take him that long to learn as he is also a willing listener. Billups has gotten very comfortable at ESPN and coming on to the Lakers as president of basketball operations could be stressful for him and could be something he could pass on like the Cleveland Cavaliers GM job he passed on last year. The Lakers also have a history of low-balling people for contracts so if that happens here, Billups will quickly reject the offer and stay at ESPN or explore a possibility of going to the Timberwolves in the same capacity.
Chauncey Billups and the Minnesota Timberwolves will meet in near future to discuss the franchise's President of Basketball Operations role, league sources tell me and @JonKrawczynski.

— Shams Charania (@ShamsCharania) April 19, 2019
Billups will also need some power and not be a yes man and I doubt the Lakers give that to him. If Jeanie Buss looks outside the Laker family for a president of basketball operations then this would probably be the most realistic choice rather than wasting time going after Bob Myers or R.C. Buford.
Luke Walton and the Lakers also mutually parted ways because the Lakers didn't want him and Luke didn't want the stress of coaching this team. It was a very quick turnaround for Luke Walton as Vlade Divac hired Luke Walton as head coach of the Sacramento Kings just 24 hours later. Magic Johnson wanted to fire Rob Pelinka as well as the coaching staff and Jeanie Buss refused to let Magic do that because Buss and the Lakers brass liked Pelinka and the way he dealt with things even though the rest of the league doesn't. A rare good move by Magic and Rob was when they traded away Jordan Clarkson and Larry Nance Jr. last February to create more cap space for signing of role players that was supposed to change the Lakers fortune. The coaching search is headed by Rob Pelinka and he is looking at three candidates right now in Monty Williams, Tyronn Lue, and Juwan Howard to replace Luke Walton.
Can confirm that Rob Pelinka will be running the Lakers' coaching search. Which leads one to wonder if they will be hiring someone for the executive role that Magic Johnson just vacated.

— Tania Ganguli (@taniaganguli) April 12, 2019
The fact that the Lakers are looking for a new head coach before a new president of basketball operations just shows how disarray the franchise is in and Magic Johnson stepping down seems to symbolize the way the season has gone.
Questions and comments?
thescorecrowsports@gmail.com
Follow Us on Twitter @thescorecrow
Follow Us on Reddit at u/TheScorecrow
Follow Us on Facebook at The Scorecrow
Follow Us on Instagram at The Scorecrow
Follow Pranav on Twitter @PranavRama1
Main Image Credit:  [getty src="594424226″ width="396″ height="594″ tld="com"]