John Supowitz| May 14th, 2019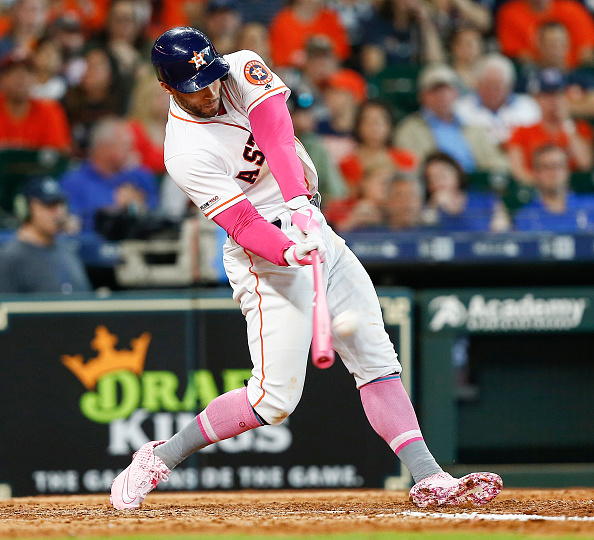 You know the rules — the best seven hitters over the last seven days.
George Springer OF Houston Astros
Houston had to right the ship and is sitting in the first place like they've done most of the time over the last three seasons with the help Springer. The UCONN alum capped off his week with the perfect Mother's Day gift by going 5-5 with 2 HR and 4 RBI. Springer is having an MVP season so far: AL leader in home runs (15), hits (51) and RBI, it might have to do with his 56.6 hard hit % which is tops in the league.
Charlie Blackmon OF Colorado Rockies
Another team trending up is the one from the Mile High city. The Rockies have won four of their last six mainly due to the improvement of the offense. This past weekend they scored 25 runs during a three-game series with the Padres. I could feature a few Rockies, but I decided on Blackmon because as he's currently riding an 11-game hitting streak with a hit in every game this month. The Dallas native capped off the week with not a lone (star) home run, but two with three RBI in their win against San Diego.
Justin Turner 3B Los Angeles Dodgers
Now that his obligations of playing Tormund on Game of Thrones are over, Turner is now able to focus on baseball. On May 7 against the Braves, he had three HR and six RBI and a total of eight and ten respectively along with a .417 for the first place Dodgers.
Kris Bryant 3B Chicago Cubs
Remember when everyone thought the Cubs were done? Remember when they said Joe Maddon lost the team and should be fired? Hahaha, times have changed. After starting 3-9, the team has gone 17-5 and have surged to first place in the NL central. Bryant's numbers have surged with the team, he was batting .230 with 3 HR and 13 RBI in 26 games through March/April, but after those showers, he bloomed into those May flowers by hitting .333 with 5 HR and 13 RBI in ten games.
Hunter Pence OF Texas Rangers
I mentioned a couple of weeks ago the comeback story of Pence, and now we can see this may be just a flash in the pan for Pence who now has played in Arlington, Texas as a college player for the Longhorns, as well as a pro. He added four more home runs and league-leading 12 more RBI this week including three consecutive games with a home run. The Rangers as a team have cooled off, but Pence is staying red hot.
Rafael Devers 3B Boston Red Sox
The Sox are the American League version of the Cubs; started the season terribly and have recently surged. Since they went down to Tampa and swept the Rays, they've gone 15-6 and currently have a five-game winning streak. Devers is another player enjoying the month of May, as he is now hitting .426
DJ LeMahieu 2B New York Yankees
It's hard to keep up with the Yankees' roster; mainly because if you get to know and love a player, he's probably going to the IL. Currently, there are 13 players placed on the injured list, there have been 17 total. DJ has been one of player that has helped keep this team afloat as they sit just a half game behind the Rays. A lot of Yankees fans were scratching their heads after this signing, but now that he's batting .333 this season, they're beating themselves for doubting him. This past week he had a .435 BABIP and tied for second in singles with nine.
Questions and comments?
thescorecrowsports@gmail.com
Follow Us on Twitter @thescorecrow
Follow Us on Reddit at u/TheScorecrow
Follow Us on Facebook at The Scorecrow
Follow Us on Instagram at The Scorecrow
Follow John Supowitz on Twitter @Imthatsupi85
Main Image Credit:
[getty src="1148690595″ width="594″ height="540″ tld="com"]