John Supowitz | April 30th, 2019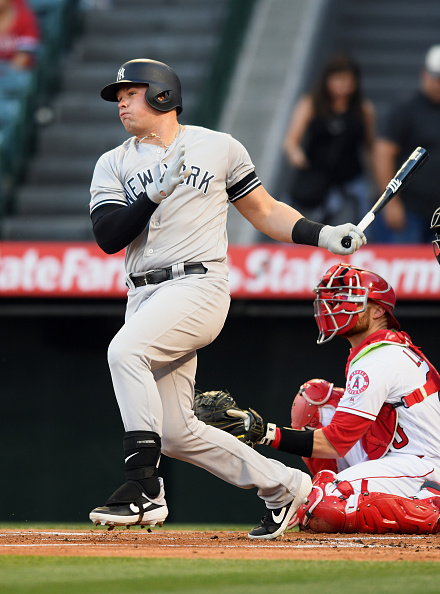 Bran would tell these players they were good men. I promise I'll be spoiler free.
Luke Voit
Despite the Yankees being able to fill up a hospital wing, their back-ups had a very successful road-trip: 7-1 and won 11 of the last 13. Cool Hand Luke's bat has been anything but. in his previous 15 games, he's hit .368/4HR/13RBI/.463 OBP and received American League hitter of the week honors. The thought of Voit not being the definitive starting First Baseman is for the birds ;).
Jose Abreu
Although last year he made an all-star appearance and won a silver slugger, Abreu had career lows in AVG (.265), HR (22), and RBI (78). The White Sox looks to bounce back this year and this week helped his case. This week's league leader in AVG with .571 and RBI with 12 helped the White Sox helps them get their second three-game winning streak od the season.
Most thought the Dodgers were going to run away with National League West, this does not seem to be the case. A couple of weeks ago, the Padres surged, and at one point held first place, now the D-backs are joining the party. Arizona has won five of their last seven and as of April 30th are just two games behind first place. Escobar is one of the contributors, with a .500 BABIP and a Win Probability Added of 0.72 this week.
The ratio of injured Yankees to every other is the same ratio of white walkers to the living at the Battle of Winterfell (See? Spoiler free), New York has relied on some younger talent to carry them through, one of those being Urshela. He's done well at third since the absence of Miguel Andujar; this week he batted .440 with 11 hits. Unfortunately, a pitch to hand has him day-to-day.
Trevor Story
The Rockies have gotten off to a shaky start. An eight-game losing streak had them at the bottom of the division; one significant factor was the lack of offense. Colorado has picked up over the last week winning five of their previous seven, and their offense has picked up, one of those players helping is Story. With a.400 AVG and tied a National League best four doubles have the Rockies climbing back in the west.
The Rangers are a surprise team in the American League West as I mentioned previously with Joey Gallo. Another player helping the cause is a twelve-year veteran, Pence. Hunter had success with Houston, then later on with San Fransisco and their three championships. Injuries have unfortunately plagued Pence the last few years, but he could be on his third wind in Arlington. This week he's had two three-RBI games and then capped off the week with a four RBI.
Oh, this guy? I think I've talked about him once, twice or every week. He hit .444 with 3 HR and 8 RBI, he's good.
I told you this article was spoiler free.
Questions and comments?
thescorecrowsports@gmail.com
Follow Us on Twitter @thescorecrow
Follow Us on Reddit at u/TheScorecrow
Follow Us on Facebook at The Scorecrow
Follow Us on Instagram at The Scorecrow
John Supowitz    Follow John Supowitz on Twitter @Imthatsupi85
Main Image Credit:   [getty src="1139350912″ width="440″ height="594″ tld="com"]