John Supowitz  | April 11th, 2019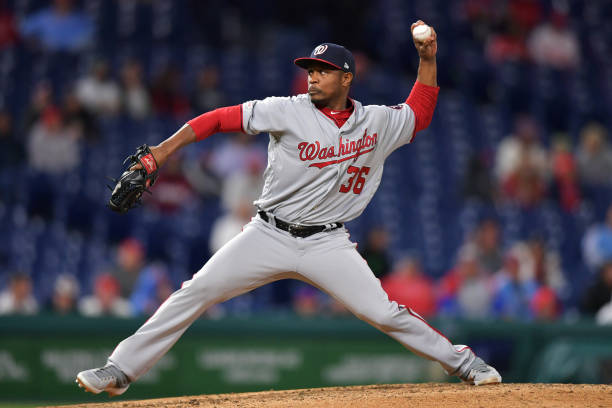 Red Sox 3-9 (5th in the AL East)
Probably the biggest surprise so far is the horrific start for the defending world champions. The big reason right now is the pitching' the team ranks near the bottom in almost every major statistical category including ERA (27th), ER (30th), BAA (26th), opponent total bases (30th), home runs given up (29th), hits given up (28th) and lists of things I can mention. We believed the bullpen would be Red Sox's Achilles heel, but it been starting pitching. The best ERA among starters with more than one start is David Price with 6.00. CY Young winning ace Chris Sale is having a notable a rough start, giving up 13 ER in 13 innings.
Some of their best offensive players have struggled too. Mookie Betts is batting .255, Jackie Bradley Jr. .171, Andrew Benintendi .261.
They're coming off a 108 win season with minimal turnover. The rotation will be situated; it's known that the team shortened Sale's innings in spring training, he'll acclimate by May. Betts and the other struggling offensive players will improve. This start will all be forgotten when they're in the playoff hunt by the end of the summer.
Nationals (5-5 4th in the NL East)
People had high expectations for this team; some predicted them to win in a stacked NL East. The offense is playing well. Dozier and Eaton are the only two off to a slow start. The team ranks in the top half of every offensive statical category. Anthony Rendon has started hot with a slash line of .421/.489/895.
The biggest problem is the under-performing pitching staff. The team currently ranks 24th in ERA, 25th in BAA, and they've yet to record a save. The bullpen has been atrocious: Tony Sipp 15.43 ERA, Wander Suero 12.00, Matt Grace 8.44, Trevor Rosenthal INF, that means infinity, Thanos is jealous. They're relying heavily on Sean Doolittle too early, two of five appearances he's pitched multiple innings.
They are another squad that has a dependable player just struggling to start the season. I think they need to look into adding a piece to that bullpen, possibility a guy whom last year recorded 42 saves and won a World Series. They're another team in a tough division, they need to right the ship a lot sooner than others, or they could have a tough hole to climb.
Yankees (5-7 3rd in the AL East)
The roster the Yankees have is championship quality roster; unfortunately, that roster is not on the field. The Yankees have 22 all-star appearances currently on the Injured List including ace Luis Severino, slugger Giancarlo Stanton, starting CF Aaron Hicks, important bullpen piece in Dellin Betances, and AL ROY runner-up Miguel Andujar.
The teams rank top 10 in almost every statistical pitching and hitting category. The two most significant problems are hitting with runners in scoring position (currently hitting .250), and they haven't had too many games where both sides of the ball collaborate, they get quality pitching and can't score the runs or the get the runs and pitching can't hold onto the lead.
There's no need to panic in the Bronx, the team is playing well with guys they didn't expect to be in the lineup, and that's just a short-term thing.
Reds (3-8 5th in NL Central)
This team was the trendy pick in the offseason. Acquiring Sonny Gray, Matt Kemp and Yasiel Puig, people had the Reds at least competing in the division. Except for Luis Castillo (who has never dropped a fly ball against the Yankees), is the one shining player on this roster with 0.92 ERA and 25 strikeouts in 19 innings. They'll be a very easy seller come July.
Cubs (3-8 4th in the NL Central)
There's no good way to say this, the Cubs are bad. We'll get into the on the field, but off the field there's tension. Rumblings are starting to emerge that Joe Maddon way of life is beginning to get stale on the north side. Maddon is heading into the last year of his contract, and there haven't been any reports of an extension.
The main problem with the Cubs is the pitching staff. 29th in ERA (6.70), the only BAA that is above .300 (.304.). Cole Hamels has 5.73 ERA, Jose Quintana 10.29. Yu Darvish has been with the Cubs for 425 days and only has 46 2/3 innings pitched for the Cubs has given 43 hits with a 5.40 and a 6.2 BB9.
The top of that rotation is old. Lester is 35, same with Hamels, Darvish is 32 with arm problems. You have to find a way to conserve their innings without straining the bullpen to be ready if you even make it to October baseball.
With the Brewers off to hot start, it'll be a nearly impossible task of dethroning the NL Central champs.
Rockies (3-9 5th in the NL West)
Colorado was looking to compete in the west this season, it looked promising after winning their first two games, but they have been on a downward spiral ever since. As of Thursday, they have lost nine of their last ten and currently five straight.
Their team 5.52 ERA has them ranked 23rd, BAA is 21st, and in common with two other teams on this list, they have yet to record a save. German Marquez is looking good again after a 14 win 2018 campaign, along with Bryan Shaw are the two shining stars in this otherwise under-performing pitching staff.
The offense isn't any better. Their .256 team batting average helped finished sixth in the league last year; their current .216 has the team ranked 25th. They're not even getting the benefit of the thin Colorado air as their average at home is .242 (.287 last season). Nolan Arenado, whom the Rockies have solidified as their marquee player, is hitting just .277 with .362 slugging percentage, in fact, that batting average is the second on the team among players with more than ten at-bats. Other stars like Trevor Story is hitting .209, Ian Desmond at .150.
They are in the same boat as the Cubs. They're unfortunately in the same division as the back-to-back National League champion Dodgers, who may have an even better this year. Also, the Padres look like they're having a coming out party a little earlier than expected as they sit in second. Five games behind is not an insurmountable lead in early April, but with how good the other teams are in this division, looks more than a mile high away.
Questions and comments?
thescorecrowsports@gmail.com
Follow Us on Twitter @thescorecrow
Follow Us on Reddit at u/TheScorecrow
Follow Us on Facebook at The Scorecrow
Follow Us on Instagram at The Scorecrow
Follow John Supowitz on Twitter @Imthatsupi85
Main Image Credit: [getty src="1136223937″ width="594″ height="396″ tld="com"]