Nickolas Loza | December 1st, 2018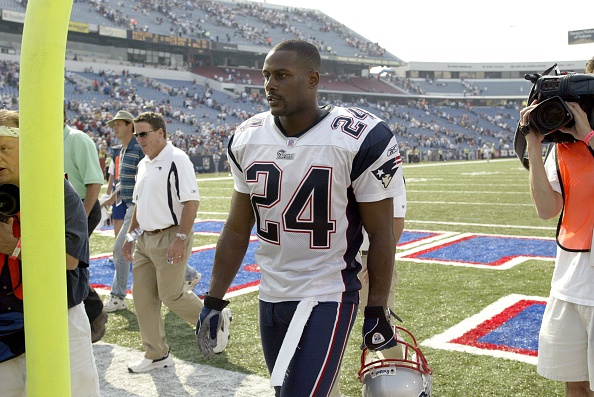 Ty Law is looking to get into the Pro Football HOF after being a reliable and stout CB for the Patriots, Jets, Chiefs, and Broncos. Today we'll go over the chances that he gets in.
Ty Law's Life Pre-NFL
Tajuan E. Law was born on February 10th, 1974 in Aliquippa, PA, and attended Aliquippa High School where he participated in the program's basketball team, track team, and obviously the football team. He attended the University of Michigan from 1992 to 1994, where he earned First Team All-American and was selected twice to the Big Ten All-Conference Team. However, following his junior year with the program, he was forced to declare to the 1995 NFL Draft due to his grandmother's death, which caused financial hardship and basically forced him to declare early for the draft.
Ty Law's Pro Career: Early On ('95-'98)
Ty Law was drafted 23rd overall by the New England Patriots in the '95 Draft. In his first three seasons as a pro, he recorded nine interceptions, one of those INTs was a Pick Six, and he started in Super Bowl XXXI, where his Patriots lost to the Packers 35-21. He was the best coverage CB on his team, but in 1998 he really impressed people. In '98 Ty Law had his first All-Pro season, grabbing nine interceptions, and racking up 70 tackles.
Ty Law's Prime of his career ('99-'05)
In 1999 Ty Law had a down year, only recording two interceptions, and forced two fumbles. In 2000 he had two INTs, and arguably had a worse year than he did the year before. Some people in the media were thinking that he was a one season wonder, and an average CB, but he would prove everyone wrong in a truly special 2001 season. In 2001 he recorded three INTs, returned two of them for TDs, but his most impactful moment came in the biggest game of his life, Super Bowl XXXVI. He intercepted NFL MVP Kurt Warner and returned it for a TD. That pick-six ended up allowing the Patriots to have a game-winning drive and cap off their Super Bowl XXXVI victory with an Adam Vinatieri 48-yard field goal. That was the most remembered highlight of his pro career. He was also selected to the Pro Bowl that season. He made the Pro Bowl again in 2002, with four interceptions. Then in 2003, he made All-Pro and the Pro Bowl along with winning Super Bowl XXXVIII, he recorded six interceptions that season and three in the postseason. In 2004 he had an injury-riddled season, only playing seven regular season games and not playing in the postseason, the Patriots did well without him, winning Super Bowl XXXIX to make them champions three out of four seasons. However, in the 2004 offseason, the Patriots released Ty Law due to his salary not fitting in the salary cap, and he ended up signing with the New York Jets where he made the Patriots regret their decision to release him. In 2005, Ty Law had his best regular season, recording a league-high ten interceptions, and defending 18 passes. He missed out on All-Pro honors that year due to Ronde Barber and Nathan Vasher each having stellar seasons at Ty Law's position, RCB. This was his best season most definitely, but his team was not at all good, the Jets went 4-12. Something bittersweet did happen for Law though, he intercepted his former QB Tom Brady in a meaningless game in Week 16.
Ty Law's last four seasons and his retirement.
Ty Law, in his last four seasons, played for the Jets, Broncos, and Chiefs. He recorded seven interceptions in those four seasons combined and never made the Pro Bowl. He retired after the 2009 season after a stint with the Broncos.
For his career he had 53 INTs (7 returned for TDs), 108 passes defended, and 838 tackles. He made the Pro Bowl five times, was an All-Pro twice, and has three Super Bowl rings.
What are the chances he gets into the HOF this year?
I'd say his chances around 25%. There's another good CB who will definitely get in this year in Champ Bailey, which will make it difficult for Ty Law to get in, but I'd say his chances are around 25%. Next year will be the year definitely if he fails to get in this time around. He'll get his much deserved HOF bust soon.
Hope you enjoyed!!!
Check out our other NFL HOF articles: John Lynch | Tony Gonzalez
Questions and comments?
thescorecrowsports@gmail.com
Follow Us on Twitter @thescorecrow
Follow Us on Reddit at u/TheScorecrow
Follow Nickolas Loza on Twitter @LazierStathead
Main Credit Image: [getty src="460688882″ width="594″ height="397″ tld="com"]