Mike Fanelli | April 26th, 2019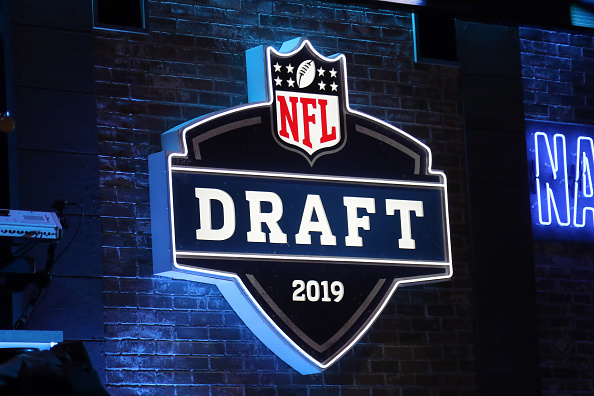 The first round of the 2019 NFL draft had several surprise moments. One of the more surprising things was all the good talent that slipped into the second round. Teams will have plenty of opportunities to try and trade up for a first round talent that slipped for whatever reason. With the second night of the draft just a few hours away, here is a predictive mock draft for the second round.
33) Cardinals- Byron Murphy, CB, Washington
The early rumors have Murphy as the favorite to go 33rd overall tonight. Many expected this pick to be N'Keal Harry but he went with the last pick to the Patriots last night. Murphy was expected to be a first-round pick and the Cardinals have ignored the starting cornerback spot opposite of Patrick Peterson for too long.
*** Trade Alert → Colts trade pick #34 to the Broncos for picks #41, 71 ***
34) Broncos (via Colts, Jets)- Drew Lock, QB, Missouri
After trading out of the first round, the Colts will move back again and add more picks during night two because this is where the best value in this draft is at. The Broncos easily could have considered Lock last night but Noah Fant was just too much to pass up. If John Elway wants to guarantee getting Lock, jumping in front of the division rival Raiders is a must.
35) Raiders- Irv Smith, TE, Alabama
Had Lock still been available here, he would be in consideration. However, with him off the board, the Raiders focus on giving Derek Carr all the weapons possible. Jared Cook left in free agency and they currently don't have a starting caliber tight end on the roster. Smith would come in day one and with former Alabama teammate, Josh Jacobs, give Carr no excuses this season.
36) 49ers- D.K. Metcalf, WR, Ole Miss
Last year's second-round pick Dante Pettis played well to close out his rookie season but he needs a running mate. Marquise Goodwin can't stay healthy and Jordan Matthews isn't a difference maker. Metcalf was expected to go last night after a very impressive combine performance but the 49ers will happily take him here. Give Jimmy Garoppolo as many weapons as possible.
37) Seahawks (via Giants)- Charles Omenihu, EDGE, Texas
L.J. Collier was a reach; plain and simple. However, the Seahawks need pass rushers and Collier isn't enough. Doubling down and taking another pass rusher at pick 37 overall wouldn't surprise me. Omenihu could be in play for the Colts if they stay at pick 34 overall and he is expected to go sometime during the second round.
38) Jaguars- Cody Ford, OL, Oklahoma
The Jaguars' plan was to take an offensive lineman last night but when Josh Allen fell in their lap, they couldn't say no. However, lucky for them, Ford falls to them in the second-round and they get two first-round talented players. Ford can play right guard or tackle and either way he will start as a rookie.
39) Buccaneers- Greg Little, OT, Ole Miss
Starting right tackle Demar Dotson will turn 34 years old this season and will be a free agent in 2020. The Buccaneers need to do a better job protecting Jameis Winston if he going to be the franchise quarterback. Little is a raw prospect but has a very high ceiling. It would work out perfectly in Tampa Bay for him to spend a year as the swing tackle and take over as a starter in 2020.
40) Bills- Dalton Risner, OL, Kansas State
The Bills have spent the majority of their offseason putting pieces around Josh Allen. Even after adding four offensive linemen in free agency, the Bills should jump at the chance to add Risner. He has the versatility to play almost anywhere along the line and could be the perfect sixth man as a rookie, then take over as a starter next year.
41) Colts (via Broncos)- Rock Ya-Sin, CB, Temple
After moving back twice, the Colts finally make a pick. Reportedly, Ya-Sin was a player they were considering at pick 26 last night. Lucky for them he slides into their laps in the second round. Some teams have Ya-Sin as the top cornerback on their board and they love his toughness. He could push for a starting role as a rookie.
42) Bengals- Erik McCoy, iOL, Texas A&M
Over the last few seasons, no team has put together a weaker offensive line than the Bengals. I loved their first-round pick Jonah Williams and think he's going to be an impact player for the next decade. However, they need more help on the offensive line. McCoy had gotten some first-round buzz but he belongs in the second-round. Plug him in as the day one starter and center and move last year's first-round pick Billy Price over to guard. One move, upgrade two spots.
43) Lions- Chase Winovich, EDGE, Michigan
Many where upset the Lions passed on Ed Oliver for T.J. Hockenson and I understand why. While Winovich isn't the level of player Oliver is, he is still an excellent pick here in the second round. The addition of Trey Flowers was a nice move but the opposite defensive end position is wide open. Winovich averaged over six sacks his last three years at Michigan and should produce similarly as a rookie.
44) Packers- A.J. Brown, WR, Ole Miss
I wouldn't be surprised if Brown was off the board within the first five picks tonight but pick 44 overall is his floor. No way the Packers let the best slot receiver in the draft slide pass them after taking two defensive players in the first round. Randall Cobb is gone and Davante Adams can't catch every ball from Aaron Rodgers.
*** Trade Alert → Rams trade pick #45 to the Browns for picks #49, 119 ***
45) Browns (via Rams, Falcons)- Taylor Rapp, SAF, Washington
Brown fans were confused last night, asking, "when do we pick?". The answer is now. After trading away Jabrill Peppers in the Odell Beckham Jr. trade, they signed Morgan Burnett to fill his void at safety. However, Burnett isn't a long term piece and the Browns should pay the price of a fourth-round pick.
46) Colts (via Redskins)- Miles Boykin, WR, Notre Dame
Signing Devin Funchess was a nice addition but the Colts lack a long term number two wide receiver opposite of T.Y. Hilton. Boykin is a little raw but thanks to Funchess, he won't have much on his plate as a rookie. However, after next season when Funchess is a free agent, Boykin would be right in line to take over the starting role.
47) Panthers- Yodny Cajuste, OT, WVU
The Panthers got their much-needed pass rusher last night and now need to turn their attention to protecting Cam Newton tonight. Newton has been hit too many times in his career (partly due to his own fault) and the Panthers need to do a better job protecting him. Cajuste should be able to compete with Taylor Moton and Daryl Williams for a starting spot as a rookie.
*** Trade Alert → Dolphins trade pick #48, conditional 2020 fourth-round pick to the Cardinals for Josh Rosen, pick #174 ***
48) Cardinals (via Dolphins)- Hakeem Butler, WR, Iowa State
Finally! It's done, Rosen is no longer a Cardinal. The Dolphins are reportedly working towards a deal for Rosen centered around this pick. Should the Cardinals acquire this pick, they need to give their new quarterback another weapon. Christian Kirk and Larry Fitzgerald are good receivers but the lack of a big outside playmaker is need; insert Butler.
49) Rams (via Browns)- Jachai Polite, EDGE, Florida
Polite had one of the worse, if not the worse, pre-draft processes in NFL history. He went from a potential top-10 pick to out of the first round. At the combine, he said that the Rams showed the most interest in him and that's why this would be the perfect landing spot. Polite can lean on Clay Matthews and Aaron Donald for veteran help and hopefully play like he did at Florida.
50) Vikings- Justin Layne, CB, Michigan State
It wouldn't be a Mike Zimmer draft if the Vikings didn't take a cornerback at some point. Trae Waynes is in the last year of his deal and Xavier Rhodes' name was floating around in trade rumors earlier this offseason. With Rodgers, Matthew Stafford and Mitchell Trubisky in your division, you can never have too many good cornerbacks.
*** Trade Alert → Titans trade pick #51 to the Bears for pick #126, the less favorable 2020 second round pick between the Raiders and their own ***
51) Bears (via Titans)- Darrell Henderson, RB, Memphis
This might be a reach for the Bears but reportedly they really like Henderson and would love to replace Jordan Howard with him. The Titans take advantage of a lack of needs and add a pick for next year. Tarik Cohen will be the Bears "main back" but Henderson will thrive as the four-minute drill back.
52) Broncos (via Steelers)- Amani Oruwariye, CB, Penn State
Many expect the Broncos to trade starting cornerback Chris Harris as early as tonight. When that happens the Broncos are going to have a huge void at one of their starting cornerback spots. Oruwariye would compete with last year's third-round pick Isaac Yiadom to take over Harris' spot. With all the explosive wide receivers in the AFC West, the Broncos can't have too many good cornerbacks.
53) Eagles (via Ravens)- Greedy Williams, CB, LSU
I believe Williams' tackling concerns are overblown but teams are very worrisome about it. However, his slide stops here with the Eagles as they are in desperate need for secondary help. The team suffered a lot of injuries in the secondary last year but even when players were healthy, the Eagles struggled against the pass. Williams would push Jalen Mills and Ronald Darby for a starting spot as a rookie.
54) Texans (via Seahawks)- Jawaan Taylor, OT, Florida
Speaking of slides coming to an end; Taylor was expected to be a top-15 pick last night but concerns over the health of his knee led to his fall. The Texans took Tytus Howard last night but Deshaun Watson was sacked 62 times last year. The Texans could spend all their picks on offensive linemen and it still might not be enough. Paring Taylor and Howard together would give Watson bookend protecting for the next decade.
*** Trade Alert → Texans trade pick #55 to the Cowboys for pick #58, 136 ***
55) Cowboys (via Texans)- Dawson Knox, TE, Ole Miss
Jason Witten coming out of the Monday Night Football booth to rejoin the Cowboys is a nice story but Witten his washed up. The Cowboys need to add a weapon for Dak Prescott and with the Patriots picking next, it's a smart move to give up a late fourth-round to jump them for Knox. He is more of a wide receiver than traditional tight end but as long as he can catch, he's an upgrade over what the Cowboys currently have.
56) Patriots (via Bears)- Juan Thornhill, DB, Virginia
The one thing the Patriots love most about their secondary players is their versatility. You can't get much more versatile than Thornhill. He has experience player safety, cornerback and nickel corner. The Patriots have several aging members in the secondary, including the McCourty twins, and adding some youth would be wise.
57) Eagles- Nasir Adderley, DB, Delaware
Many might expect the Eagles to go running back here but with the depth at the position so deep, they can afford to wait till later in the draft. However, they need help at safety as Rodney McLeod played just three games last season because of injury while Malcolm Jenkins will turn 32 years old this season and the depth behind them is underwhelming.
58) Texans (via Cowboys)- Joejuan Williams, CB, Vanderbilt
The Texans lost a couple of secondary players in free agency including longtime cornerbacks Kareem Jackson and Kevin Johnson. While they did sign former Bronco Bradley Roby, it was only an one-year deal. With Nick Foles and Andrew Luck in the division, the Texans can't have too many good cornerbacks and right now they don't have any. Williams could push for the number one cornerback role as a rookie.
*** Trade Alert → Colts trade pick #59 to the Bengals for pick #72, 149, 2020 third-round pick ***
59) Bengals (via Colts)- Will Grier, QB, WVU
After adding two really good offensive linemen, the Bengals turn their attention to finding the replacement for Andy Dalton. Many expected the Bengals to take Dwayne Haskins with their first-round pick instead, they trade up here to jump the Patriots and land Grier. Dalton's will be released after next season and Grier will take over as the starter in 2020.
*** Trade Alert → Chargers trade pick #60 to the Patriots for pick #64, 134 ***
60) Patriots (via Chargers)- Zach Allen, EDGE, Boston College
Yes, the Patriots are capable of moving up in the draft. They have more picks than anyone else this year so they can easily afford to give up a late fourth-round pick to jump the Chiefs for Allen. Much like the Chiefs, the Patriots have one proven pass rusher but lack a true starter on the other side. Allen is a high character and high floor kind of prospect; exactly what the Patriots want.
61) Chiefs- Parris Campbell, WR, Ohio State
Even before the Tyreek Hill investigation, the Chiefs needed help at wide receiver and we know they love speed. Campbell fills both perfectly. Sammy Watkins can't stay healthy and Chris Conley signed with the Jaguars in free agency. Campbell is very dangerous with the ball in his hands and if Hill is released, Campbell would be first in line to fill his role.
62) Saints- Deebo Samuel, WR, South Carolina
Surprisingly, the Saints don't have to trade up and still get a day one starter at wide receiver. Michael Thomas is entering a contract year and the depth behind him is disappointing. Sliding Samuel into the slot with Thomas and Alvin Kamara would give Drew Brees and the Saints a hell of an offensive trio in the passing game.
63) Chiefs- Elgton Jenkins, iOL, Mississippi State
Earlier in the offseason, the Chiefs lost starting center Mitch Morse in free agency to the Bills. Last season, the Chiefs did a good job keeping pressure off Patrick Mahomes but with Morse gone they need to find his replacement. Jenkins started 26 career games at center for Mississippi State and can step as the starting center from day one.
*** Trade Alert → Chargers trade pick #64 to the Redskins for pick #76, 173, 2020 fourth-round pick ***
64) Redskins (via Chargers, Patriots)- Chauncey Gardner-Johnson, DB, Florida
After trading back into the first round last night, the Redskins trade up again to grab Gardner-Johnson and solidify their secondary. During his time at Florida, Gardner-Johnson spent time at safety and cornerback. Currently, Dominique Rodgers-Cromartie is expected to start at safety opposite of Landon Collins. Gardner-Johnson would step in day one and push for that role instead.
Questions and comments?
thescorecrowsports@gmail.com
Follow Us on Twitter @thescorecrow
Follow Us on Reddit at u/TheScorecrow
Follow Us on Facebook at The Scorecrow
Follow Us on Instagram at The Scorecrow
Follow Mike Fanelli on Twitter @Mike_NFL2
Main Image Credit:
[getty src="1139366907″ width="594″ height="396″ tld="com"]