Brian Handzel |October 23rd, 2018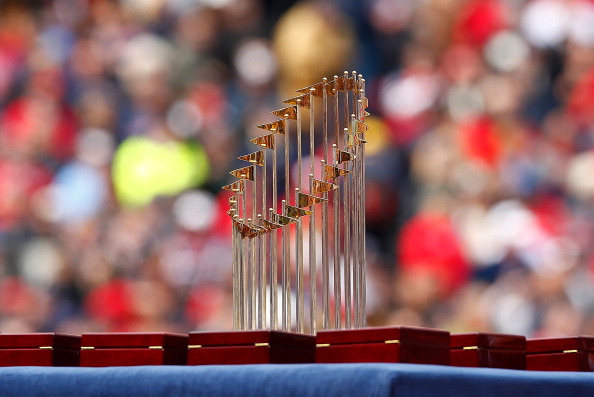 The final matchup in the 2018 Major League Baseball Season is set. The Los Angeles Dodgers, the National League Champions with a record of 92-71 in the regular season are going up against the Boston Red Sox who had a record of 108-54 during the regular season. To get to the World Series, the Dodgers defeated the Atlanta Braves 3-1 and the Milwaukee Brewers 4-3. The Red Sox had a slightly easier time making it to the Fall Classic by defeating their rivals, the New York Yankees, 3-1 and defeating the defending World Champion, Houston Astros, 4-1. It seems like the Red Sox will be more well-rested going into the final series of the year, but let's take an in-depth look at how these two division champions match up.
Lineup
Catcher: The Dodgers have been using Yasmani Grandal and Austin Barnes during the postseason whereas the Red Sox have been using a tandem of Christian Vazquez and Sandy Leon. During the postseason, Grandal has a slash line of .125/.222/.292/.514 with a lone home run and run batted in. Barnes is not fairing much better with a slash line of .111/.200/.111/.311 with two runs batted in. The Red Sox had faired a bit better with Vazquez hitting .227/.261/.409/.670 with one home run and two runs batted in. Leon has been abysmal at the plated, though in limited action. With only seven at-bats he is hitting .000/.000/.000/.000. Advantage: Dodgers
First Base: Max Muncy has been manning first base for the National League Champion Dodgers whereas Steve Pearce has been taking reps at first base for the American League Champion Red Sox, partly because of his hitting, and partly because of the limitations that have been put on Mitch Moreland due to a right hamstring tightness. Muncy has not been able to replicate his hot regular season during the postseason. He is hitting .182/.372/.364/.736 in 33 at-bats with two home runs and 5 runs batted in. Moreland and Pearce are 1, 2 atop the leaderboards for first basemen this postseason, with Moreland hitting .444/.545/.556/.1.101 in nine plate appearances and Pearce is hitting .269/.387/.423/.810 in 26 plate appearances with a lone home run and three runs batted in. Advantage: Red Sox
Second Base: The Dodgers have been trotting out Brian Dozier at second base, who owns a slash line of .182/.357/.182/.539 while stealing one bag in the two attempts. The Red Sox put a tandem at second base of Brock Holt and Ian Kinsler. Holt is batting .333/.412/.733/1.145 and Kinsler is batting .250/.280/.375/.655. Advantage: Red Sox
Shortstop: Anyone who has watched any part of the postseason, knows that Manny Machado has been trotting out to short for the Dodgers on a nightly basis, whereas the Red Sox have Xander Bogaerts. Machado has a slash line of .250/.313/.500/.813 with three home runs and nine runs batted in. Bogaerts is batting .278/.341/.389/.730 with one home run and five runs batted in. Machado has seen the Red Sox pitching staff for years and that could work to his advantage, especially if he wants to continue his "villain" persona. Advantage: Dodgers
Third Base: The Dodgers know that Justin Turner will be at the hot corner at the start of game one, whereas the Red Sox are unsure if their hot corner will be manned by the red-hot Rafael Devers, or Eduardo Nunez, who has been nursing a twisted right ankle for most of the ALDS. Turner has been hitting .279/.367/.372/.739 with one home run and four runs batted in. Devers has been red hot and is hitting .350/.409/.500/.909 with one home run and seven runs batted in, while Nunez is hitting .188/.278/.250/.528 with one home run. Advantage: Dodgers
Outfield: The Dodgers have a combination of Matt Kemp, Chirs Taylor, and Joc Pederson in left field, Cody Bellinger in center field and Yasiel Puig in right field. This group in the outfield has hit a combined .250/.348/.415/.763.
The Red Sox has Andrew Benintendi in left field, Jackie Bradley Jr. in center field, and Mookie Betts in right field. This group is batting .209/.359/.360/.685. Advantage: Red Sox
Designated Hitter: The Dodgers could use one of their five outfielders when they come to Fenway Park to occupy the designated hitter position, but whoever they put in there is no match for JD Martinez. Martinez is batting .313/.415/.531/.946 with two home runs and nine runs batted in. Advantage: Red Sox
Starters
Dodgers: The Dodgers have a starting staff of Clayton Kershaw, Hyun-Jin Ryu, Walker Buehler, and Rich Hill. This combination has a 3.86 ERA in the postseason.
Red Sox: The Red Sox have a starting Staff of Chris Sale, David Price, Nathan Eovaldi, and Rick Porcello. This group has a 3.92 ERA in the postseason.
Anyone watching the playoffs knows that even if the starters go a short amount of time it's all about the bullpens. Advantage: Dodgers
Bullpen
I'm not going to get into every bullpen pitcher who may work 0.1 innings or could would multiple innings. I want to focus on the closers. The Dodgers have Kenley Jansen and the Red Sox have Craig Kimbrel. In the 2018 postseason Jansen, in six appearances has pitched 6.2 scoreless innings allowing two hits, while striking out 10 and walking two, while recording three saves. Jansen is currently holding a 0.90 WHIP. Kimbrel has not fared well this postseason. In 5 appearances he has pitched 6.1 innings allowing six hits, allowing five runs, while striking out eight and walking six. Kimbrel has a 7.11 ERA and a 1.89 WHIP while recording 5 saves. Advantage: Dodgers
X-Factor
Mookie Betts. Betts, the likely American League Most Valuable Player is my X-Factor for the 2018 World Series. Betts, normally in the outfield, could see some time at second base in order to keep the bat of JD Martinez in the lineup in the NL park. If Martinez isn't hitting well at the plate then Betts can stay in the outfield and let Holt and Kinsler deal with second base, but if Martinez is hot, then you need to find a way to keep his bat in the lineup, and moving Betts to second is the perfect way to keep the best lineup out there for the Red Sox.
Prediction
This is going to be a great series. The Dodgers are right back to where they were last season, hoping for a different outcome, whereas everyone expected the Red Sox to be at this point since they held the best record during the regular season. I think this series is going to be decided in 6 games, with the 2018 World Series Championship going to the Los Angeles Dodgers.
Questions and comments?
thescorecrowsports@gmail.com
Follow Us on Twitter @thescorecrow
Follow Us on Reddit at u/TheScorecrow
Follow Brian Handzel on Twitter @HandzelSports
Main Credit Image: [getty src="483428791″ width="594″ height="397″ tld="com"]