Bruce Cagle Jr. | January 18th, 2019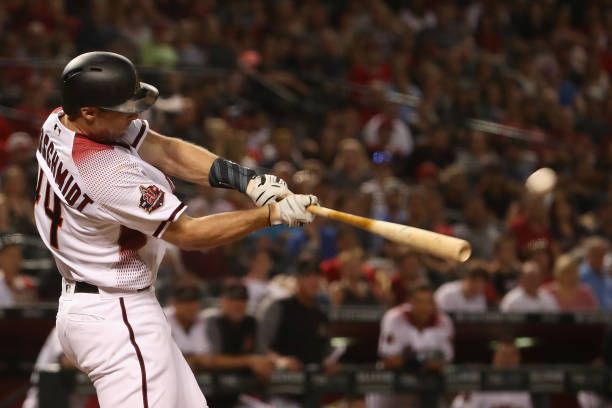 Yesterday I brought the recap of the top 30 starting pitchers being taken in the NFBC drafts since the beginning of December. Today let us dive into the top 15 first basemen of these early drafts.
All the way back at the beginning of 2017 we were firmly taking Paul Goldschmidt in the first round, Anthony Rizzo was also a borderline first rounder in many drafts as well, fast forward to present day, and we see something a bit surprising. First base has usually been a position that almost always had multiple first rounders, 2019 we will be lucky to see two of them be taken in the top 30. Those two, of course, Goldy (18.44) and Freddie Freeman (21.81). Rizzo's poor first half obviously hurt and the profile of a .280-.300 30 home run hitter isn't as tantalizing as it once was.
Let's take a look at the top two first basemen's 2018 numbers side by side.
As we know Goldschmidt was traded earlier this offseason to the St. Louis Cardinals, will slot in the three hole and look to destroy baseballs in a new stadium. While speed may not be something we look at as a bonus from Goldy anymore as 2018 marked a significant drop in his stolen bases. Over the past three years, Goldschmidt was averaging 23.4 steals a year, he's 31, just don't look for 12+ anymore, other than that he looks like a lock to continue elite production in a sweet spot. Freeman brings a high average floor that is very hard to find in today's game, leading the league in LD% (32.3%) is going to be a key factor in him repeating an above .300 average. With a shiny new toy in Josh Donaldson slotted to hit in front of Freeman, we should see his power come back up ( he had 29 xHR in '18) into what might be his career year.
Moving to the second tier of the top 15 breakdowns brings us to two guys that are looking for a rebound after disappointing 2018 seasons. The aforementioned Anthony Rizzo (40.04) and the young power hitting Cody Bellinger (47.81). Here is a look at the 2018 numbers side by side.
As we can see, both had a significant drop off in production from the year prior. After a scorching hot rookie start with 39 home runs in his first 132 games, Bellinger's power came back down to earth, with a reduction in home runs by 14. We should have expected this loss in power, as Bellinger, at home in 2017 had a 24% HR/FB, which is insane to me consider Dodger Stadium. Surprise surprise, 2018 brought us a major drop, nearly 10%, all the way down to 14.3%. With the decrease in home runs, obviously, his counting numbers suffered but on the bright side, he shows near elite speed (28.9 Ft/s) and brought in 14 stolen bases, which was second best for first basemen (Ian Desmond was first with 20). Rizzo, on the other hand, suffered from a super slow start that saw only 12 home runs in 83 games while having a non-Rizzo like slash line,  .246/.301/.407. He bounced back in a big way in the second half, seeing a slash line jump back to what you paid for in drafts. Rocking a triple slash of .329/.420/.500 and 13 home runs in the remaining 73 games helped regain any lost value from Rizzo. You might find yourself with a discount around pick 40 with Rizzo as he could put up Freeman like numbers if he is over his first-half woes.
We see the next grouping of guys down about two full rounds later, which tells me, I would like to grab my starting first basemen no later then here if I can.
I have a few reservations about some of these guys in this group, then again I'm also pretty high on one. With plate skills this elite I'm loving this value here. I understand Votto's xStats suggest his power was a legitimate 13 home runs, but I'm buying at this price. His xAVG was an impressive .296 and the previous three years, he never had an expected home run total less than 26. Last year we saw the incredible breakout of Jesus Aguilar, smashing 35 bombs with 108 RBI. It was a very cheap price to pay if he was drafted at all in your league but this year it will cost you a pretty penny for what could end up being a bit of a disappointing return. In the second half of '18 Aguilar was held in check to the tune of 11 home runs in 62 games while only batting .245 after he was massively overachieving with a .299 AVG in the first half. I am fading at this price going forward, he might bring a .260 average with 25-30 home runs, the floor is worse though be careful. Matt Carpenter offers such a tasty batted ball profile, you're just fantasizing about 50 home runs, but will it ever come? In 2018 Carpenter had 39.1 xHR which is actually more than the 36 he hit. With a profile that looks like 26.7% LD, 46.9% FB, 48% Pull tendencies and the ability to hit the ball hard 49% of the time, 40-45 home runs could happen if he grabs another 650+ PAs in 2019. If you play in an OBP league instead of an average league you will want to push Carpenter up fast and high as he walks at a great 15.1% rate. The average runs a risk with Carpenter so I'd like to have a nice floor built with my average with my first few picks. Once a lock for a high average and near 30 home run season total, Jose Abreu also left owners with a sour taste in their mouths. Diving a little more into his last season, I get a little excited seeing that his line drive rate actually went up 3% to 21.2%, exit velocity is the best in the four years they have been tracking it at 91.3 MPH, barrel percentage is super close to '17 numbers, 9.1% vs 9.5% and on top of that his launch angle went higher by almost a full degree, from 11.2° to 12.1°. So what went wrong? Well, he hit the ball marginally softer 15.8% in '17 and 17.2% in '18 and I think the biggest thing was his season-ending thigh injury that limited to his career-worst 553 plate appearances. With his impending free agency, Abreu could be moved at the deadline to a contender which may improve his second-half numbers if he gets moved to a better overall offense/park. With a max pick of 123 since December 1st, I think there is a lot of room for profit with Abreu if you don't mind missing those top end first basemen.
Another surprising name is at number 15, Miguel Cabrera, a former perennial first rounder and consensus number one first baseman now sits in unfamiliar territory in round 11. If you think back problems and age aren't that big of a deal then I wouldn't mind taking a shot here on Miggy, but not as my starting first baseman. Red flags jump out when you look at some statcast data, minus 5° in launch angle (7.3° in '18) and one that is most glaring to me when I glance is the drastic drop in barrel percentage (-6.2% down to a bleak 4.3%). His hard-hit data looks nice, 54.6%, but hitting it in the air only 20% (fly ball percentage) in 2018 leads me to think more of an average hitter, not a power hitter. Steamer has him projected for over 650 plate appearances, he has only accomplished that one time in since 2016 and every time he didn't have that many PA's he hit under 20 homers. I'm almost always going to have Joey Gallo "too high" just because I can't find myself taking those one category guys this early. Fun fact for Gallo, everyone who hit 35 home runs or more (15 total players) only one person hit under .250 on the season, Gallo's .206 was 50 points lower than the next closest. Are his few more home runs worth it?? Pass, hell Gallo fell to 144 in my NFBC draft and I would have left him for another round before I really started thinking about him. Jurickson Profar will continue to go near pick 100 due to his multi-position eligibility and power-speed combination (20 hr/10 sb). I don't mind him but still would probably take Matt Olson, E5, and maybe Max Muncy over him. Ian Desmond, I'm most likely staying away from as well. I know he belted 22 homers and took 20 bags as well, but he was 13% worse than your average hitter 87 wRC+. He hit .236 when doing all of this in over 600 plate appearances and in no world should he get 600 more next year but the Rockies do strange things. His second half was lackluster as well only hitting four long balls and taking nine bags. Edwin Encarnacion has been moved this off-season and it didn't do much to his value for me as I like the power he brings at this stage in his career ( 32 HR in '18) and I think it plays anywhere. Matt Olson and Max Muncy are guys I will be looking to have shares of this year as both of them look to provide solid power (high 20's low 30's home runs) with decent averages (think around .250) that plays in today's game. Realistically, I'm targeting one of those top four or five guys at the top and looking at these guys as my corner as I trust the top-end production at first base more.
Thanks for diving into the first baseman that are currently being taking in the NFBC. Come back tomorrow as I'll cover the top 15 second basemen going into '19.
Questions and comments?
thescorecrowsports@gmail.com
Follow Us on Twitter @thescorecrow
Follow Us on Reddit at u/TheScorecrow
Follow Bruce Cagle Jr. on Twitter @BruceCagleJr2
Main Credit Image:"[getty src="1021527428″ width="594″ height="396″ tld="com"]