Bruce Cagle Jr. | January 19th, 2019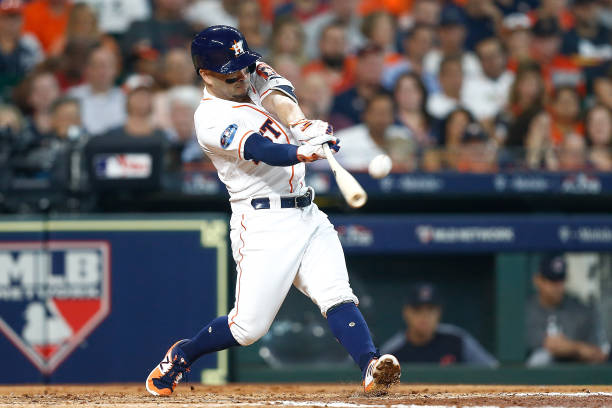 As I continue my look into the top 15 of each position, today I'm going to be diving into second base. If you would like to see the positions I have already covered you can find them here: Starting Pitchers | First Base
First off, I'm worried about Jose Altuve's power production (13 Hr in '18) and with his knee injury, I'm not counting on 25+ stolen bases again. With his contact rate (83.6%), line drive rate (24.0%) and team construct he still brings such an elite floor. If I told you someone was in the bottom five in contact percentage (68.5), second worst in swinging strike percentage (18.2%), and second worst in o-swing (45.5%) would you take them in the first round? I'm passing on Javier Baez, I love the talent, love the tools, power-speed combination but he can't walk (59 total walks in last two years, 23 by IBB). It is hard to think he maintains a .290 average with that type of swing and miss.
Whit Merrifield has been taken as high as 21 recently, his 2018 included 45 stolen bases and an average north of .300 in over 700 PAs. His elite line drive rate (29.8%) spreads the ball around the field, 30% or more in all three directions, and hits the ball harder than the two named above (36.9%) helps support the notion he belongs here. Team construct hurts his counting numbers, 148 RBI+R vs 212 from Baez and 145 from Altuve. Second base is deep, so I'm personally not reaching here, but I would take Altuve and Merrifield at their prices.
What do you want? Speed? Power? Power with a decent amount of speed? Jonathan Villar is getting a little too pumped up for my liking. Sure the at-bats are there, he can hit some homers (44 in the last 3 years) and has speed but I like a lot of other options, earlier and later. Gleyber Torres clubbed 24 home runs in only 484 at-bats. With that deep Yankee lineup and only being 22 years old, 25 home runs with a solid average seem like a decent floor for him.
Ozzie Albies took a few steps back in '18 after his flashy brief showing in 2017. He chased a tad bit too much (38.2%) and with Josh Donaldson becoming a member of the Braves it pushes Albies down the order. So 100 runs may be hard to accomplish again, but the ability to hit some home runs and steal bases (14 in 684 abs) is always given that added boost. The only person I'm fading at this point is Villar, this feels all too familiar to me, I'll have some shares of Albies and Torres this year.
You take a look at this group and you can see why I said second base is deep. One thing we must address is Daniel Murphy, with his signing in Colorado, Steamer projections jumped him to leading the league in batting average (.307). If you narrow the drafts to just this year in 2019, Murphy's ADP jumps to 81.25 with a min pick of 52, so he is actually going with that group above in some drafts, remember that.
This group has everything you want from power-speed combinations to aging stars to bounce back candidates. Brian Dozier battled injuries all last year and a move to L.A. and had one of his worse years in recent memories. After four years of 100 plus runs he came smashing back down to earth, 81 runs 72 rbi, but with an identical walk rate as 2017 (11.1%) and striking out .06% higher leads me to think there is a lot of profit left here. He did have 33 HR+SB in '18 and now is in Washington, which has a pretty good offense.
Yoan Moncada strikes out too much but still does have power-speed in his game, shown by 17 home runs and 12 stolen bases in '18. He also walks above a 10% rate over the last two years which will help him keep those attempts up. He was a top prospect, has youth on his side and has no real reason not to play a full season. So he could be one of the most talented volume plays in this range, but he can also strike out the most in the league so build accordingly.
Jonathan Schoop moves over to Minnesota to a sneaky deep lineup and in recent years he has shown with ample volume he can get it done in '17 he had 675 ABs with 32 home runs and 105 rbi. Cesar Hernandez played hurt last season and still put up 19 stolen bases with double-digit power, add in the fact his team has already gotten better and might add Bryce Harper or Manny Machado, he could put up 115+ runs. There are so many options to help you here, do you think Scooter Gennett's power/average stroke (23 home runs/ .310 AVG) is real after he made a little stance change earlier last year?  Do you buy into Odor's second half (.266 12 home runs 7 stolen bases)? We know what we get with both Travis Shaw and Dee Gordon, a nice power stroke and speed, but Gordon has no power, no rbi production, can't walk and if he can't steal 45+ and hit struggles to .280 why are you drafting him?
If you noticed that was a little more then 15, as there is tons of depth in second base this year. I like a lot of these guys, the way the industry looks, they do too! Come back and we'll cover shortstop. Thanks for reading.
Questions and comments?
Follow Us on Twitter @thescorecrow
Follow Us on Reddit at u/TheScorecrow
Follow Bruce Cagle Jr. on Twitter @BruceCagleJr2
Main Credit Image:"[getty src="1046157592″ width="594″ height="396″ tld="com"]