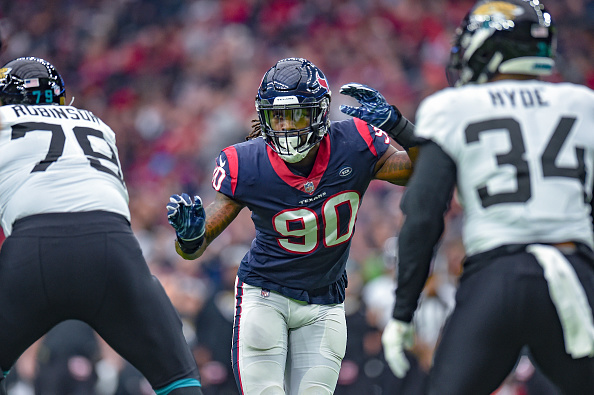 With the 2019 NFL Draft now behind us, teams are now beginning to take shape and mold into what we will most likely see for the upcoming 2019-20 season. With the compensatory period coming to an end on May 8, meaning that all free agents signed after that period won't count against compensatory picks, we could see some movement among players very soon. With several players still left on the free agency market such as Ndamukong Suh or Eric Berry, and along with trade rumors that we could possibly see come to fruition, here are ten players that we could see being picked up by a team or traded in the next month or two.
Jay Ajayi, RB
Favorite Landing Spot: Atlanta Falcons
Ajayi has had a question mark around him for a while now, after being traded to the Eagles from the Dolphins in 2017, he never quite lived up to the hype in Philly mainly due to injuries. This is also most likely the reason teams haven't jumped on him yet this offseason. However, the talent and potential can't be ignored with Ajayi, who is a fast downhill runner who also has the ability to bounce it outside and use that speed and agility to get around the corner and downfield. He also brings a lot of experience to any backfield.
The Falcons have yet to really find a replacement for Tevin Coleman, and Ajayi could bring some much-needed speed to that running-back room with Devonta Freeman and Ito Smith, along with fifth-round power runner selection Qadree Ollison.
Jamie Collins, LB
Favorite Landing Spot: Kansas City Chiefs
Collins has a lot of experience and a lot of production. He played a key part in the Patriots defense, along with being a productive tackler in Cleveland for the past two and a half seasons. Minus a down year in 2017 due to an MCL injury, Collins has consistently been a 100-tackle player from the outside linebacker spot, including last season where he finished with 104 tackles along with 13 tackles for loss. Having played in the Patriots system, Collins can do just about anything you ask him whether it be falling back into coverage or even bringing some pressure off the edge. His speed allows him to make plays all over the field and get into the backfield.
As a Chiefs fan myself, I would love to see him be picked up by the Chiefs, as they did not address this spot in the draft, Collins would bring a lot to a linebacker room that doesn't have a ton of proven talent at the moment. Although he is pushing 30, the Chiefs, I believe, are still in a win-now mode, and pairing him with a guy like Anthony Hitchens could prove dangerous for opposing run games.
Ezekiel Ansah, DE/Edge
Favorite Landing Spot: Buffalo Bills
"Ziggy" Ansah has had a lot of ups and downs in his career, including two double-digit sack years in 2015 and 2017. However, injuries have plagued him as well including a shoulder injury very early in the 2018 season, along with other injuries. He is another player nearing 30 who still could still provide a solid force off the edge when healthy, with great power and also a pretty good ability to bend the edge. However, whatever team decides to give him a chance, it will most likely only be a one or two year deal. This makes me believe that a team like the Buffalo Bills might take a swing at him. Pairing him up with their recent draft selection in Ed Oliver, this Bills d-line could prove troublesome for opposing offenses.
Michael Crabtree, WR
Favorite Landing Spot: Green Bay Packers
Michael Crabtree has had an interesting career since coming into the league in 2009. However, the wideout can still be a decent target for a QB who is in need of an extra weapon on the outside who has an ability to get good separation. For me, the Packers seem like a very good fit. With Aaron Rodgers not being too happy with his organization after letting most of his weapons go, grabbing a veteran like Crabtree could be exactly what he needs and serve as a good #2 to Davante Adams and also allowing younger receivers such as Equanimeous St. Brown and J'Mon Moore to continue to develop.
Favorite Landing Spot: Seattle Seahawks
While Wilkerson has also been a guy dealing with injuries, he can serve as a reliant pass rusher as well as a decent run stopper. For just about any team he could serve as a plug-and-play type of guy and do his part of stopping opposing offenses. In the wake of the Seahawks trading away Frank Clark, they are in desperate need of a pass rusher, and to me Wilkerson seems like the most reasonable guy for a team that usually doesn't like to overpay guys a lot, which is one of the biggest reasons to lean towards Wilkerson heading to Seattle over other guys like Ezekiel Ansah.
Favorite Landing Spot: San Francisco 49ers
Eric Berry, one of the greatest comeback stories in recent NFL history. After winning a battle against cancer, Berry came back and took over the Chiefs defense once again, that was until he suffered a terrible heel injury that sidelined him for nearly the entire 2018 season. Even when he finally did make his appearance later in the season, the results were a little underwhelming. To me, I think a change of scenery for the 9-year vet, is exactly what he needs and finding his way to the west coast could be his best option.
While you could make a case here for the Browns, with several connections, including GM John Dorsey, I like the fit for the 49ers. Berry would bring leadership and experience to a defensive back room that struggled in 2018. While he may not be a long term fit for them, I could see him working out a 2-3 year deal and possibly be part of a playoff run with the team.
Ndamukong Suh, DT
Favorite Landing Spot: Indianapolis Colts
Suh has been a force from the interior to be reckoned with now for the past eight seasons. However, character issues have caused him to have played for three different teams over that time span, and most recently not being resigned by the Rams after the 2018 season. Suh brings with him an ability to pick up several offensive linemen on most plays, allowing for others around him to succeed in getting after the passer, and while he may be on his way out of the league, teams that are looking for instant impact will find this in Suh.
The Colts recently went out and picked up Justin Houston, another veteran player who will most likely have an instant impact in a position of need for the Colts. That being said, grabbing a guy like Suh would provide a similar upgrade to a Colts team that is most likely going to make a big push for the playoffs in 2019.
Gerald McCoy, DT
Favorite Landing Spot: Oakland Raiders
McCoy has served as the face of the Buccaneers for nine seasons now, and with an awkward position right now of pay vs. results, he very well could find himself in a new uniform come next season. McCoy has served as a big presence on that Tampa Bay d-line, but his production has slowly declined recently and he has not played in all 16 games since 2013. On a positive side, he has always been a good pass rusher from the interior even as he has aged, his production hasn't suffered a huge deal when it comes to getting after the quarterback.
The Raiders, even after grabbing Clelin Ferrell with the 4th overall pick in the 2019 draft, they need all the help they can get on that defensive line, as most of their younger players were thrown into the fire in 2018. Perhaps McCoy could even allow Jonathan Hankins to fill a role better suited for him and also allow for Ferrell and Arden Key to have more one-on-one matchups outside. The Raiders made several great picks in the draft to boost their defense and McCoy could be that final piece to slow down the rapid-fire offenses in the AFC West.
Corey Liuget, DT
Favorite Landing Spot: New England Patriots
Liuget has been an all right interior lineman for the Chargers for the past eight seasons. As he approaches 30, however, the Chargers decided to go younger on the interior through the draft and let Liuget walk after the 2018 season. If Corey can stay healthy he can provide some versatility as well on a defensive line. However, I really like the position he could play in New England. We have seen several older lineman find their way to the Patriots and have success, and I do think that we could see a similar path here for Liuget. Who wouldn't want to end their career in New England winning a Super Bowl?
Jadeveon Clowney, DE/Edge
Favorite Landing Spot: Baltimore Ravens
For me, Clowney is the best player who has had a lot of trade rumors around his name. He is an incredible athlete who, if not for injuries, would most likely have secured the bag by now with the Texans. He is a great threat off the edge with incredible strength and speed and can add an immediate impact for a team looking to add a versatile edge rusher to their d-line. The Texans will most likely want to clear the massive amount of cap space that he is currently taking up with his franchise tag, and a team like the Ravens seem like they would jump on a guy like Clowney.
The Ravens were able to fill most of their needs through the draft, however, they still have a need at pass rusher, and a versatile guy like Clowney seems just like the type of player they need. With the loss of previous playmakers such as C.J. Mosley, the Ravens are in need of linebackers as well. Clowney would be a huge get for the Ravens front seven if they could work out a deal with the Texans and be able to restructure his contract.
Questions and comments?
thescorecrowsports@gmail.com
Follow Us on Twitter @thescorecrow
Follow Us on Reddit at u/TheScorecrow
Follow Us on Facebook at The Scorecrow
Follow Us on Instagram at The Scorecrow
Follow Ethan Hewett on Twitter @hewett_ethan
Main Image Credit:  [getty src="1076231702″ width="594″ height="395″ tld="com"]