Richard Benites | October 11th, 2018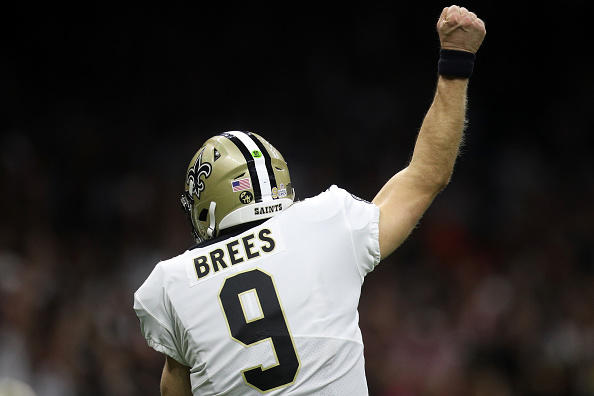 Football last week was just as emotional as it was historic. Records were broken and upsets were aplenty, as we already now find ourselves in Week 5 of the 2018 NFL season; and wow, what a season it's been so far. No team is without a win and yet two teams remain undefeated, talk about closely contested. As always, we here at The Scorecrow will discuss all of the league's goings-on and more. So, without further ado, here are our picks for the NFL Week 5: Award Winners.
1) The 'Pssh, this record was a Brees!' Award: Drew Brees
Drew Brees' made it in the Honorable Mention spot for our last edition of Award Winners. This time he gets his very own Award spot, which will surely be up there with all of his other major career milestones. Lucky you, Drew!
Everyone saw this record coming, literally everyone. Heck, 201 yards isn't a gimme but that's all Brees needed to break the all-time passing yards record. Still, the NFL prepared all the stat graphics, the congratulations from Manning, and even gave the referee a commemorative certificate of sorts to eventually hand over to Brees. Regardless, this was an unforgettable moment for New Orleans fans and football fans alike. Spoiler: Drew Brees is top 10 all-time.
2) The Failure at Ford Field Award: Green Bay Packers
Speaking of phenomenal quarterbacks, Green Bay might know of one as well. As for all the other positions on the field…let's not talk about those, for Packers fans' sake.
This one arguably takes the cake for the biggest upset of the week. The Packers are hungry for a win, it's an ever important divisional matchup, and then what happens?  M-I-S-T-A-K-E-S were made. The O-line couldn't give Aaron Rodgers a break (he still balled out, but to no avail), the defense kept giving up the deep ball, even special teams got in on the action, or lack thereof. As for the kicker, well, we've been going a little too hard on kickers in past editions so there won't be any mention of Mason Crosby's horrendous 1/5 in field goals made and his missed extra point…we've said too much.
3) The Feel Good Story of the Week Award: Graham Gano
Fine. We'll say something good about kickers for once, sheesh. This week's feel-good story is *drum roll please*, the Giants losing. Just kidding, sort of.
With six seconds left on the clock, and down by a single point, Carolina Panthers' kicker Graham Gano hit the mark from 63 yards out and earned his team a win in the clutch; tears, right? It gets better once you check out his Twitter and read his Tom Dempsey story.
— Graham Gano (@GrahamGano) October 8, 2018
4) The You Get a Trade! You Get a Trade! Everybody Gets a Trade! Award: Philadelphia Eagles
Jay Ajayi goes down, then gets placed on IR, and the sulking for Eagles fans is cut short. Why? Two words. Trade. Rumors.
Le'Veon Bell, David Johnson, Jordan Howard, LeSean McCoy, these were only a few of the names circulating among fans' predictions. Seriously though, you would think that Eagles fans would understand that some of these franchise players' current teams wouldn't trade them for the world (except for maybe the Steelers). Nevertheless, moves are being made within the organization and I guess you could chalk up all the hubris to the fact that Howie Roseman is the main man in charge.
5) The Oops!…I Did It Again Award: Marshawn Lynch
This award isn't meant to put direct blame on Marshawn Lynch, rather, more so on his coaches. However, we do love the thought of Pete Carroll and Jon Gruden singing along to 2000's Britney Spears after calling a ridiculous play.
Only 1:13 remaining in the third quarter, Oakland is down by 17 and need a score desperately. Derek Carr misses on 3rd down but the Raiders are blessed with a flag for pass interference that earns them a 1st and goal. At the 1-yard line, Marshawn Lynch is on your roster, aaaaaand you get intercepted in the red zone because of a botched pass play that shouldn't have been called in the first place. Yup, shades of Super Bowl 49 all over again.
6) Honorable Mention: Advanced Stats
From absurd QBR comparisons that suggest Odell Beckham Jr. is a better quarterback than Eli Manning, to the unbelievable fact that before the Ravens' game the last time the Browns won on a Sunday was back in 2015, we can rest easy knowing that these hilariously advanced stats will always put a smile on our face. As for those who use advanced stats for their own personal agenda rather than to tell us the likelihood of a Patriots' win when Belichick is wearing a hoodie, shame on you.
Questions and comments?
thescorecrowsports@gmail.com
Follow Us on Twitter @thescorecrow
Follow Us on Reddit at u/TheScorecrow
Follow Richard Benites on Twitter @RichardIBenites
Main Credit Image: [getty src="1047834416″ width="594″ height="396″ tld="com"]