Christopher Dinkins | December 21st, 2018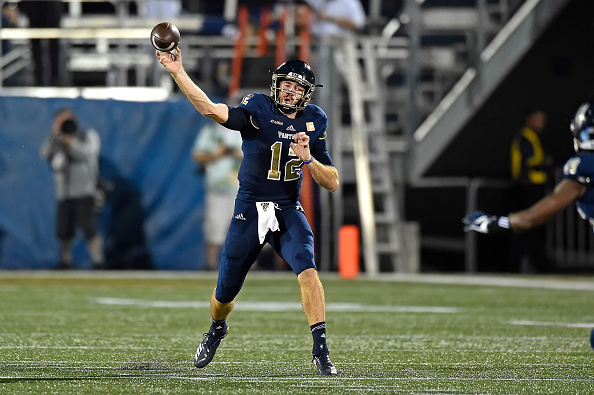 Hey !!!!! …Whoever came up with the incredible idea of having a bowl game in the Bahamas has to get some kind of award. We appreciate you and in the 2018 College football season has blessed the Florida International Golden Panthers and the Toledo Rockets with a ticket to paradise…kind of. Thomas A. Robinson Stadium will be rocking most definitely.  These two teams last met in postseason action back in 2010 in the Little Ceasar's Bowl, and it was a fantastic game in which FIU won on a last-second field goal.

This game should be and will be worth watching for the backdrop alone. The game was formally known as the Popeyes Bahamas Bowl and after Popeyes was acquired by Restaurant Brand International in 2017, they decided not to continue sponsorship. And the game was picked up by, get this now…Elk Grove Village, Illinois, which is "home of the largest industrial park in the United States" and the game was renamed the Makers Wanted Bahamas Bowl. And it has been usually a high scoring game where the winner has averaged 39.3 points and the loser averages 23.3.
Florida International (8-4, 6-2) C-USA
In this year's edition Florida International which represents Conference USA brings highly talented quarterback James Morgan, a graduate transfer who came from Bowling Green, he was named Conference USA Newcomer of the Year after setting the single-season season record with 26 touchdown passes. He also completed 65.3 percent of his passes for 2,727 yards. He can help FIU win nine games for the first time in school history.
And for extra motivation, it's gonna be a little harder for them this year since junior running back Shawndarrius Phillips was arrested on an outstanding domestic violence warrant (where have we heard that before?). Phillips rushed for 393 yards and scored four times in 11 games this season. FIU brings a respectable 8-4 record into this game and will have to be a little bit better than their last bowl game appearance in Gasparilla Bowl against Temple. FIU has Morgan who is a very capable pocket passer who can spread the ball around to his top receiver C.J. Worton, who had 36 catches for 620 yards and five scores. FIU and their ground attack should still do well without Phillips. They still have Nap Maxwell (673 yards and 7 touchdowns) and D'Vonte Price (539 yards, 5 touchdowns). Their offense ranked 30th in the FBS with 34.6 points per game.
Toledo (7-5, 5-3) Mid-American
On the other side, Toledo also brings a very dynamic offense which was ranked 11th in the nation with over 41 points per game. Their offense is run by sophomore quarterback Eli Peters who passed for over 1500 yards, 15 touchdowns, and 7 interceptions. Peters took over from Mitchell Guadagni, who is actually more mobile, in the middle of the season. Toledo also features three running backs who each had over 500 yards this year. Bryant Koback, who amassed 875 yards and 13 touchdowns with a 6.3 yards average per carry.
Peters has receivers to go to, especially Diontae Johnson who is a big target and knows his way to the end zone. He should have a presence throughout the game. They also have Cody Thompson who is actually an NFL prospect to watch in this game, along with FIU's Worton. Last but not least, they have Jon'Vea Johnson, who averages 21.1 yards per catch. Both teams have plenty of weapons, alas, there is a chance of rain (aww damn !!), which could put both offenses in slowdown mode. If not then both defenses better focus on the happenings on the field instead of the beautiful surroundings. Toledo's defense has given up an average of 430.1 yards this season, which includes 257.8 yards passing, and that ranks 108th among all FBS squads. This one should be very entertaining and it should make for an interesting backdrop for two teams who would like to finish the season on a high note.
Main Credit Image: [getty src="1057370492″ width="594″ height="395″ tld="com"]