Dennis Seidenberg Retires From NHL
October 29, 2019 10:30 am | by Steve Lalonde | Posted In Eastern Conference, NHL, Worldwide Sports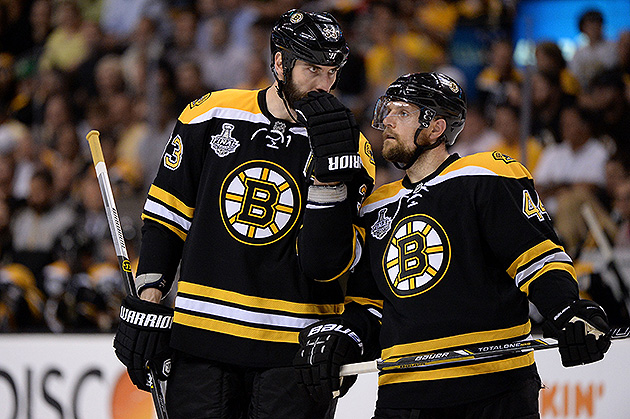 Photo Credit: Harry How - Getty Images)
Dennis Seidenberg, who was an integral part of the 2011 Boston Bruins Stanley Cup run, announced his retirement on Monday after 15 seasons in the NHL
Born in Schwenningen, Germany, Seidenberg was selected by the Philadelphia Flyers in the sixth round (172nd overall) of the 2001 NHL Entry Draft. The defenseman played a total of 859 career regular-season games with six teams, including the Boston Bruins for whom he suited up for seven seasons. Seidenberg didn't fill up the scoresheet on a nightly basis but made his presence felt elsewhere. During his career, Seidenberg tallied 44 goals and 251 points while collecting 1417 block shots and 1471 hits.
Seidenberg had a career year during the 2010-11 regular season, scoring seven goals and 25 assists for 32 points. That same season, he would score a goal and 10 assists (11 points) in 25 playoff games, helping the Bruins win the Stanley Cup and becoming the second German-born player to hoist the holy grail after Uwe Krupp.
Seidenberg released the following statement through the Islanders:
"After 15 years of living my dream of playing in the NHL, I have decided it is time for me to retire from the game I love. It hasn't been an easy decision, but I know it is the right one. I want to take this opportunity to thank my coaches, teammates and the organizations I played with over the years. I have been lucky enough to represent my native Germany in three Olympic Games, an indescribable honor. There was no greater thrill than lifting the Stanley Cup with the Boston Bruins in 2011. That group of guys will always hold a special place in my heart. I want to thank the greatest fans of the best game in the world. I have never taken for granted what a privilege it is to play this game, and how important the fans are. I will cherish the experiences and memories I have for the rest of my life. Finally, I want to thank my family for all their support in letting me live out my dreams. Thank you."
Seidenberg will continue in the NHL as a member of the New York Islanders Player Development staff.