The Antonio Brown Saga, Continued
September 7, 2019 10:00 am | by Jaclyn Galvin | Posted In NFL, Worldwide Sports
Photo Credit: tmz.com
Since the last update, a lot has happened in the realm of Antonio Brown.
First the helmet situation. Next, not showing up to practice. And finally, a suspension…then not?
The culmination of Antonio Brown's helmet situation is that he found a helmet. Thank goodness he did. His new helmet is called "The Xenith Shadow." It is also a brand deal for Brown, so he does get something from finding his new helmet.
"Route-running and position is really key. Being able to put my foot in the ground, and access my net rotation and my eyes to be able to separate from defenders and be able to make that big play," Brown said in a video posted by Xenith.
"Xenith allows me to be able to be flexible and running 20-to-21 miles per hour down the field," Brown continued, "and get my head around and track the ball and be able to make those nice catches."
Now that this brand deal is in place, one would think that Brown would be good to go. However, that is not the case.
There were reports that Brown blew up at practice on Wednesday afternoon at Raiders General Manager Mike Mayock. These reports also noted that Brown used "disparaging language" towards Mayock.
Brown was originally angry because of the fine he got from the Raiders. He posted a letter on his Instagram account from general manager Mike Mayock saying that he was fined $40,000 for an unexcused absence from practice on Aug. 18 and $13,950 for skipping a walkthrough on Aug. 22.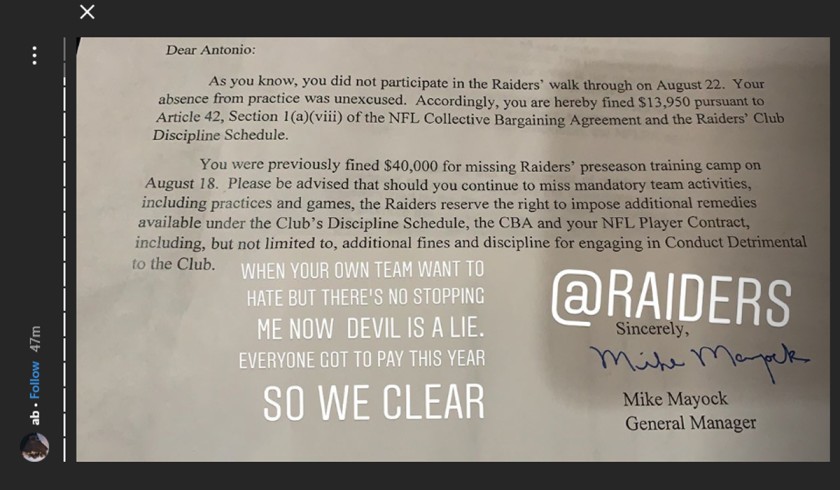 The Raiders' star wide receiver has a lot of off the field drama before even playing a single game in a Raider uniform. There were rumors that Brown would even get suspended for his behavior towards Mayock and the team itself. However, according to ESPN reporter Josina Anderson, Brown issued a team apology at practice.
Source: #Raiders WR Antonio Brown just issued "an emotional apology" at a team meeting this morning, just now, "with team captains standing with him."

— ig: josinaanderson (@JosinaAnderson) September 6, 2019
There is no telling whether or not there will be more Antonio Brown drama in the future. However, one thing is almost definite: he will make his debut in the silver and black on Monday Night Football against the Denver Broncos.
Jaclyn Galvin is a writer and Radio Personality for Prime Time Sports Talk and a sophomore at Emerson College in Boston, MA. You can connect with her on Twitter and Instagram @jaclyngalvin.