DeBrusk Enters 2019 At Critical Point
August 8, 2019 2:00 pm | by Jamie Gatlin | Posted In Eastern Conference, Worldwide Sports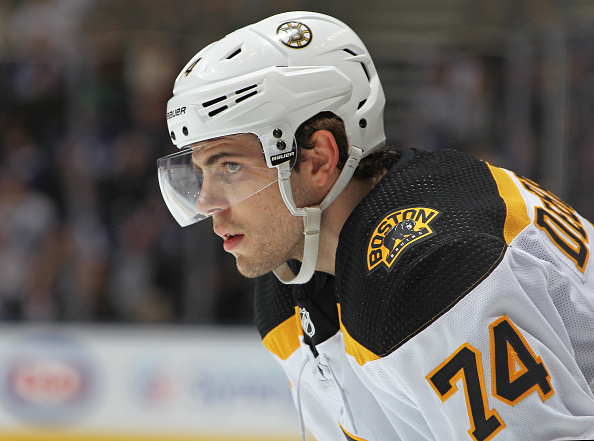 TORONTO, ON - APRIL 15: Jake DeBrusk #74 of the Boston Bruins waits for a faceoff against the Toronto Maple Leafs in Game Three of the Eastern Conference First Round during the 2019 NHL Stanley Cup Playoffs at Scotiabank Arena on April 15, 2019 in Toronto, Ontario, Canada. The Maple Leafs defeated the Bruins 3-2. (Photo by Claus Andersen/Getty Images)
Over the past few seasons Jake DeBrusk has become an important piece for the Bruins. Last year he continued to be an offensive threat but will be looking for redemption entering 2019. The former first-round pick is coming off a postseason performance in which he underachieved. The Edmonton native had four playoff goals, but only one came in the Stanley Cup Finals.
After a solid rookie season, DeBrusk continued to improve last year. In sixty-eight regular-season games, he had 25 goals setting a new career-high. Although his assist total fell to 17, his 42 points almost tied his rookie total. Despite an up and down season, he was vital for the Bruins down the stretch.
Additionally, DeBrusk continued to improve on the power play. After recording nine points on the man advantage as a rookie, that total grew to eleven last year. His goal total also increased from two to nine. The young winger continued to come through in the clutch as he had four game-winning goals. As David Krejci seemingly found the fountain of youth, DeBrusk excelled.
When the playoffs began DeBrusk was expected to play a big role. As a rookie, he shined on the games biggest stage including a two-goal effort in game seven of the opening round against Toronto. In his first taste of postseason play, he had eight points in twelve games. Unfortunately he was unable to replicate that success last season.
In 24 games DeBrusk recorded eleven points but only found the back of the net four times. He did not make much of an impact as in each round he failed to record multiple goals. As DeBrusk struggled the Bruins second line became a non-factor. His struggles were partly due to concussion symptoms, which limited him to less than 15 minutes per game.
As DeBrusk looks to rebound from the postseason disappointment, he will be entering the most important year of his career. After the 2019-2020 season, the Bruins forward will be a restricted free agent. DeBrusk will be looking to build off his sophomore campaign and prove that he can be an elite offensive weapon.
His performance will be key for the Bruins as they try to determine his next contract. With their Stanley Cup core aging, the Bruins will need their young players to step up. As a result DeBrusk will be more motivated than ever this upcoming season. He will look to be more consistent entering his third NHL campaign as he looks to secure a long term deal.