This Patriots' Defense has a Chance to be Historic
August 7, 2019 9:02 pm | by Jeremy Guerin | Posted In AFC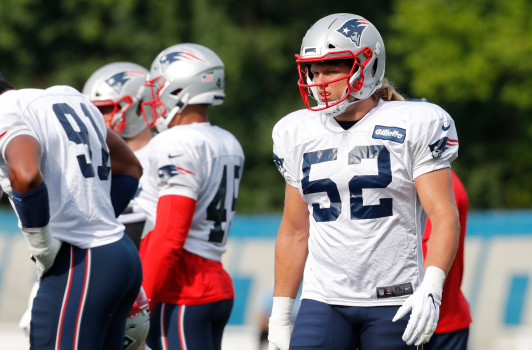 New England Patriots lineman Chase Winovich (52) walks on the field at the Detroit Lions NFL football training facility, Tuesday, Aug. 6, 2019, in Allen Park, Mich. (AP Photo/Carlos Osorio)
The New England Patriots have been built on the right arm of Tom Brady for years now. But this year, the defense has a chance to step up and aid their 42-year-old signal caller en route to a historic season.
This Patriots defense has been together for a while. Core players like Devin McCourty, Dont'a Hightower, Kyle Van Noy, Patrick Chung, and Duron Harmon have played together for a number of years now, and have familiarity and communicate well on defense. Add to it the best corner in the NFL in Stephon Gilmore, and the Patriots secondary is downright lethal.
Jamie Collins is back, to add to a talented corps featuring Van Noy and Hightower along with second-year player Ja'Whuan Bentley. The Patriots linebackers were their weakness as near as two years ago when a season-ending injury to Hightower essentially cost the Patriots a Super Bowl against the Philadelphia Eagles. But now, a loaded corps means that the linebackers can bring pressure or cover with ease, and wreak havoc in the middle.
Finally, there are the pass rushers, the soft spot in the Patriots defenses of prior years. But it is the soft spot no longer. New acquisition Michael Bennett is the star along a front that features veterans who know how to do their jobs, along with third-round pick Chase Winovich.
The biggest difference between this year and prior years in New England? The coaching situation. So many coaches left Foxboro this past offseason, that Bill Belichick is calling the defensive plays this year. He has been animated in training camp thus far, and the Sith Lord himself directing a defense should be nightmares for opposing offensive coordinators.
Belichick has seen everything there is to see. He will be ready for the high-powered offenses of the Kansas City Chiefs or the Cleveland Browns. Watch out NFL. This could be the best Patriots defense since 2004, and everyone remembers what happened during the '04-05 season.