Acciari Sends Message to Bruins Fans
August 7, 2019 8:02 pm | by Filip Canda | Posted In Eastern Conference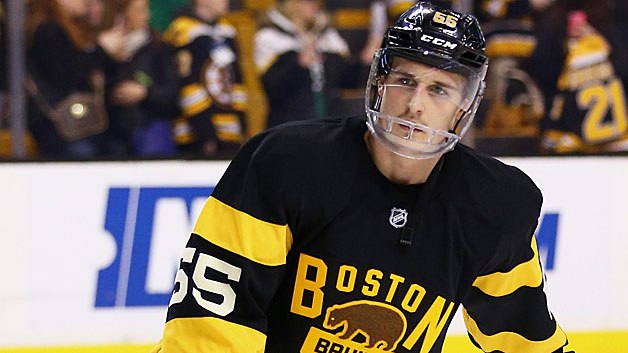 Photo Credit: Getty Images
The Boston Bruins lost one very important player this summer via free agency. Although Noel Acciari hasn't been a Connor McDavid-caliber of player, his 100 points would not be missed because these simply don't exist. However, his toughness and willingness to sacrifice his body will be missed greatly by the Bruins fans.
Acciari signed a two-year entry-level deal after winning the NCAA championship with the Providence College. Shortly afterward, he signed with the Bruins. He spent four unforgettable seasons with the Bruins. That spell almost concluded with the dreamed ending—the Stanley Cup glory.
Now he will have to chase his dream to win the Stanley Cup outside Boston. Actually with facing the Bruins in the Atlantic Division, playing for the Florida Panthers.
"I'm very excited about this next opportunity with Florida," Acciari said in an interview for The Athletic. "We're going to have a really good team with coach Q and all these other moving pieces that are coming in. I'm excited to carry over what I've learned from the leadership in Boston."
Working under three-time Stanley Cup-winning coach as Joel Quenneville will certainly benefit Acciari. But he doesn't forget the coach, who practically brought him to the NHL.
"He's taught me ever since I've been in the league what you need to do to succeed and how to stay there," Acciari said about Bruce Cassidy, under whom he scored his first NHL goal in the spring of 2017 versus the Nashville Predators at TD Garden.
For the Rhode Island native, it was always a dream to play in front of the TD Garden crowd and better in the Boston Bruins uniform.
"It was special. Not many people can say they played for their hometown team, and I was very fortunate," Acciari said. "Boston and New England will always be my home and will always have a special spot in my heart."
Now, he will be reunited with his former teammate and big buddy in Frank Vatrano and Shawn Thornton, the former Stanley Cup winner with the Boston Bruins, will also meet regularly with Acciari as he has joined the Panthers' front office following his retirement from hockey in 2017.
What would be his message to the Boston Bruins fans after his 215-game four-seasons spell in New England?
"I would thank them for everything and all the support they've given me. There are no fans like Boston fans," Acciari said. "Even now I'm getting [fans] wishing that I would be back but they still support me with my decision. I'm truly honored to play in front of them for four years. It was a special bond between the team and the fans."
On behalf of the Bruins fans, they will be sad seeing blue-collar hard-nosed and honest player as Acciari facing his former teammates for the years to come, but they will be always thankful for his commitment to defend the black-and-gold uniform.