Edgar Allan Poe Putting Poetry in Motion on Field
July 23, 2019 11:53 am | by Sam Gordon | Posted In Atlantic, Exclusives, Worldwide Sports
Photo Credit: Christian Gilliam
New York Streets wide receiver Edgar Allan Poe to many has an interesting name and is often reminded so that he has the exact name of the writer.
"My father made me very educated on his work," Poe laughed. "I can actually rap some of his work as well."
The similarities grow even more eerie.
"I played football all the way up to high school," Poe said. "Was blessed enough to get a scholarship to go to West Point, but there I decided to resign before graduating to pursue football a little bit more."
Both men went to the same school West Point Military Academy and abruptly ended their times there both ending up in New York as their final destination.
His gridiron journey began in Tucson, Arizona where a 5-year old Poe, was pushed onto the field to play football. Just not the padded kind.
"My dad started me when I was 5-years old where I started out in flag football," Poe said. "I kept playing as I got older every year, went to high school and was blessed enough to get a scholarship."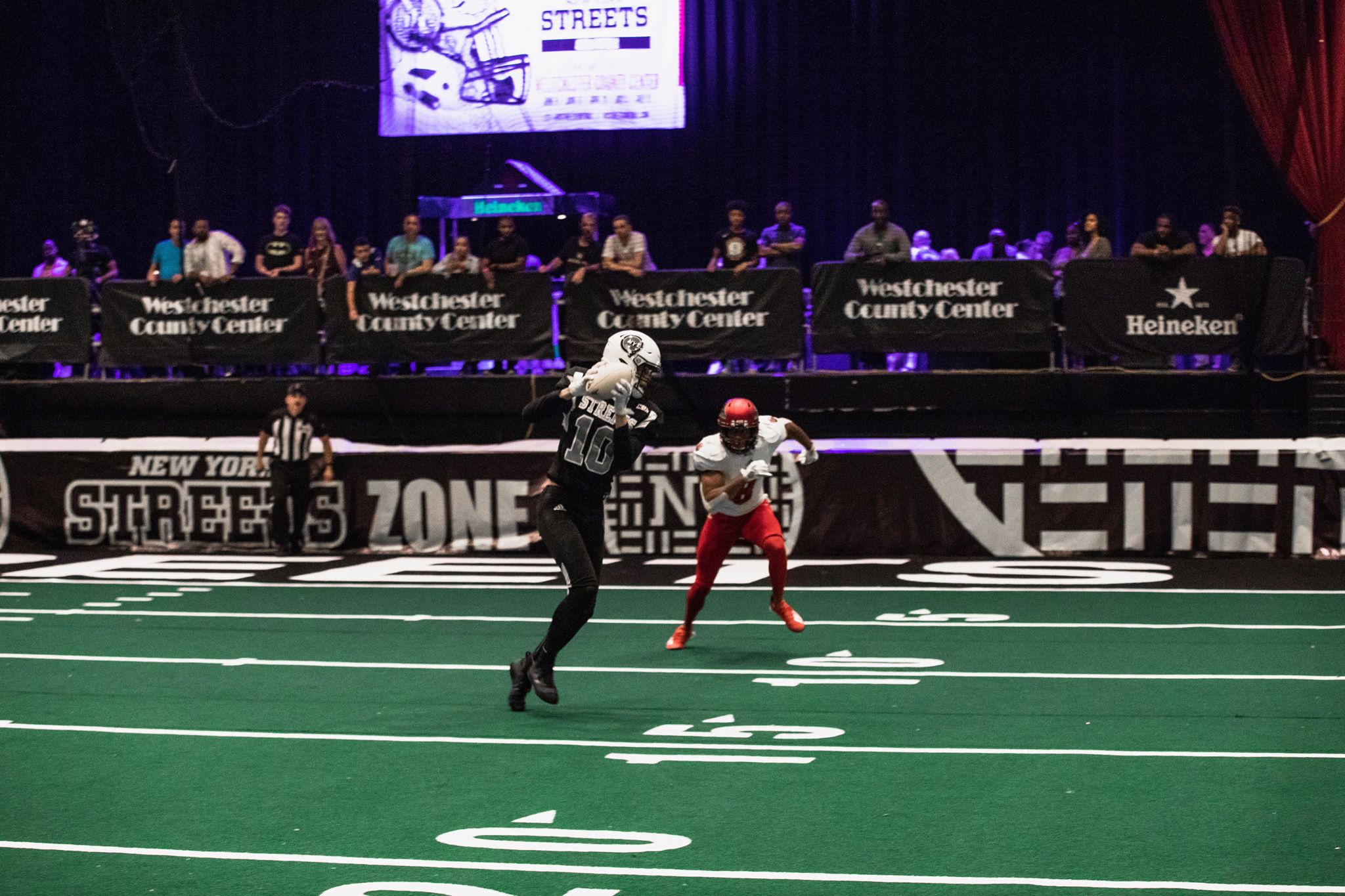 Poe grew up the second oldest of four boys and one girl. He himself was pushed by his older brother to be better in every facet of life.
"He was definitely a bully at times," Poe laughed. "But I'll tell you right now, I would not be here without my older brother."
After he had left West Point, Poe went to Portland to join the Maine Mammoths. In his rookie season, he totaled a team high 82 receptions for 710 yards and 17 touchdowns.
Poe said there was a bit of a learning curve in getting used to the new format of arena football compared to regular.
"It's a lot different and it took probably six, seven games for me to truly adapt and learn how the game was different and how you got to pace different," Poe said. "That wall is undefeated and but I do think there's a lot of things that I learned from indoor that I can take to the outdoor game."
One thing he takes away from what has improved with his arena football venture is his ball security.
"My ball skills will be a whole lot better when I get outdoors because indoors, you have to get your head around quick for everything," Poe said. "The key for me is to not lose my outdoor fundamentals where I'm not too far gone when I am blessed to get that chance to get back outside."
Poe attributes his success to his compatriots at wide receiver.
"Those guys are great, we got a lot of energy from the receiver position," Poe said. "Devante Jenkins he definitely is 'Showtime,' he's a baller and if you watch his film it just speaks for itself. Rob Jones is probably one of the goofiest guys I ever met in my life and he definitely brings energy."
It seems to be a staple whenever he takes the field and when he scores, much like the poems of Edgar, ends with a grand finale.
After every touchdown, Poe tumbles into a backflip making his home crowd wild.
"Over the years I picked up certain things, I started tumbling when I was in middle school," Poe said. "Started doing backflips, doing backflips off of stuff, and it just kinda came with me, I do it at least once a game now."