Bray: The OKC Thunder are Going to be Fine
July 13, 2019 1:00 pm | by Kyle Bray | Posted In News and Editorials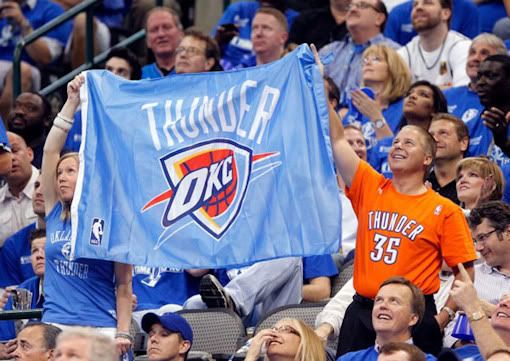 Photo: Layne Murdoch
It's been a tumultuous past couple of months for the Oklahoma City Thunder and their fans, to say the least.
After crashing out of the NBA playoffs in the first round thanks to a historic series-winning shot for Damien Lillard, Sam Presti and Thunder brass decided to blow up the roster and start a massive rebuild.
It all began at around 2 a.m. eastern time when ESPN's NBA insider Adrian Wojnarowski dropped the "Woj Bomb" of the century—Kawhi Leonard was going to the Clippers. Fans of the NBA, who were awake, rejoiced that parity was finally restored to the league after years of Warriors dominance. The traditional super team was no more.
Wojnarowski's bombardment was not over yet, however, as he soon after revealed that to get Leonard to Los Angeles, the Clippers traded a record number of draft picks to the Thunder in exchange for superstar Paul George. The basketball world went into full meltdown. About a week later, Wojnarowski dropped yet another bomb on the NBA world—OKC's star guard Russell Westbrook was heading to the Houston Rockets for Chris Paul and even more draft picks.
All this turnover in such a short period of time left Thunder fans somewhat bewildered.
This reaction to Russ getting traded is priceless ?

(via opolisclothing/IG) pic.twitter.com/uSnc0q1S1N

— Bleacher Report (@BleacherReport) July 12, 2019
Despite all of this change, this blow-up was necessary for the Thunder and will end up helping them in the long run. The reality is, the Thunder have been trending toward a rebuild ever since Kevin Durant left to join the Warriors. Since his departure, the Thunder have not made it past the first round of the playoffs and only managed four playoff wins in three years.
OKC always felt like a broken franchise after losing its key piece to success and represented one of the greatest "what could have been" teams in the league—aside from last year's Celtics team, but we don't talk about that. The team that once fielded three future MVPs in Durant, Westbrook, and James Harden—who Westbrook will play with, and probably not share the ball well with, in Houston—along with star center Serge Ibaka failed to bring a championship to Oklahoma after falling to the Miami Heat in five games in the Finals.
Harden left shortly after, joining the Rockets via trade after the Thunder failed to sign him to a contract extension. Then Ibaka and Durant left. The Thunder took a gamble and got George with no guarantee he would stay long term, which paid off after he signed an extension to keep the George-Westbrook dynamic duo alive. After an MVP caliber season in 2018-19, Leonard and the Clippers gave him an offer he couldn't refuse and the Thunder made the best of a tough situation.
After all of this turmoil, it makes sense for the Thunder to start a rebuild. The Thunder have been a successful regular season franchise since they moved to the Sooner State in 2008, only missing the playoffs twice in that time frame. But they were never able to transfer that regular-season success into glory in the playoffs. Whether it was bad luck or the personalities in the locker room, the Thunder just couldn't get it done when it mattered, which is why a rebuild makes sense. There's no need for the Thunder to keep pushing out the same team every year and expecting something to change.
After all their trades, the Thunder now have a plethora of first-round draft picks, and that's without them trading Paul, which has been rumored.
2020 Own (1-20)
2020 DEN (11-30)
2021 Own (HOU 5-30 swap right)
2021 MIA (HOU 5-30 swap right)
2022 Own (1-14)
2022 LAC
2023 Own (LAC swap right)
2023 MIA (15-30)
2024 Own
2024 LAC
2024 HOU (5-30)
2025 Own (LAC and HOU 21-30 swap right)
2026 Own
2026 LAC
2026 HOU (5-30)
It's also important to remember that the Thunder have one of the best drafting GM's in the entire league with Presti. His draft record is incredibly illustrious, having drafted all of the prior MVPs mentioned in the article along with Ibaka and other notable NBA stars like Eric Bledsoe and Steven Adams. This right here should be enough to give any disillusioned Thunder fan a glimmer of hope. With all of those first-rounders, Presti is bound to find some players to lead the next generation of the Oklahoma City Thunder, whether is through drafting or trading.
Another reason for hope is even if they don't end up trading Paul, the Thunder will still have a solid roster for the 2019-20 season. Paul is still one of the top players in the NBA at the moment and will surely be a great veteran leader for the team. They still have solid big men in Adams and Nerlens Noel. In the George trade, they got a promising young guard in Shai Gilgeous-Alexander and solid forward in Danilo Gallinari. While they will most likely go for the tanking route, their roster is still competitive and promising.
Although it's been a whirlwind couple weeks, and honestly years, for the Thunder and their fans, the future is looking bright for this tormented franchise.