Baptista Takes Softball Talents From Smallest State to Biggest Stage
July 6, 2019 1:58 pm | by | Posted In Atlantic, College Clipboard, Exclusives, Worldwide Sports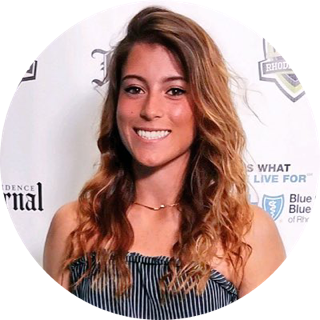 Kayla Baptista is one of the most sought-after softball players to ever come out of Rhode Island. She's now on her way to Chapel Hill.
Baptista started playing at 6 years old in the small town of Smithfield, Rhode Island. After a few years of bouncing around on different teams, Baptista's talents really started to shine through. The blossoming of talent led her to the Rhode Island Thunder organization.
The Rhode Island Thunder just celebrated their 20th birthday as an organization. In that time, the Thunder have cemented themselves as one of the premier travel softball organizations in the country. They are invited to the best college showcase tournaments and have NCAA Division 1 players scattered all over the country. Baptista gives her coaches from this organization a lot of credit in helping her get to where she is now.
"My coaches, especially Dave and Elise, have really helped me get to where I am today," said Baptista.
The Dave she is referring to is Dave Lotti, head coach of the 18u Thunder gold team, the organization's best showcase team. Baptista became a part of this team when she was 13. Lotti brought Baptista on to his highest level team after seeing her as a seventh grader battle through a 12-pitch at bat and get a hit off of the now-senior pitcher at the University of Tennessee, Matty Moss.
"When I watched Kay have an amazing at bat off one of the best up and coming pitchers in the country I knew she was special," said Lotti.
Lotti was not the only one who noticed Baptista's talents. In Tenth grade, Baptista committed to the University of Tennessee. Baptista also started her high school softball career at Lasalle High School in Providence, Rhode Island. Baptista just finished her third year with the Lasalle Rams, receiving her third all-state selection and winning a state title. Lasalle softball coach, Maurice Jackson, applauded Baptista's character.
"Kayla's work ethic is second to none and her teammates love her," said Jackson.
Baptista is now de-committed from Tennessee and committed to the University of North Carolina. She coined this a "huge move."

"When I went on the visit to Chapel Hill the vibe was amazing and I knew this is where I wanted to continue my softball career," said Baptista.
When you de-commit there is no guarantee another offer will come your way. Baptista knew this, but with her network of support she was confident enough to make the move.
"Dave and my parents were with me every step of the way and made the process easier for me. I am very lucky to have them," said Baptista.