Los Angeles Chargers Mock Draft
by Daniel Corrigan
April 25, 2019
Daniel Corrigan   | April 25th, 2019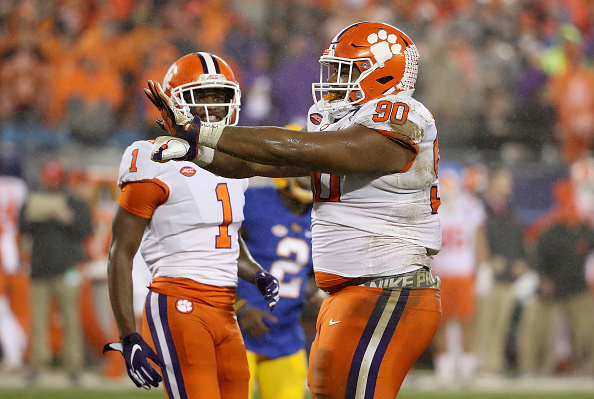 The Chargers took a huge step last season. They went 12-4 last season and finished second in the AFC West. Philip Rivers played awesome last season. There was a point where they thought he could be the MVP.
The Chargers would be wise to bolster their defense. Preferably a corner and a defensive lineman. The Chargers may be a team that trades a lot in this draft. Do they perhaps try and find the quarterback of the future? Let's find out who I have the Chargers taking in tonight's draft.
Round 1 Pick 28: Dexter Lawrence, DT, Clemson
Clemson's defensive line could very well dominate the first round tonight. The Chargers already have a promising defensive line with Joey Bosa and Melvin Ingram III. With a deep defensive line class, Lawrence falling to them at 28 would be unreal. He is a big boy, he has a quick step, and man is he strong. This is a slam dunk pick.
Round 2 Pick 60: Darnell Savage  Jr, S, Maryland
Another need for the Chargers taken care of with, in my opinion, a steal in the late second round. I watched this kid for some time since I pay most attention to the Big Ten. Savage is incredibly fast, plays like his hair is on fire, has a quick step, and has a very high IQ. He is a little undersized, but I think this is a slam dunk pick too.
Round 3 Pick 92: Yodny Cajuste, T, West Virginia
Cajuste has been one of this biggest names to fall during the draft season. Many were saying he would go mid-first going into February. This is due to his off-balance, and tendency to play with his head down. He does have long arms and is very strong with his hand placement. My favorite thing about Cajuste is that he moves his feet while blocking. Being a former lineman, and lineman coach, that makes me very happy.
*TRADE*
The Chargers will be trading their fourth round pick (pick 131) and their sixth round pick (202) to the New York Jets for their fourth round pick (105)
Round 4 Pick 105 (Via Jets) Will Grier, QB, West Virginia 
That's right, this mock just got turned upside down. Rivers is not going to play forever. We need to start realizing that his time is coming. I love Grier. I loved him at Florida, and I really loved watching West Virginia last season. He has an accurate arm, is a team leader, has great play IQ, and has a great feel for timing. I think Grier can be a great QB. The Chargers are good enough that they can do something like this. I think this just makes too much sense.
Round 5 Pick 167: T.J. Edwards, LB, Wisconsin.
The Chargers could use some depth at this position. He has recorded 80+ tackles in all four seasons of college. He also dropped 15 pounds this offseason to become quicker. He just looks like a football player. He has really big legs. He is strong, he is physical, he is a football player. He is a little bit of an awkward athlete. Not a "fluid game." But I love this pick for the Chargers as they continue to add depth to their defense.
(Sixth round pick traded to Jets)
Round 7 Pick 244: Ulysees Gilbert, LB, Akron
Gilbert is a very interesting prospect. If he was at a bigger school, I think he could go higher. Problem is that he is undersized and sometimes gets dominated by blockers. He has a nose for the ball and can move very well for a "big body." Gilbert being picked here would just to see if they could potentially find a special teams guy.
The Chargers have a great roster. They would benefit from adding defensive depth and maybe grab a lineman or two. The Chargers are a weird team. It always seems like they are awesome one year, then they are picking in the top ten the next season. I think that finding the QB of the future would be wise for the Chargers.
Check out our other Team Mock Drafts: San Francisco 49ers| Washington Redskins | Indianapolis Colts | New York Giants  |Arizona Cardinals| Jacksonville Jaguars | Detroit Lions | Tampa Bay Buccaneers | New York Jets | Green Bay Packers | Cleveland Browns | Los Angles Rams | Pittsburgh Steelers | Chicago Bears | Tennessee Titans | Baltimore Ravens | Seattle Seahawks | Buffalo Bills | New Orleans Saints | Atlanta Falcons| Cincinnati Bengals  | Kansas City Chiefs | Denver Broncos | Houston Texans | Oakland Raiders | Minnesota Vikings | Philadelphia Eagles | Carolina Panthers | Miami Dolphins
Questions and comments?
thescorecrowsports@gmail.com
Follow Us on Twitter @thescorecrow
Follow Us on Reddit at u/TheScorecrow
Follow Us on Facebook at The Scorecrow
Follow Us on Instagram at The Scorecrow
Follow Daniel Corrigan on Twitter @Corrigan_Tweets
Main Image Credit:  Embed from Getty Images