Dallas Cowboys Mock Draft
by Daniel Corrigan
April 25, 2019
Daniel Corrigan | April 25th, 2019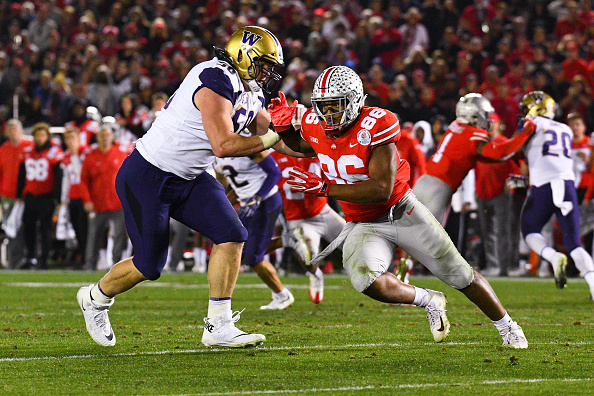 We are hours away from the draft. Here at The ScoreCrow, It has come down to the last few hours to get all these mock drafts out. A big shoutout to every one of our writers who worked hard on these. Before the draft tonight, head to the bottom of the page to check out every one of our mock drafts.
The Cowboys need help on the defensive side. Offensively speaking, they are pretty set outside of some late-round depth. The Cowboys need to focus on the defensive line and the secondary. The Cowboys traded their first-round pick to the Raiders for Amari Cooper so the Cowboys may miss the bulk of the loaded defensive line class.
Do the Cowboys trade back into the first round? Do they unload picks for future picks? What part of their defense will they focus on? So here is who I have the Dallas Cowboys taking this season.
Round 2 Pick 58: Dre'Mont Jones, DT, Ohio State 
The Cowboys are going to miss out on the best prospects in the draft. For a long time, I had Jones in the late first round. For a big kid, he has one of the fastest steps of any defensive lineman. He has great hands and contains the line very well. The biggest concern that I can see in that he goes straight legged from time to time. I love Jones as a prospect, and I think he is going to fit in great for the Cowboys.
Round 3 Pick 90: Deionte Thompson, S, Alabama
The Cowboys were long linked to landing Earl Thomas. That obviously didn't work out and they need some help back there. Thompson is another guy I had going in the first-round for some time. He has fallen because of his small frame and his lack of physicality. But Thompson's instincts and game speed is a huge trait. I don't know if Thompson will be here at pick 90, but if he is, the Cowboys need to jump all over him.
Round 4 Pick 128: Isaac Nauta, TE, Georgia
Yes, Jason Witten is not the answer at tight end. Unless you want a tight end who can only run in a straight line and runs like the tin-man, you need to find a tight end. Nauta's 40 time was not impressive, but he has great game speed. His ability to create separation is a huge plus. He is kind on like Rob Gronkowski in the sense that he will not make you miss and he is not all that fast, but he is crazy athletic and is a big guy.
Round 4 Pick 136: Austin Bryant, Edge, Clemson. 
With Randy Gregory's suspension, they could use some depth here. Bryant is a massive human being. He stands 6'4 and 271 lbs. He is also very long which is great for someone who will rush the edge. He is very strong and can rag-doll an offensive tackle with a combination of his length and strength. He does have a slow reaction to the snap of the ball, but learning under Demarcus Lawrence would be such a blessing for Bryant's career.
Round 5 Pick 165: Bryce Love, RB, Stanford
No, nothing is wrong with Ezekiel Elliot, but they have no depth at this spot. The Cowboys need to have a RB2 so Elliot is not carrying the ball 35+ times a game. Love had quite the fall from pre-season glory. He was the Heisman favorite, first-round talent, blah blah blah. He is a heck of an athlete, has quick feet, and is said to be a great teammate. His lack of field vision and small frame are a turn-off for many teams.
Round 7 Pick 241: Jon'Vea Johnson, WR, Toledo
It is not an alarming need for the Cowboys, but some depth at WR would be huge. Obviously, it's hard to find that in the seventh round, but Johnson has the chance to make some noise during camp. He is really fast, runs smooth routes, and has that second gear to separate from defenders. Now he is also slightly lazy. He does not go all in on run-blocking, forgets his fundamentals at times, and is lazy at the snap of the ball. I think if he finds a new gear during camp, he could make the team, and be in position to get some reps during games.
The Cowboys don't have that many needs. They need more depth than anything. They will have to pay Elliot and Dak Prescott very soon, so they need to find some cheap gems in the draft. This is going to be an interesting season for the Cowboys. This season could impact the direction of this team in the future.
Check out our other Team Mock Drafts: San Francisco 49ers| Washington Redskins | Indianapolis Colts | New York Giants  |Arizona Cardinals| Jacksonville Jaguars | Detroit Lions | Tampa Bay Buccaneers | New York Jets | Green Bay Packers | Cleveland Browns | Los Angles Rams | Pittsburgh Steelers | Chicago Bears | Tennessee Titans | Baltimore Ravens | Seattle Seahawks | Buffalo Bills | New Orleans Saints | Atlanta Falcons| Cincinnati Bengals  | Kansas City Chiefs | Denver Broncos | Houston Texans | Oakland Raiders | Minnesota Vikings | Philadelphia Eagles | Carolina Panthers | Miami Dolphins | Los Angeles Chargers
Questions and comments?
thescorecrowsports@gmail.com
Follow Us on Twitter @thescorecrow
Follow Us on Reddit at u/TheScorecrow
Follow Us on Facebook at The Scorecrow
Follow Us on Instagram at The Scorecrow
Follow Daniel Corrigan on Twitter @Corrigan_Tweets
Main Image Credit: Embed from Getty Images