Atlanta Falcons 7 Round Mock: Time to Replace Vic Beasley?
by Dale Money
April 23, 2019
Dale Money | April 23rd, 2019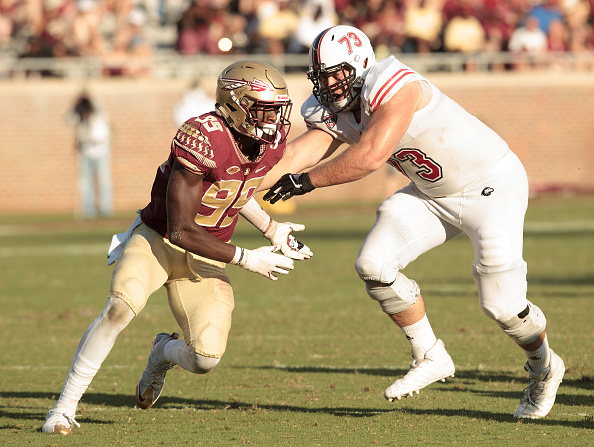 Coming off a dreadful 7-9 record, where they missed out on the playoffs, two years removed from a Superbowl appearance, the Atlanta Falcons enter the draft with an eye on four main positions: offensive line, edge rusher, defensive back, and defensive linemen. They will enter Thursday night, carrying nine draft choices, starting with pick 14, their earliest selection since 2015, when they took Vic Beasley at eighth overall.
Round 1, Pick 14: Brian Burns, DE, Florida State
Beasley hasn't lived up to expectations the last two years and could be gone by next season, they'll be looking for someone to take the baton, going with Burns at pick 14, makes a lot of sense here. Burns had a very strong showing at the combine, impressing with his quickness, agility, and balance. He is quite explosive and is consistently pressuring the edge with his first step and can fly off the ball. Had 52 tackles, 15.5 for a loss, three forced fumbles, along with 10 sacks in 12 games last season as a Seminole.
Round 2, Pick 45: David Montgomery, RB, Iowa State
Running back Devonta Freeman has had two straight injury-plagued seasons, and the Falcons no longer have an insurance policy with Tevin Coleman; who left in free agency to sign with the 49ers. Montgomery is a running back that is very solid in a number of areas including blocking. Montgomery is also a reliable receiver out of the backfield, but does not have the breakaway speed most would look for in their starting back. He would be a solid addition to shore up the Falcons depth at running back and if he works out, a nice replacement for Coleman.
Round 3, Pick 79: Juan Thornhill, DB, Virginia
The Falcons let go of three of their best cornerbacks from 2018, including longtime starter Robert Alford. Needing to patch up that defensive back position, Thornhill might be the way to go at this spot. He played cornerback and safety at Virginia and has the athleticism, instincts, and length to be developed a number of ways at the next level. He's a bit underpowered as a hitter but his overall cover skills and ball-hawking mentality will earn him a sub-package role early with the chance to become a starter down the line.
Round 4, Pick 117: Cameron Smith, LB, USC
Smith is a solid inside linebacker who is a good run defender and was an essential piece of the Trojans defense. He played in only 10 games in 2018 but still landed on the second-team all-conference squad by leading the Trojans with 81 tackles, 7.5 for loss, and four pass breakups. He doesn't have the most impressive physique; however, it hasn't seemed to bring him down. In fact, it helped improved his quickness, enabling him to use upper-body strength to push off blockers. A very clever player, that doesn't give up on the play.
Round 4, Pick 137: David Long, LB, West Virginia
The Falcons have a good linebacker core but come next year, they could lose a lot of their depth at the position to free agency; including starter Deion Jones. So selecting another linebacker in the fourth round is a proactive move. In 12 games for the Mountaineers last season, Long had 108 tackles, including 19.5 for a loss, and seven sacks. A Butkus Award semifinalist in 2018, his downhill attack is decisive, fast and disruptive, small but compact. Tracks and absorbs quarterbacks once he's in the pocket. He is a smaller player for a linebacker, weighing in at only 225 pounds and he will need to add on some muscle to beef up his frame.
Round 5, Pick 152: Ben Powers, OG, Oklahoma 
Matt Ryan needs some protection, as his offensive line allowed 42 sacks in 2018, ranking 13th worst in the NFL, prompting them to make some low key additions in free agency; signing Jamon Brown and James Carpenter. There is still a lot of work to do, but its a start. Grabbing Powers in the fifth round isn't a bad move, a first-team All-Big 12 selection in 2018, he started all 14 games at left guard for the top offensive line in America. Not an elite athlete or overly powerful but a solid player with a good overall build and frame. He is more than capable of finding and hitting targets on the move.
Round 5, Pick 172: Trysten Hill, DT, Central Florida
Concerns over his football character and maturity have hindered his standing on the UCF team at times. Despite starting just once this season, Hill is very effective at closing gaps and can make it consistently difficult on the opposing quarterback. He plays with good initial burst upfield and is disruptive thanks to his good hand usage.
Round 6, Pick 186: Hamp Cheevers, DB, Boston College
Needing a lot of help at defensive back, the Falcons double dip at the position, going with Cheevers. He was one of the more talented cornerbacks in college football during 2018, producing seven interceptions for Boston College. To go along with the picks, Cheevers notched 39 tackles with seven passes broken up. It was a big improvement from his sophomore year when he had 17 tackles, four breakups.  
Has good foot quickness to match steps with good burst out of transitions, a good mixture of patience and quickness. He isn't a finished product yet, his size is his one big letdown, lacking decent size and bulk. Cheevers needs to build himself up if he wants to succeed in the NFL.
Round 7, Pick 230: KeeSean Johnson, WR, Fresno State
The Falcons have that very nice one-two punch in Julio Jones and Calvin Ridley but Johnson could be a nice depth receiver. Realistically, it's just a roll of the dice with this pick but Johnson is a well-built wide receiver with strong hands that catches everything that comes his way.  He made 95 catches for 1,340 yards in his final season at Fresno State. Johnson is rather slow though, running a 4.60 at the Combine, which ranked as one of the worst, among wide receivers.
Check out our other Team Mock Drafts: San Francisco 49ers | Washington Redskins | Indianapolis Colts | New York Giants  |Arizona Cardinals| Jacksonville Jaguars | Detroit Lions | Tampa Bay Buccaneers | New York Jets | Green Bay Packers | Cleveland Browns | Los Angles Rams | Pittsburgh Steelers | Chicago Bears | Tennessee Titans | Baltimore Ravens | Seattle Seahawks | Buffalo Bills | New Orleans Saints
Questions and comments?
thescorecrowsports@gmail.com
Follow Us on Twitter @thescorecrow
Follow Us on Reddit at u/TheScorecrow
Follow Us on Facebook at The Scorecrow
Follow Us on Instagram at The Scorecrow
Follow Dale Money on Twitter @packerd_00
Main Image Credit: Embed from Getty Images